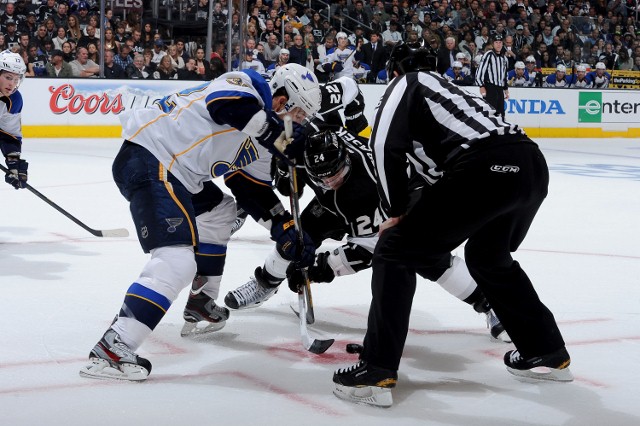 The Los Angeles Kings were particularly strong on faceoffs in March and April. Ranked 23rd in faceoff percentage through nine games, they leapt up to fourth in the league overall by winning 52.0% of draws through the entire regular season. St. Louis, another team with strong center depth, ranked 13th in the league with a 50.7% success rate.
The Blues have been very successful at the faceoff dot in this playoff series, limiting the Kings to a 42.9% success rate – one that was bolstered by a 28-for-57 (49%) performance in Game 3, which represented Los Angeles' best rate in the first three games.
The numbers don't tell the entire story, according to Los Angeles coach Darryl Sutter.
"Yeah, I know you get the stat sheets and it's always 'This guy was five and nine' and all that, but really when you break it all out, it's a little different," Sutter said following the team's practice on Sunday. "There's a lot of faceoffs in this series because you have 10 good centermen, really, guys that are on faceoffs out of all the forwards. There are a lot of faceoffs that are not won or lost. It's just in the feet, and it's someone coming in and getting the puck. It's not the centermen. So I think that's a big part of what goes on there."
The contested face-off does not always produce a clean win or a clean loss. The ability for wingers to jump in and compete for a loose puck near the feet of the two centers adds a complexity to a statistic that isn't as cut-and-dry as it seems.
"It's a lot of helping out from wingers. I experience it firsthand," Anze Kopitar said. "It is what it is. That's the way the game has gone. Not just this series – I'm pretty sure it's about the same in every series. The centermen are getting strong and everybody's big now. It's not easy to win draws clean."
Wingers often communicate with their centers to determine how they'll position themselves in the event of a contested faceoff.
"We have certain routes we take. It depends which way the puck is dropped," Kyle Clifford said. "Sometimes it comes in behind their center, so you're just kind of trying to make the read. Certain guys have certain positions, and it just becomes a battle."
Clifford's initial reaction to a faceoff is often an aggressive one.
"Some guys handle it different. I usually try and take a step towards their D-man, who I'm usually lined up against, or their winger. It depends where the draw is. Just try and eliminate him from the play to get the body position," he said.
Playoff / regular season faceoff percentage – Los Angeles
Mike Richards – 54.0% playoffs / 49.0% regular season
Jeff Carter – 48.0% / 52.6%
Colin Fraser – 46.2% / 46.4%
Jarret Stoll – 38.3% / 56.0%
Anze Kopitar – 37.7% / 53.3%
Playoff / regular season faceoff percentage – St. Louis
Andy McDonald – 71.4% playoffs / 48.0% regular season
David Backes – 61.0% / 52.3%
Vladimir Sobotka – 59.4% / 56.5%
Chris Porter – 56.2% / 43.1%
Patrik Berglund – 40.5% / 46.3%