Alec Martinez stepped right into the Los Angeles Kings' lineup for the first time since April 2 and provided quality minutes in a crucial 1-0 home victory over the St. Louis Blues. He jumped into a four-on-three rush on his first shift and earned an assist on Slava Voynov's goal in an effective performance that is likely to earn him a second straight inclusion in the lineup, even if that decision hadn't yet been made.
"Well, no one's told me otherwise, but not one's told me that I am," Martinez said. "So I'll just keep working hard and that's really all I've got."
Martinez also had some fun with his Spanish heritage on Sunday as he took the ice for practice in a sombrero that Darryl Sutter claimed to have purchased at a liquor store early on Sunday morning.
"Oh, he did? Liquor store at nine in the morning, huh? I didn't even think they were open then," Martinez said.
Never mind that his red-white-and-green practice attire does not match Spain's flag, and that the sombrero is an iconic image of Mexican heritage.
"I've seen that floating around the locker room. That might belong to one of the coaches, I'm not sure. But I snagged it for 10 minutes."
"It's all in fun. I think that it's important, obviously – the playoffs are a very revved up time of the year, and if you can get a good laugh in and keep things light, especially on a non-game day, it can release some tension. It can do good things for the club. I know the guys got a good laugh out of it. I got a good laugh out of it. It was fun," he said.
After the skate, Martinez revealed his family ancestry to a very interested group of reporters – while saying he'd "consider" an invitation to the Spanish national team, a program that finished in last place in the A-pool in the Division II World Championships last month.
More important than any national team invitation was Sutter's evaluation of his play in Saturday's 1-0 win.
"He was fine. Got up the ice and got involved in some plays and moved pucks. It's what you want him to do," Sutter said.
More quotes and multimedia of Martinez discussing his performance — and his family background — follows the jump.
On wearing the sombrero at practice:
"We obviously had a little fun with that in the locker room. If you can't laugh at yourself, I don't think you can laugh at all. It was funny. We had fun with it. But obviously it was back to work once we were on the ice."
On getting back in to the lineup:
"It was good. Obviously as a professional athlete you want to play. To get back into the lineup and help contribute and get the 'W' was a lot of fun, and hopefully we can keep it going tomorrow."
On Slava Voynov's goal:
"It was just mayhem in front, really. It was kind of reminiscent of my goal last year in – I think it was Game 3 – in the finals. I jammed one home. I was just hacking and whacking. I think Lewie was in there. Slava was obviously in the fold, maybe Kinger. I don't know – fortunately, it popped out and Slava was able to find that hole and put it in there. But I really can't describe it because it was absolute chaos. I know I got hammered at the end of it, but I didn't care because we scored."
On his point of decision to jump into the play:
"I think they had five guys down low, and I knew that if a puck squirted out, Slava was going to be there. I trust my feet that I can catch a guy that's standing right next to me, so that's kind of why I made the decision to go in. I knew that it's just kind of a battle and everyone in front, so I wasn't really sacrificing much of a defensive position, and risk-reward there is pretty good."
On returning to play in a physical series:
"I worked hard the past month to keep myself ready. I don't think that it's ever really easy to do that. A month's a long time. I felt a little rusty, but it's playoff hockey. Every guy wants to play in these games. So if you're having a hard time getting up for a playoff game, then you've got bigger problems. Obviously it was a big game for us. They're a tough opponent. It's playoff hockey. You want to win, so you want to play.
On his Spanish heritage:
"My grandfather – that's the Spanish side of my family. My grandfather's brothers were born in Spain, but he was born here in the states. That's where I get my Martinez last name."
On his ability to speak Spanish:
"Yeah, every once in a while you get someone at the autograph sessions that'll start rattling off Spanish. 'Sorry, slow down. I don't know what you're saying. English only.' I took it in high school. My dad never knew it. My grandmother was English-Canadian, so she clearly didn't know it. I guess they spoke in Spanish when they didn't want the kids to know what they were talking about – and evidently my grandmother. Like I said, I took it in school, but other than the basics, I'm not too good with it."
On whether Spain's national team has ever contacted him:
"No, they have not. I didn't even know if they had one. I don't know. I don't think I've ever seen a Spanish hockey jersey."
On whether he'd want to play for Spain internationally:
"I don't know what the requirements are. I don't know I'd even be eligible. I'm pretty far removed. I don't know. If they give me a phone call, I guess I'd consider it. I don't know. I don't see them really qualifying any time soon. No offense, but it's not the biggest hockey country out there."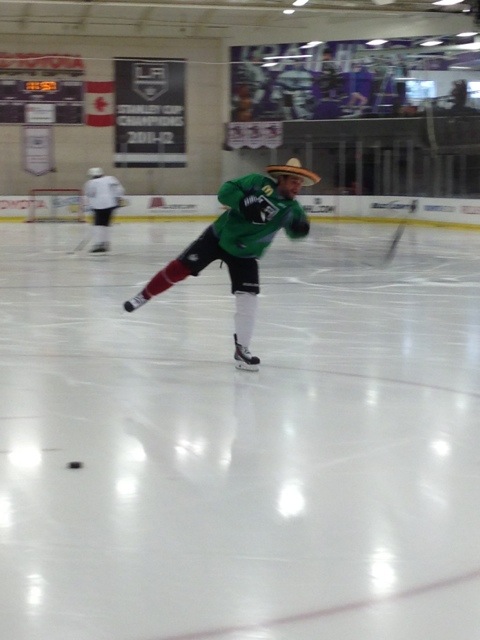 ¡Olé!