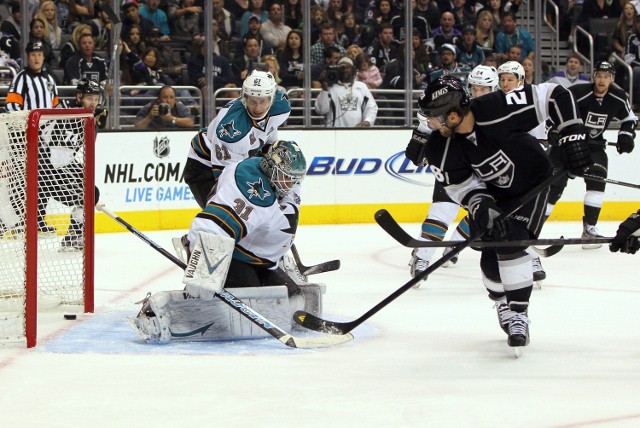 Los Angeles Kings (26-16-5) at San Jose Sharks (25-15-7)
Saturday, April 27, 2013, 7:30 pm ET
Staples Center, Los Angeles, California
Referees: #28 Chris Lee, #34 Brad Meier
Linesmen: #56 Mark Wheler, #86 Brad Lazarowich
Los Angeles Projected Starting Goaltender – Jonathan Quick
Season: 36 GP (35 GS) / 17-13-4 record / 2.46 GAA / .902 Sv% / 1 SHO
Career vs San Jose: 18 (18) / 8-4-5 / 2.58 / .910 / 2
Last Game vs San Jose: 4/16/13 / 65 MP / 33-35 shots + 2/3 shootout / 2-3 SOL
2012-13, Home: 17 (16) / 12-4-1 / 1.78 / .917 / 1
San Jose Projected Starting Goaltender – Antti Niemi
Season: 42 (42) / 24-11-6 / 2.14 / .925 / 4
Career vs Los Angeles: 17 (17) / 10-4-2 / 2.35 / .925 / 2
Last Game vs Los Angeles: 4/16/13 / 65 MP / 31-32 shots + 3/3 shootout / 3-2 SOW
2012-13, Away: 19 (19) / 8-9-2 / 2.53 / .913 / 1
Los Angeles Leaders
Total Points: Anze Kopitar (10-31=41)
Goals: Jeff Carter (26-7=33)
Assists: Anze Kopitar (10-31=41)
Plus/Minus: Jake Muzzin (+15; 7-9=16)
Penalty Minutes: Keaton Ellerby (52*; 0-3=3)
*36 of Ellerby's penalty minutes came as a member of the Florida Panthers.
San Jose Leaders
Total Points: Joe Thornton (7-33=40)
Goals: Logan Couture (20-16=36)
Assists: Joe Thornton (7-33=40)
Plus/Minus: Joe Thornton (+7; 7-33=40); Martin Havlat (+7; 8-10=18)
Penalty Minutes: Andrew Desjardins (59*; 2-1=3)
*Ryane Clowe had 79 penalty minutes before being traded to the New York Rangers on April 2.
A stick tap goes to: San Jose's special teams. Though the penalty kill took a dip between 2010-12, the Sharks' special teams have been a model of consistency since the 2006-07 season. San Jose is on the verge of recording a top-10 power play for the seventh consecutive season, while the penalty kill has improved dramatically from last year's 29th-ranked unit and will almost certainly finish in the top-10 for the fourth time in six years. Though the team's man advantage on the road ranks 19th, the Sharks are three-for-10 on the power play over their last four road games.
A fist shake goes to: The Pacific Division. Home to the Los Angeles Kings since the 1993-94 season, the Pacific Division may meet its unceremonious end with the conclusion of tonight's Kings-Sharks game. Los Angeles and Edmonton are the two teams to have played in the Pacific and not claimed one [dirty] divisional banner, though the Oilers appeared in the division for only five years. The Kings finished as high as second place only twice (1997-98 and 1999-00) and finished in third place six times, fourth place four times, fifth place four times and sixth place twice. Winners of the Pacific include San Jose (six times), Dallas (five times), Colorado (three times), Anaheim (twice), Calgary (twice) and Phoenix (once). With realignment on the horizon, it is still possible that the NHL may still retain the Pacific Division moniker with Dallas out and Vancouver, Edmonton and Calgary re-joining the fray.
Why the Kings need to win this game: Los Angeles would love to snap up home ice advantage in the first round should St. Louis falter against Chicago. For a refresher on first round possibilities, click here.
Rankings and Statistics
Goals/Game: LAK – t-10 / 2.72; SJS – 24 / 2.43
Goals Against/Game: LAK – 9 / 2.38; SJS – 6 / 2.32
Power Play: LAK – t-8 / 20.0%; SJS – 7 / 20.1%
Penalty Kill: LAK – 10 / 83.2%; SJS – 6 / 84.9%
Shots/Game: LAK – 11 / 29.9; SJS – 4 / 31.9
Shots Against/Game: LAK – 3 / 25.0; SJS – 15 / 29.0
Faceoffs: LAK – 5 / 51.8%; SJS – 2 / 53.7%
Save Percentage: LAK – 16 / .905; SJS – 5 / .920
Projected Lines – Los Angeles
Kyle Clifford – Anze Kopitar – Jeff Carter
Dustin Penner – Jarret Stoll – Justin Williams
Dwight King – Mike Richards – Trevor Lewis
Tyler Toffoli – Brad Richardson – Jordan Nolan
Robyn Regehr – Drew Doughty
Rob Scuderi – Slava Voynov
Jake Muzzin – Keaton Ellerby
Jonathan Quick
Jonathan Bernier
Notes: Los Angeles has won six straight home games. At 18-4-1, their record at home is the best 23-game home record in club history. The Kings are 23-11-3 in their last 37 games, outscoring their opponents 107-82, not counting shootout goals. Los Angeles is 52-for-58 on the penalty kill (89.7%) over the last 20 games and has killed off 20-of-21 penalties. The Kings are 33-for-142 on the power play (23.2%) over the last 43 games. Jeff Carter leads the league with eight game-winning goals, becoming the first King to ever lead the league in that statistic. With six game-winning goals each, Pavel Datsyuk and Marian Hossa will not be able to catch Carter. As always, line projections are educated assessments and not definite alignments.
Projected Lines – San Jose
TJ Galiardi – Joe Thornton – Brent Burns
Patrick Marleau – Logan Couture – Martin Havlat
Raffi Torres – Joe Pavelski – Tommy Wingels
Andrew Desjardins – James Sheppard – Adam Burish
Scott Hannan – Dan Boyle
Marc-Edouard Vlasic – Justin Braun
Matt Irwin – Brad Stuart
Antti Niemi
Thomas Greiss
Notes: Scott Gomez is likely to miss tonight's game due to "soreness" due to a hit delivered by Dallas' Erik Cole on Tuesday. Jason Demers remains out with a sprained ankle. San Jose clinched its ninth consecutive playoff berth, the second-longest in the NHL. The Sharks have missed the playoffs once in the last 15 seasons. Of players selected in the 2005 NHL Draft, only Anze Kopitar registered 500 NHL games faster than Marc-Edouard Vlasic, who played in his 500th game on March 20 in Edmonton. As always, line projections are educated assessments and not definite alignments.