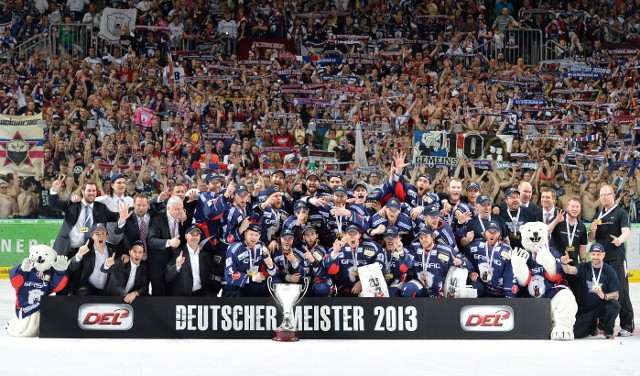 In long-term team construction, Los Angeles Kings General Manager Dean Lombardi has discussed building an identity from stability and continuity, and how a final step is establishing a culture.
The Eisbären Berlin of the Deutsche Hockey Liga have clearly established such a culture as evidenced by their seven league titles in nine seasons, the most recent of which secured a three-peat by a virtue of a 4-1 win over the Kölner Haie (Cologne Sharks) on Sunday in Game 4 of a best-of-five championship series.
One of two AEG-owned teams in the DEL along with the Hamburg Freezers, Berlin's fourth place finish in the 14-team league marked its lowest finish in the standings since the 2006-07 season. The team engineered its best play in the postseason, defeating Hamburg four games to two in a best-of-seven first round series before sweeping a best-of-five series against the Krefeld Pinguine (Krefeld Penguins) to set up the final with Cologne, a team coached by Uwe Krupp and led by former King Marco Sturm.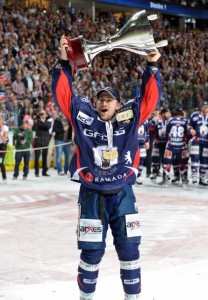 With the road teams winning the first three games of the final series to set up a two-games-to-one advantage for Berlin, the Eisbären won on home ice Sunday night to secure the title. Much like the Kings' run to the Stanley Cup a season ago, Berlin's play away from O2 World helped set a base for postseason success: following a loss in Hamburg in Game 1 of the quarter-finals, the Eisbären won six consecutive road games to put them in position to win the title at home.
25-year-old Constantin Braun, a sixth round pick by Los Angeles in 2006, earned playoff MVP honors with two goals and 12 points. 28-year-old forward Julian Talbot, who accumulated 173 points in 303 American Hockey League games between 2006 and 2011 with Providence, Peoria and Lake Erie, was the playoff's top scorer with 19 points on eight goals and 11 assists.
O2 World housed the Kings in a 4-2 regular season loss to the Buffalo Sabres on October 8, 2011, the first National Hockey League game ever played in Germany. Los Angeles also defeated Hamburg 5-4 in an exhibition on October 4, 2011, Drew Doughty's first game with the club after his contract holdout.
Berlin has won DEL Championships in 2005, 2006, 2008, 2009, 2011, 2012 and 2013. The Eisbären became the third AEG-operated team to win a championship in a 10-month span, following the Kings' Stanley Cup title in June, 2012 and the Galaxy's MLS Cup championship in December, 2012.