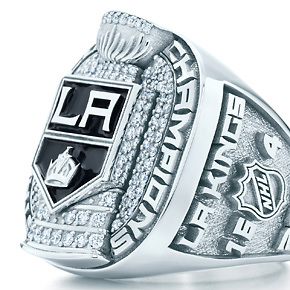 -An authentic Tiffany & Co. Stanley Cup Championship Ring has been put up for auction to benefit City Year Los Angeles and Children's Hospital Los Angeles.
This ring is the real deal: it is the ring that the players were presented with and that you may have seen decorating the hands of Bob Miller and Jim Fox on FOX Sports West broadcasts. Crafted out of 14k white gold and cut diamonds, it will be personalized with the engraving of the winning bidder's name. It is not for sale anywhere.
To bid on the Championship Ring, click here.
-Also up for auction is an opportunity to join Hall of Famer and Kings President, Business Operations Luc Robitaille for dinner in the Lexus Club prior to the Saturday, April 27 game against the San Jose Sharks. Included in this package is a pair of lower level tickets to that night's game as well as a 2012-13 team-signed L.A. Kings jersey.
To bid on the dinner with Luc Robitaille, click here.
Bidding is open through April 22. As noted, proceeds from the auctions benefit City Year Los Angeles and Children's Hospital Los Angeles.
About City Year:
City Year is an education-focused, nonprofit organization founded in 1988 that partners with public schools and teachers to help keep students in school and on track to succeed. In 24 communities across the United States and through two international affiliates, this innovative public-private partnership brings together teams of young AmeriCorps members who commit to a year of full-time service in schools. Corps members provide individual support to students who need extra care and attention, focusing on attendance, behavior, and course performance through in-class tutoring, mentoring, and after school programs.
About Children's Hospital Los Angeles
Children's Hospital Los Angeles has been named the best children's hospital in California and among the best in the nation for clinical excellence with its selection to the prestigious US News & World Report Honor Roll. Children's Hospital Los Angeles is home to The Saban Research Institute, one of the largest and most productive pediatric research facilities in the United States. The hospital is also one of America's premier teaching hospitals through its affiliation since 1932 with the Keck School of Medicine of the University of Southern California.