-Who starts in goal this evening in Dallas? Will there be any lineup changes? There's no morning skate and the Kings don't announce their starting goaltenders or lineups ahead of time, so it's not possible to observe who comes off the ice first or who stays on for extra work. I'm leaning 55-45% in favor of Jonathan Bernier starting on the second night of a back-to-back, but travel and back-to-back games are not firm precedents that determine starting goaltenders in Darryl Sutter's considerations. Given the fury Jonathan Quick exhibited at the end of the shootout last night, I'm guessing that his competitive nature has him itching for chance to rebound quickly against the Stars. On the other hand, Bernier is 7-2-0 with a 1.94 goals against average and .923 save percentage, hasn't started a game since stopping 40 of 42 shots against Phoenix on March 19, and is yet to face a Dallas team that is 2-0-0 against the Kings.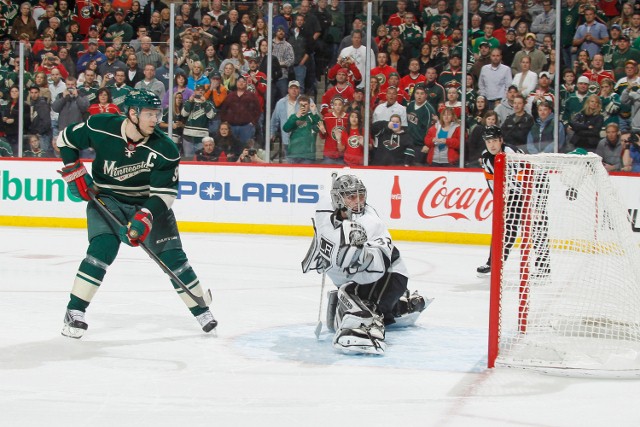 -As for potential lineup changes, it is possible that Dustin Penner or Brad Richardson could re-enter the lineup in the place of either Jordan Nolan or Colin Fraser. I thought the Fraser line strayed a bit from its north-south role of forechecking, making hits behind the opponents' goal line and providing energy; they turned over several pucks in the neutral zone and while gaining entry into the attacking end. On Minnesota's first goal, what appeared to be an attempted drop pass from Fraser to Nolan in the offensive zone was poked free, leading to a three-on-three in the other direction that ended with Matt Cullen's glove-side wristshot up high past Quick. Penner is the likelier candidate to re-enter the lineup and would replace Nolan; if Sutter is looking for a different look at center, Richardson could potentially replace Fraser. I'll address this in an abbreviated preview later today.
-Rule 60.1 High-sticking – A "high stick" is one which is carried above the height of the opponent's shoulders. Players and goalkeepers must be in control and responsible for their stick. However, a player is permitted accidental contact on an opponent if the act is committed as a normal windup or follow through of a shooting motion. A wild swing at a bouncing puck would not be considered a normal windup or follow through (emphasis: LAKI) and any contact to an opponent above the height of the shoulders shall be penalized accordingly.
I'm upstairs above the last row of the seating area and I didn't have any replays available, but my interpretation of the play was that it was a "wild swing at a bouncing puck", not a "normal follow through of a shooting motion", that caught Slava Voynov shortly before the third period goaltender interference penalty assessed to Jordan Nolan. Had the high stick been called, the play would have been whistled dead. There would have been no goaltender interference and no subsequent five-on-three that tied the game. Of course, the Kings were still tasked with killing a pair of penalties after the non-call, and they were unable to do so.