-The Kings earned a two-point reward for one of their most solid road efforts of the season last night. There were several momentum swings – as there are in any tense NHL game – and opportunistic Kings goals curtailed such swings and made sure that L.A. never played from behind. Jonathan Quick's excellent second period save on Vladimir Tarasenko off a David Perron two-on-one feed was followed just over a minute and a half later by a Dustin Brown goal off some nice hands around the goalmouth shown by Anze Kopitar. That Quick save was among the most pivotal moments of the game. St. Louis was coming off a closed-door meeting following a loss to Edmonton on Tuesday night, and after a lukewarm first period, I was expecting a stronger Blues push in the second. It's not always how many saves are made – it's when saves are made – and Quick's sprawling split-legged toe stop enabled the Kings to play with the lead shortly thereafter. It was also an impressive attempt by Tarasenko to get some muscle on that backhand attempt while being pressured by Kyle Clifford. Trevor Lewis' goal came two and a half minutes after Tarasenko's power play tally tied the game in the second period, and Mike Richards' game-winner came on the heels of L.A. killing a late penalty and continued the Kings' strong momentum maintenance.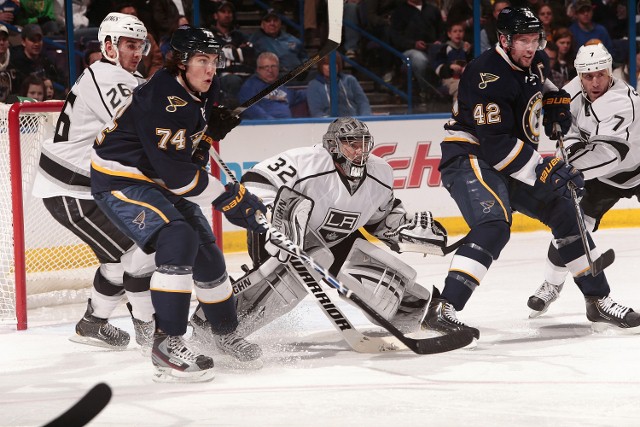 -There was a lot of energy and a little bit of frustration on the Blues' part during the shift that saw the Kings ice the game with a Justin Williams empty net goal. While the puck was in the Kings zone, Jim Fox made an excellent point when he referred to St. Louis being confined to the perimeter and never having any quality chances from the middle of the ice while looking to tie the game. In regards to David Backes' hit on Williams, I thought the hit came in a split second too late, and I agree with the assessment of a two-minute minor. After watching the replay, one thing that I didn't like about the situation was that T.J. Oshie wasn't given a minor roughing penalty for throwing a punch to the back of Williams' head in the scrum. At that point in the game, any minor penalty given is basically academic, so it matters little. Rookie linesman and former Vancouver police officer Kiel Murchison did an excellent job of restraining an enraged Oshie and keeping him from re-entering the scrum. Also: only 11 hits credited to the Kings in a physical L.A.-St. Louis affair? I'm not sure I agree with you a hundred percent on your police work there, Lou.
-Greasy goals, ho! All three goals scored prior to the empty-netter could be characterized as "hacking and whacking", to borrow a term used last night by Trevor Lewis. Several notes that I jotted down last night referred to the Kings driving towards the net and attempting to create second and third chances, even if they weren't necessarily there. It was fitting that the game-winner was scored by Mike Richards on a play in which he relentlessly jabbed at the puck from in close, practically willing it into the net. More on this play and St. Louis' perspective will follow later today.