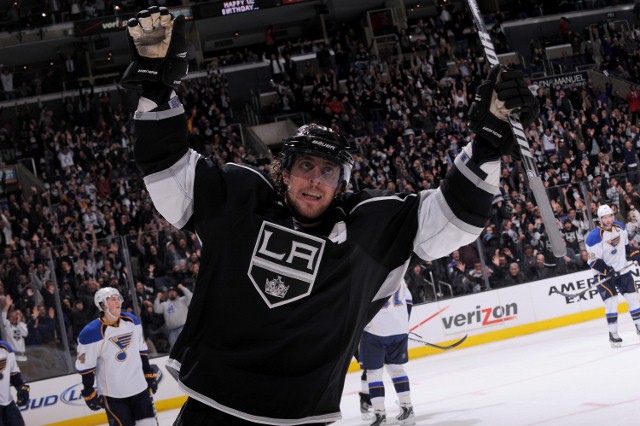 Los Angeles Projected Starting Goaltender – Jonathan Quick
Season: 25 GP (24 GS) / 11-10-2 record / 2.53 GAA / .895 Sv% / 1 SHO
Career vs St. Louis: 13 (12) / 4-8-1 / 2.40 / .914 / 2
Last Game vs St. Louis: 3/5/13 / 39 MP / 5-6 shots / 6-4 W
2012-13, Away: 13 (13) / 4-6-1 / 3.21 / .885 / 0
St. Louis Projected Starting Goaltender – Jaroslav Halak
Season: 14 (13) / 6-4-1 / 2.13 / .893 / 3
Career vs Los Angeles: 9 (9) / 6-3-0 / 2.14 / .918 / 2
Last Game vs Los Angeles: 3/5/12 / 46 MP / 16-21 shots / 4-6 L
2012-13, Home: 6 (5) / 4-1-0 / 1.08 / .939 / 2
Los Angeles Leaders
Total Points: Anze Kopitar (10-20=30)
Goals: Jeff Carter (18-3=21)
Assists: Anze Kopitar (10-20=30)
Plus/Minus: Justin Williams (+12; 4-17=21), Jake Muzzin (+12; 6-7=13)
Penalty Minutes: Keaton Ellerby (50*; 0-3=3)
*36 of Ellerby's penalty minutes came as a member of the Florida Panthers.
St. Louis Leaders
Total Points: Chris Stewart (15-14=29)
Goals: Chris Stewart (15-14=29)
Assists: Kevin Shattenkirk (2-17=19)
Plus/Minus: Barret Jackman (+6; 2-8=10)
Penalty Minutes: Ryan Reaves (65; 1-1=2)
A stick tap goes to: Recent Kings fortunes against the Blues. Until this year, Los Angeles hadn't won back-to-back season series against St. Louis since winning the series for four consecutive seasons from 1972-76. If playoff hockey is considered, the Kings have won seven consecutive games against their 2012 Western Conference Semifinals dance partners, outscoring the Blues 26-11 in the process. Only once in those seven games has St. Louis held Los Angeles under three goals.
A fist shake goes to: Goaltending. We have previously shaken our fists at St. Louis goaltending. The only thing that has changed since March 5 has been the Blues improving their save percentage from .875 to .883. They still rank 30th in the league in this important statistic and are carrying three goaltenders on the roster in Jaroslav Halak, Jake Allen and Brian Elliott. Though Halak's earlier groin issues played a part, Tuesday's loss to Edmonton marked the fifth time this season that St. Louis has pulled its starting goalie. Ben Bishop, who was moved to Ottawa for a second rounder last season, has a .923 save percentage through 11 games with the Ottawa Senators.
Why the Kings need to win this game: This is a game against a likely playoff-bound opponent that figures to be in the general mix with the Kings for playoff seeding. On the other hand, Columbus, the 11th-place team, is only five points behind Los Angeles.
Rankings and Statistics
Goals/Game: LAK – 7 / 2.88; STL – t-10 / 2.81
Goals Against/Game: LAK – t-9 / 2.47; STL – t-17 / 2.75
Power Play: LAK – 12 / 19.0%; STL – 7 / 22.1%
Penalty Kill: LAK – 12 / 82.4%; STL – t-14 / 81.5%
Shots/Game: LAK – 14 / 29.2; STL – t-17 / 28.6
Shots Against/Game: LAK – 3 / 24.5; STL – 1 / 23.5
Faceoffs: LAK – 7 / 51.5%; STL – 16 / 50.1%
Save Percentage: LAK – 23 / .899; STL – 30 / .883
Projected Lines – Los Angeles
Dustin Brown – Anze Kopitar – Justin Williams
Mike Richards – Jeff Carter – Tyler Toffoli
Dwight King – Jarret Stoll – Trevor Lewis
Kyle Clifford – Colin Fraser – Jordan Nolan
Jake Muzzin – Drew Doughty
Rob Scuderi – Slava Voynov
Keaton Ellerby – Alec Martinez
Jonathan Quick
Jonathan Bernier
Notes: Lines appear to be back to what they have been throughout most of the year as Justin Williams is likely to rejoin Dustin Brown and Anze Kopitar after Jeff Carter started the game with Brown and Kopitar against Chicago. Tyler Toffoli should return to see even strength and some power play time with Carter and Mike Richards. The only potential change could be a flip flop of Dwight King and Kyle Clifford, though that doesn't project as a permanent change. Lines hardly remain static; they'll constantly change as the game evolves. When Toffoli scored the game-tying goal in Chicago, he was skating with Colin Fraser and Jordan Nolan. Dustin Brown has appeared in 300 consecutive games. The Kings have killed off 16 consecutive power plays over the last five games. Los Angeles has played 26 consecutive games without heading to overtime. The Kings have appeared in three overtime games this year (1/24 – 1-2 OTL @ EDM; 1/28 – 3-2 SOW vs VAN; 1/31 – 1-2 SOL vs NAS), all over a span of four games. As always, line projections are educated assessments and not definite alignments.
Projected Lines – St. Louis
Alex Steen – David Backes – T.J. Oshie
Andy McDonald – Patrik Berglund – Chris Stewart
David Perron – Vladimir Sobotka – Vladimir Tarasenko
Chris Porter – Jaden Schwartz – Chris Porter
Barret Jackman – Alex Pietrangelo
Wade Redden – Kevin Shattenkirk
Kris Russell – Roman Polak
Jaroslav Halak
Jake Allen
Notes: Scott Nichol could replace Chris Porter on the lineup. The league's top power play earlier in the season, St. Louis' man advantage is 1-for-22 over its last seven games. As always, line projections are educated assessments and not definite alignments.