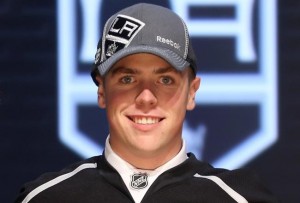 Los Angeles Kings 2012 first round draft pick and Manchester Monarchs left wing Tanner Pearson suffered an upper-body injury in a game against the Bridgeport Sound Tigers last Saturday and is expected to miss a total of three weeks of action, according to the Kings.
Pearson, 20, is among a handful of Monarchs out of commission due to injury. Marc-Andre Cliche, Stefan Legein, Brian O'Neill and David Meckler have all been affected by the injury rash, according to Ian Clark of the New Hampshire Union Leader. The injury was also reported by Kings News Daily.
"We practiced (Tuesday) with 10 forwards and six D," Monarchs coach Mark Morris told Clark. "It becomes a challenge practicing when you can't work on what you need to work on because you don't have the numbers to execute what you're trying to work on. We had to improvise." Manchester is 2-0-1 in its last three games, outscoring Worcester, Bridgeport and Portland 13-8 over that span.
Pearson has been impressive as the left wing opposite Tyler Toffoli on a line centered by Linden Vey. He has 13 goals, 35 points and a plus-13 rating in the first 52 games of his professional career.