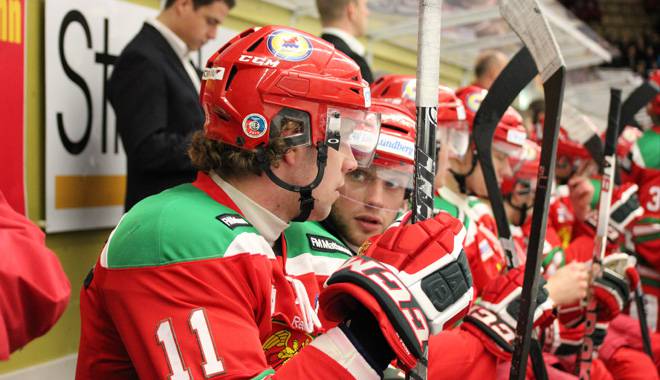 When the Kings and Ducks meet tonight, it will mark the first time Anze Kopitar and Bobby Ryan have faced each other since their time spent as Mora IK teammates in Sweden's second-tier Hockey Allsvenskan during the NHL lockout.
Both players averaged better than a point per game in the chippy Allsvenskan, with Kopitar recording 34 points (10-24=34) in 31 games and Ryan tallying 13 points (10-3=13) in 11 games. Kopitar suffered his knee injury in a Mora IK game one day before the lockout ended, keeping him out of action during Los Angeles' brief training camp and the first game of the season.
At the time the lockout ended, Ryan was in transit to a game on the Mora IK team bus. The bus dropped him off at a rural train station, hockey equipment in tow, setting in motion one of the longer commutes back to Southern California for training camp.
I traveled to Mora during the lockout to write about Kopitar playing alongside his brother, Gasper, and though Ryan hadn't joined the club yet, I reconnected with the team to write a subsequent feature, located here.
With Ryan's shift to center in Anaheim's win last night – he's primarily been used as a left wing – the two are likely to be battling against each other from opposite sides of the faceoff dot tonight.
Anze Kopitar, on "gaining extra knowledge" on how to play against Ryan:
"You get to know the guy a little better, and I guess you do get to know hois strengths and his weaknesses, too, at the same time. I don't think we're going to be playing any different against him. Going out there, we all know he's a goal scorer, and you've got to play accordingly, just like any other guy in the league."
Kopitar, on whether he and Ryan hung out in Mora:
"Yeah, we hung out quite a bit."
Kopitar, on the challenges of shifting between wing and center:
"I tried a couple of times left wing last year, when I was together on a line with Mike. I didn't feel good, let me tell you that. It might be a little better coming off a wing to go to the middle instead of having all that ice in the middle and having to go on the boards and be there. It's a little difficult. I can see how he thinks it's different, for sure. Especially growing up as a winger, it's tough, to get adjusted in no time. But I'm sure he's got a few games now that he can get adjusted."
Kopitar, on Ryan having Teemu Selanne as a linemate:
"I don't think that's too bad, yeah."
Kopitar, on the evolving dynamics of the L.A. – Anaheim rivalry:
"Well, they were the champs a few years ago. Now, I guess we're the defending ones. It'll be just like any other game. It'll be physical. It'll be intense. I'm sure the crowd's going to be into it pretty quick. At the end of the day, we're looking for two points. It doesn't matter how they come."