JF: When the Kings won the Cup–I wonder if you can break down your reaction as a fan and then as a business executive?
Tim Leiweke: Well two totally different reactions.  Let me go the other way and start with the business side…
…literally the next morning I was sitting there going 'how are we going to do it again'–that's all I was thinking about.  We had decisions we had to make on the parade because I was a bit superstitious and I wouldn't let anybody plan the parade–we'd done a lot of parades already so we were pretty fortunate, this was our sixth if I'm not mistaken, so we kind had an understanding on how do parades but there was just–there were a lot of decisions that we had to make very quickly because we made it a decision, as an organization, we weren't going to get ahead of ourselves.  So above and beyond the details of parades and parties…
…for the players and the players family and the fans and how do we celebrate this right, I think one of the really good creative things our team did was the rally at STAPLES Center…
…for our true fans–it was great that we had, I don't know what the estimates were, half a million, who knows how many people we had on the parade route.  It was as big as any Lakers parade we've ever done but I will tell you that I think that "intimate moment" in that building and bringing everyone back in and trying to get our players to rally one last time–they were tired and I think some of them might have been a little hung over but I think that was unique.  We went through a lot of business things we had to do short term.  I was already thinking about 'how do we do it again' and 'how do we do it again' and 'how do we do it again'– we knew the strike or there was a potential lockout coming–we knew there was going to be a new world order on "the cap", we knew there was going to be a new system as it related to what we could spend on our players and we had spent a long time leading up to this thinking about that and planning for it and that was first and foremost in my mind the next morning.
As a fan…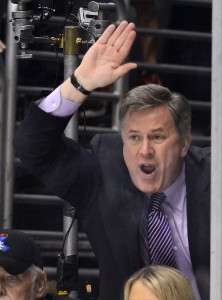 …'it was just the ride'–I mean I've just never been through anything like that as long as I've been in sports.  Thinking about those two games in St. Louis and the overtime wins and the short-handed goals–to me that was one of the highlights from our perspective because we heard about how good St. Louis was, how good their keeper was, how disciplined a team they we, how well-prepared Hitchcock had that team and then to see our team go in there and Darryl had our team as prepared and we took advantage of the breaks and we got a few of them.  I remember that was the series when I really knew we were going to win the Stanley Cup.  Coming out of there and then going to Phoenix and they had a chip on their shoulders.  I always get nervous about playing teams that ultimately think it's them against the world and I remember as a fan being so amazed that we could do three-zip in four different series but the hardest one for me was by far New Jersey, they got an mean streak to them and it's kind of a mean difficult place to go play, those fans are tough and mean and very loyal to their team in a way that we hadn't seen in any other series that we were in and there was something about Marty (Brodeur)…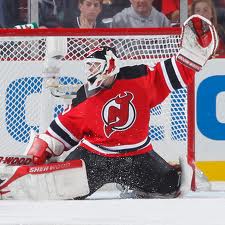 ..and just knowing he was in the zone and it was an important series for him and understanding we were playing a guy that had been there many times and he clearly was at a level that was probably the best level he had been at in years.  Then playing Kovalchuk…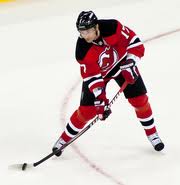 I must admit was a favorite of mine and seeing that but I was as a fan.  I was just in awe of not only how well-prepared Darryl and the coaching staff had our team but just the poise and the maturity that our players showed opening up every series on the road and winning in Vancouver, going to St. Louis, going to Phoenix and then ending up in New Jersey and each and every one of those had a unique plot that was stacked against us and I think as a fan the greatest thing that I enjoyed about the whole run is just watching our team come of age after all the time and energy we had put in there we Kopi (Anze Kopitar) and Brownie (Dustin Brown)…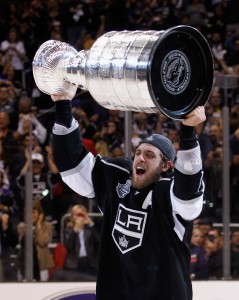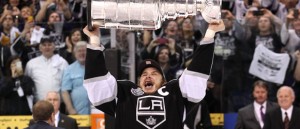 …and all the guys.  I would say for me though, what I happiest about, what I was most excited about, passionate about, emotional about, there's guys like you and Bob Miller, that had been here a long time.  I told you we'd win the Cup.  Watching Quickie (Jonathan Quick)…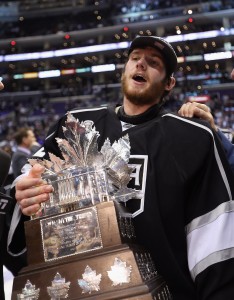 whose been in our system from day one and taking the team on his back and literally just elevating us as an organization.  Watching our good young kids like Kopi that have come through our system, looking at Mike Richards and Jeff Carter,…
knowing the pain that they had been through in Philly and knowing how difficult it was for them ultimately to be burdened with blame and then winning the Cup here.  But most of all for Dustin–he's been a champion and I know there were a lot of rumors about him leaving and trades and it really got to him and it got to his wife Nicole…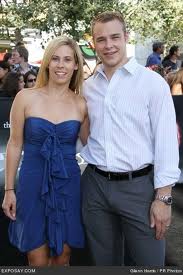 and I think for me I was happiest for Dustin, he just–he deserved it and to see a guy with that kind of character who had been with us from day one and put up with the bad years and the rebuilding and the mistakes we made and then to see the sheer joy on his face and the respect that every player had for Dustin Brown–to me it was 'every bad moment', 'every tough decision' and 'every mean-spirited comment' we had ever gotten and trying to build this team–to see the joy on Dusitn's face and that little gap where those teeth used to be.
JF: Is there a Kings player that you see a little bit of yourself in?
Tim Leiweke: Well you've been around me from day one, so you know I'm a bulldog and I think whatever, 'good things or bad things', 'good decisions or bad decisions', the one thing that has been consistent in this organization is a passion and a desire to win.  We may have not always followed the right path or the easiest path but there was never a doubt that we were committed to winning.  I needed to learn a little bit when I was first here because I had never been in hockey, I came from basketball and so it was a bit of a learning experience for me but I guess if I look around and ultimately kind of relate to one guy it's Dustin…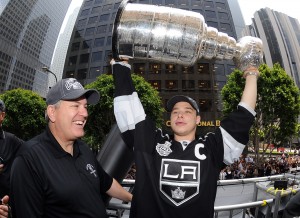 …because I think at the end of the day I've been through the good times and the bad times and I never lost faith–when things were at their low point I just rolled up my sleeves and worked a little bit harder and got a little bit more passionate and despite all of the success that he's had and all the success that we have had at AEG, the one thing that has always meant the most to me is the same thing that meant a lot to him which is "this team and that sweater and that organization" and just the sheer joy of the fans.  It was a good moment for me probably just like it was for him to know that after 45 years we finally gave them something they deserve, they earned, and they had fought so hard for.  So I feel a lot like he did which is, 'man we've been through some bad times, man we'd been in some holes that we had to dig out of' and I think we were an organization not a lot of people in the hockey world or in the NHL respected or expected to do what we did and I'm glad we did because I always known we've had it in us and I'm still a big fan of believing that these sort of things–if you plan well and you have good people, they're not just a one-time experience and so I wish I played as well as he did but I would hope that our leadership style is similar.