"I'm not going to lie. The results of this draft were exceptional."
The 2020 NHL Draft is in the books, and if Mark Yannetti is to be believed, which he is, then it was a good one for the LA Kings.
The LA Kings selected a total of nine players, and acquired a tenth via trade, throughout the course of the two-day event…..even if the second day felt like it took about a week to complete.
After selecting center Quinton Byfield on Day 1, the Kings added four additional forwards, three defensemen and a goaltender throughout Rounds 2 through 7. Additionally, the Kings acquired forward Lias Andersson via trade from the New York Rangers, a former Top-10 selection in 2017. More on that to come.
Major Takeaways From Day 2
Second Round Picks
The Kings were one of a few teams that entered the second round with three second-round picks. It always seemed likely that the Kings would make some kind of move during the second round and they did not disappoint.
After selecting defenseman Helge Grans with the 35th overall selection, the Kings made moves surrounding each of their back two picks.
First, LA traded up in round 2, sending picks 51 and 97 to Detroit in exchange for pick 45, used to select USNTDP defenseman Brock Faber. Rob Blake then took pick 60 and traded it to the NY Rangers in exchange for forward Lias Andersson, the seventh overall selection in 2017.
Everyone knew that movement would come during Day 2 – it was always unlikely that the Kings would make all 10 of their selections, and their draft capital entering the day gave them the flexibility to do pretty much whatever they wanted to do on the second day, although attempts to trade up back in to the first round proved to be futile.
Yannetti said the Kings tried seven times to trade back into the first round…..SEVEN.

"We couldn't get past hello."

— Zach Dooley (@ReignInsider) October 7, 2020
First and foremost, the Kings added a pair of young defensemen with good upside. After selecting a litany of forward prospects in the early rounds over the last few seasons, Blake alluded to the need to add defensive depth to the pool, which he and the Kings did in today's second round.
"There [are] needs within the organization, we understood that," he said. "We've drafted a lot of high-end forwards the last few years…some of that comes into play and a lot of times, what happens is you get close to that second round pick, and you're looking at the possible defensemen that could be available, depending on what somebody in front of you does, or even if that defenseman will be available at your next pick."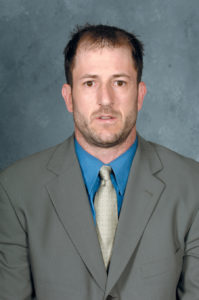 In Grans and Faber, the Kings added a pair of right-hand shot defensemen, though players of different abilities.
Grans brings an offensive skillset, with top-level offensive tools that Kings Director of Scouting Mark Yannetti feels could turn into a first power-play type of player when developed.
"He has an excellent sense, in a transitional term, of moving the puck up the ice," Yannetti said. "He's got excellent straight-line skating, powerful stride, he really sees the ice well, processes well and sorts it out well. On the offensive blueline, his vision is excellent. I think he has the offensive tools to be a first power-play type player. His defensive game needs a little bit of work, but his competitive nature is there, which is good."
Faber brings the other end of the ice to the table. With excellent intangibles – things that aren't perhaps as measurable such as character, compete, leadership – Faber excels, along with a close to elite level of skating. Yannetti noted that although his offensive game isn't as developed, he feels Faber was asked to take on a more defensive role with Team USA, and that he does have skill to compliment his other strengths.
"You look at Brock Faber, [he] leads with character and compete, intangibles, things we value that are sometimes a little less quantifiable, and harder to find," Yannetti said. "The bonus is, he's probably right on the south side of being an elite skater, so he's in that higher level skating tier. He's extremely mobile, extremely competitive. His offensive game needs a little bit of work, but he was asked to play a defensive role, and he embraced it. He does have speed, he does have skill, it'll be interesting to see how the offensive side of his game does develop."
Hips Don't Lias
Will have a more direct article focusing on Andersson to come, but at first glance, as Blake said, getting him for the pick that they did represented a terrific value for the Kings.
Blake noted that Andersson was a player the Kings did extensive work in during the 2017 NHL Draft, something they could go back to now looking at acquiring a talented player who it just hadn't worked for yet in New York.
"Lias Andersson was a player we looked hard at a few years ago in the draft, "Blake said. "We were real familiar with him, having his father as one of our scouts in Europe for a number of years now. The relationship he had with his former team, for whatever reason, didn't seem to be a great fit, so when we got to that certain layer of the draft, we were looking at the ability to get that high-end talent, for what he was drafted originally for, it proved to be something beneficial to us at that time. It added some value to what we were doing on the overall day."
Trading the 60th overall selection, especially during a season when the Kings had two other second-round picks, proved to be a good use of assets, when considering that Andersson was selected in the Top-10 just three years prior.
While he hasn't put everything together yet at the NHL level, critics tend to focus on a player's faults, rather than his successes. Fact of the matter is, Andersson has played the 11th most NHL games of players in his draft, hardly low for his draft slot, and is just 21 years of age.
The Swedish forward has found some success when he's played consistently, including playing at nearly a point-per-game pace in the SHL and at around a 0.6 points-per-game pace in the AHL with Hartford, which is no small task for a player in his teens.
Blake and the Kings felt that the opportunity for Andersson to come to the Kings and battle for a roster spot would be a great fresh start for him.
"A lot of that work was done during the draft year," Blake said, of how the Kings followed Andersson. "Christian Ruuttu has followed him during his time that he's spent in Sweden since that, but like I said, the value we were looking at, when we were picking at that selection, to give him a fresh start and come here and battle for a job would be intriguing to his point also."
Elite Level Tools
When I spoke with Mark Yannetti in advance of this season's draft, we took an in-depth look at the Kings process when selecting players in the later rounds of the draft.
One point of emphasis that he drove home was the importance of selecting players in the later rounds who have maybe one or two high-level tools, as opposed to vanilla players, who are good, solid players, but not exceptional in any specific areas.
Yannetti focused in on a few of those tools with the a few of the players the Kings selected. He first emphasized Kasper Simontaival's skating, specifically his speed and quickness.
"He's got excellent quickness, excellent agility – second tier speed, first tier quickness," Yannetti said of Simontaival.
When it comes to forward Martin Chromiak, LA's selection in the fifth round, Yannetti singled out his hockey sense.
"High-level hockey sense. He was the one guy that probably slid the most, based on the guys we've drafted…He plays in high-level offensive situations, he's a very good puck facilitator, a very good playmaker, he reads the play really well."
When it comes to selections of Alex Laferriere and Juho Markkanen, Yannetti liked how both players rose to the occasion this past season when moving up in competition levels. He noted that Laferriere moved from prep school to the USHL and led his team in scoring at both levels. He also said that Markkanen started the season as the number three goaltender on his junior team in Finland, and earned his minutes, moving his way through the ranks.
On Ben Meehan, he called him a "jack of all trades" type of player, but made sure to emphasize that he's not a "vanilla" player, as in someone who doesn't have those higher level abilities. Yannetti said he liked Meehan's attack based style of defense, someone who plays aggressively and closes quickly.
On Aatu Jamsen, Yannetti talked about the COVID pause as a positive, saying that he's someone who the Kings got a look at this season at the U-20 level in Finland, due to the later draft, and got to see more of his play, which led to his selection.
And with that, the 2020 NHL Draft is complete. Thank you, Insiders, for following along! Sorry for a few typos along the way, and know that this is just the beginning of coverage on these two days and that we've got much more to come!