We don't know exactly what the 2020-21 AHL season will look like at this point in time, but we do know for certain that it will be different than years past in Ontario.
We know that, for the first time in AHL-Reign history, Mike Stothers will not be behind the home bench at Toyota Arena. We are still unsure at this time if fans in some capacity, if any, will be allowed inside the arena for games. One thing, however, that we now know for sure, is that we will see the number seven, black and white jersey with "SUTTER" sewn onto the back taking the ice for the Reign.
The Reign announced on Monday that Brett Sutter has re-signed with the organization for what will be his sixth season with Ontario, after he was acquired by the Kings in 2016. And, as if it required any confirmation, Sutter will adorn a number seven on his back, as he has for each of the last five years.
"I would be surprised if they can sign a player who has played in this league longer than me at this point," Sutter joked, about anyone else possibly taking his digit.
They certainly couldn't find anyone who has played longer with this team. Sutter, Ontario's all-time leader in games played, goals, assists and points, is as synonymous with the Reign as anyone, or anything, else. His presence amongst the team's forwards, and for the last three seasons as the team's captain, has provided unrivaled consistency in a league where it is typically at a premium. As younger players have moved up, down and sideways over the years, Sutter has found a home with the Reign, and though there may be some differences with the 2020-21 edition of the Reign, Sutter is back along for the ride.
"I have a pretty open relationship with the guys in Ontario and [Reign GM] Rich Seeley, and he's been pretty good at trying to keep me in the loop the best he can," Sutter said. "I think you just base everything else off of the relationships and the teammates you're coming back to and the trust that you've built with people in the organization. You just let that take over and make a decision for you."
As one of four players on last season's Reign team with both 10 goals and 25 points, the now 33-year-old forward has proven that he can still contribute and influence games as a player. Take February 28 as a prime example.
As Ontario hosted the Tucson Roadrunners at Toyota Arena, with the Reign staring down an 0-6-1 record against their foes from the desert in the seven head-to-head matchups prior, the Kings' primary developmental affiliate faced perhaps its biggest game of the season.
After Tucson jumped out to an early 2-0 lead, Sutter stepped up as he led his team back with a hat trick, the only one of Ontario's season, in an eventual 8-4 victory.
Brett Sutter is the #Reign's all-time leader in games played, goals, assists and points…..and he's back for another season! pic.twitter.com/mTFtBRGYqe

— Ontario Reign (@ontarioreign) July 21, 2020
The Viking, Alberta native's impact goes far beyond just his goals and assists, however. Sutter's presence as a veteran and the team's captain helps younger players to adapt to the professional game, while his experience helps to serve as a medium between the players and coaching staff.
"Brett Sutter obviously does a tremendous job, not only adapting those kids, but showing them what to do every day," Kings General Manager Rob Blake said. "You can't ask for much better than what we get out of him."
It's no secret that the Reign expect to field a young team during the 2020-21 season, which makes Sutter's value that much greater. As several of the top prospects in the Kings system make the transition to the American Hockey League, players like Sutter are extremely valuable in easing the transition and helping to grow and develop them into NHL'ers.
"I think it's something you have to take pride in as you become an older guy, that's kind of part of the deal, is you have to be there to be a mentor that some of these young guys can lean on throughout the year," Sutter said. "We're really lucky in LA that the young kids we have are really good kids right now and I enjoy working with them. I'm excited to be back and to keep helping them along with their journey."
While a large group of first-year pros will be expected to join the ranks in Ontario, a strong group of returners could join them.
The 2019-20 season ended with the Reign smack dab in the middle of an exciting playoff race in the Pacific Division, only to see that push cut short as the AHL season was paused in March, and cancelled prematurely in May, due to the COVID-19 pandemic.
"For sure I think there's unfinished business," Sutter said. "We're excited about the group we have. I think we're going to be right there, competing every night, with the steps guys have taken and the steps [we took] as a team. I think we're really excited. Everyone we've talked to has had an extremely motivated time off and we're excited for the challenge, whenever that comes."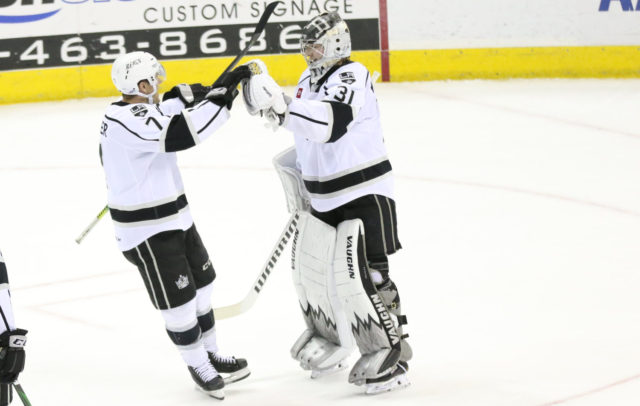 That motivated time off for Sutter began with home workouts and has now ramped back up into working out again with a trainer, in addition to lacing up the skates and finally getting back onto the ice. Baby steps at this time, but a good feeling for the Reign captain.
"Gyms are back open, I've been training with a trainer for about a month now, we've been skating for three to four weeks, so everything's inching its way back to normalcy," he said. "It's been good to see some of the other guys around. It was a long time off the ice, but it's good to be back."
While a start date – December 1 – has been proposed for the NHL's upcoming season, the AHL still remains with more questions than answers. Typically, the AHL and NHL would be hand-in-hand on a season start, but it goes without saying that these are unprecedented times.
With one eye on the future of the AHL, Sutter is a representative on the executive committee of the PHPA, the minor-league version of the NHLPA, representing both the AHL and the ECHL. Sutter mentioned that the group has met weekly to discuss possible updates, though at this point, most of what's been discussed is similar to what's already out there in the media. Right now, we're all still playing the waiting game, with many solutions on the table.
Right now, however, it's really too soon for specifics. Sutter mentioned that the PHPA is working through multiple options and choices, with the ultimate goal of getting the AHL back on the ice at the appropriate time.
"I think, at this point, you're really expecting any possibilities," Sutter said. "I think playing games and not having too long a break between when the season was cancelled to our next break would benefit us. Whether it be in some sort of tournament format, or just an exhibition season or however it would work, I think you have to consider all possibilities. Especially with some of the prospects coming up, I think the Kings would like to see their prospects playing instead of sitting at home."
Whenever that time comes, when Sutter and the Reign finally re-take the ice in some form, Reign fans, Kings fans and hockey fans will be ready.