REDRAFTING 2003. Fun Insider content on All the Kings Men. Rich Hammond joined us to re-envision the legendary 2003 draft in which the LA Kings held three lottery tickets and cashed in on Dustin Brown. In this re-draft, teams that made the pick historically retained that pick, meaning that Pittsburgh owned the first overall pick, not Florida. All draft-eligible players in 2003 could be selected (wink, wink), while Rich and I retained the knowledge of their career statistics on the ice, not injuries or off-ice developments. If you need a refresher on the players selected, click here.
(Burying the lede) Hall of Famer Nick Nickson and Jim Fox also stopped by to discuss the best first round series in club history. Anyway, stop by as we pitch our con-tent and laugh at me speaking for Darryl Sutter as he makes his very first pick as GM of the Calgary Flames.
ON FOX SPORTS WEST. Game 3, Kings-Devils is tonight. The rest of the upcoming playoff schedule: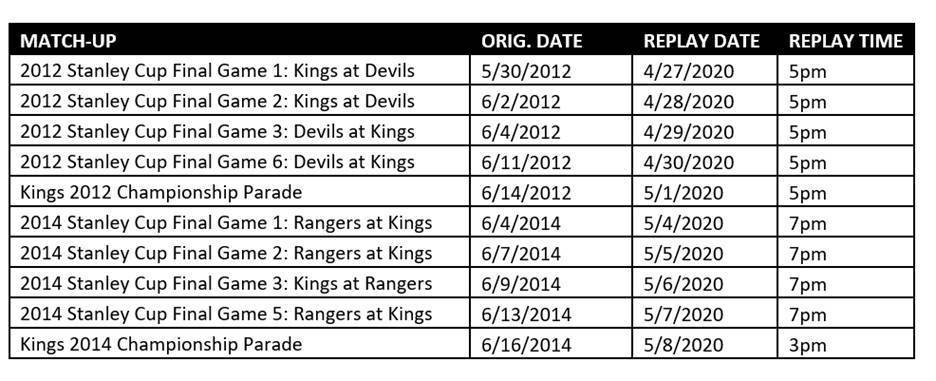 Game 3 was a fun game! The Kings killed off a 5-on-3 in this game. Those who were there recall bedlam breaking out late in the second period when Justin Williams dropped the puck for Dustin Brown, who fed across the ice to a net-crashing Anze Kopitar. You can imagine where it goes from here. (He fixes the cable.) My Game 3 column somehow survived the FOX Sports content purge. Meanwhile, there's one tweet from that game that always sticks out to me:
I can't believe it. An actual goal scored off an actual rush. How retro. Must be 80s night in the building. Or Gretzky's here, or something.

— Eric Duhatschek (@eduhatschek) June 5, 2012
Stick taps as well to Darryl Sutter, who made a minor coaching change that I thought provided a good refresh for the team coming home with a 2-0 lead. Brad Richardson had ably handled a fourth line wing role alongside Colin Fraser and Jordan Nolan, but Sutter subbed in Simon Gagne for the remaining four games. This wasn't as much about getting a veteran's name on the Cup or allowing Gagne to get some games in the Final, but rather as a way to provide a wrinkle or a small snap back to reality, lest anyone get too comfortable having won two straight games in New Jersey with the same lineup. "Coach told me to get ready after Game 2," Gagne said after the game. "After we won the game in Jersey, when Carter scored, he came right away to see me and said, `Get ready, get ready for next game.' After that, I didn't talk to him until this morning. This morning he said, `Are you good to go?' and I said, `Yeah, sure.' At the same time, I was hoping I was going to play."
PRESENTED WITHOUT CONTEXT.
QUICK QUOTES. Nothing too newsworthy, but content is content is content, so here's what Jonathan Quick said on last Friday's call. (Stick taps to Zach Dooley for the transcript.)

On hypothetically traveling to one city for a centralized resumption of play:
Yeah, I mean it's an interesting concept, if we're going to one city. At the same time, it's all just speculation, nobody really knows what's going to happen, so we're just, for the most part, just trying to stay in shape and wait to hear and see what happens.
On his play this season:
At the end of the day, I want to say we were in [28th] place when the season got put on hold, so at the end of the day it wasn't good enough, personally and as a team. I do think we were playing better the last couple months and it was something we were looking to build on. Unfortunately with everything going on, we're all going to have to wait and see how it all plays out.
On his tandem with Cal Petersen:
Obviously, since he's been up he's played great for us and last year when he was up he did that as well. We really aren't looking forward to next year yet, we're still kind of waiting to see how this plays out. If we do get the opportunity to finish the season, I think the rotation we had going there for the last month or so that we were playing, I think we were both giving our team a chance to win and that's exactly what we need.
On if there was a highlight of the 2019-20 season, to date:
Playing in the outdoor game was obviously a really cool experience. Being able to win that game, Ty getting the hat trick and just the whole experience I would say is something special. I think, looking back on what we've completed of the season so far, that's probably one of the bigger highlights.
On Todd McLellan's impact on the team this season:
I think he's helped tremendously. Obviously, we didn't get off to the start we wanted to, but I think with some new players, a new system, a new voice behind the bench, it's something that takes a little time for everyone to get used to and understand how it's operated. I really think the last bit of the season there, we kind of played the way we wanted to play from the get go and everyone was understanding everything. It really is something to build on and we're looking forward to that.
On how long he thinks it might take him to become "game ready":
That's a tough question. I know, unfortunately, from having to go through a couple of injuries in my career, missing two months…I know I missed a couple months in 14, and I believe it was 16 or 17 I missed maybe four months, so kind of looking at it from that standpoint, taking that time off, it's a gradual build up to get playing again, because you're coming off an injury. You're not going on the ice and skating right away like you normally would, you're just going with limited mobility and everything like that. It was probably a month or so from when I stepped on the ice after the injury to being able to play in a game. I'd imagine that you might not need as much time, because you're not coming off an injury, but it's something that I personally have never experienced before and I don't think anyone in the league has. It will be interesting to see how long they give us, if we do come back, and how well guys feel on the ice.
On what a typical day for him at home with his kids:
I'm brushing up on my fourth-grade math. It's kind of funny, there's a few things I had to look up that I didn't know the answers to, but the wife and I, we've spent the majority of the morning and some of the afternoon doing the homeschooling and just trying to create ways to keep the kids busy and keep ourselves busy without leaving the house. It's been interesting and obviously something it looks like we're going to have to do for a little bit longer here.
On the influence behind the winning streak:
To get into it would be tough, just because it's kind of an unknown answer. We went through some good streaks throughout the year, where we tied together some wins, so if the answer was that obvious we would've just kept doing it. At the end of the day, we were finding ways to give up less goals than the other team, or score more goals than the other team. We won a few games 2-1 and 1-0 and we beat Florida what was it [5-4] or something like that, so we were winning in different ways, whereas earlier on in the year, we were finding ways to lose those one-goal games. I don't know the numbers off the top of my head, but I would guess the amount of one-goal games that we lost was higher than we're used to. I think, at the end of the day, we were just finding a way to win games and when you start stringing a few of them together, the team's playing with a little more confidence, you're not thinking about making mistakes and I thought we were going a really good job of that.
On whether he expected hiccups at the start of the season:
No, not at all. I remember talking with a couple guys towards the end of training camp and we felt real confident in what our team was going to do this year. I thought we had a real good training camp, everyone was working hard and we were winning games in preseason. Going into the season, personally and I know a few other guys that I talked about it with, had a lot of confidence in our team going into the season and for whatever reason, October really kind of killed us. November, we had some ups and downs, and then as the season went on, we gradually built it back up. It was a disappointment at the beginning of the year, but to answer your question, going into it that's not what we expected. We expected to win some games and be in the mix for the playoffs.

On whether he's watched any of the televised 2012 or 2014 games:
With the kids and family here, it's been kind of busy with that, so I'm not very aware of when the games are on, but I'll randomly get texts from guys who I played with and they're watching the games and a small group chat starts up, we're talking about it and I'll throw it on. I've seen a few of them over the past six weeks or however long it's been. I think it was NBC Sports was airing a few of the games, it just brings back memories, some of the successes we've had over our careers. I think what it leads to is just kind of emotions, when you start talking about the individual players on the team and things that happened during the season with individuals, everyone gets a kick out of it and enjoys that.
On when he works out and the type of workout equipment he has access to at home:
In season, obviously you wake up and you go to the rink, eat breakfast, do your workout and skate, so we're usually always done before noon, so I guess it's a minor adjustment. You do your schoolwork with the kids in the morning, then usually at lunch time I'll head outside. Earlier on in the pause in the season, I went over to the rink and I took a few pieces of equipment from the gym, so I have some basic stuff in the garage here and while my wife's making lunch for the kids and everything, I'll head to the backyard here and the trainers text us workouts, so I'll go through probably 45 minutes of the routine, just to break a sweat and try to stay in shape. Sometimes, the kids finish up lunch early and they'll come out for recess, as we call it and they might jump in and do some of the workout or play a game in the backyard while I'm finishing up.
On communicating with teammates and the challenges of not seeing them:
Yeah, it's different. You're used to seeing these guys every day and even in the off-season, a lot of guys stay in town so if we're not doing something on the weekends, or with summer workouts we'd see each other at the gym. That's obviously a little different, but I think I do FaceTime more frequently than I have in the past. It was my son's birthday a couple weeks ago, a bunch of guys on the team came by and did the honk and wave, Happy Birthday thing to him, so I saw those guys then. You're just trying to find ways to stay in touch, check on people, see how everybody's doing. It is definitely a bit of a transition, but it's something that you find ways to work around.