When it comes to goaltender Cal Petersen, it would be foolhardy to analyze strictly based on his numbers from this past AHL season.
If you don't use context, you'll be misled. The statistics saw Petersen's goals against average rise from 2.58 to 4.02, his save percentage fall from .910 to .896 and his win-loss record go from 23-14-2 to 13-19-3.
In a vacuum, you would probably see a goaltender that regressed, though the tale of Petersen's play this season told a different story, a story that continued to showcase one of the game's brightest young netminders.
"I didn't even look at Cal's numbers here, because they weren't a true indication of what he meant to the team, how well he played for us," Ontario Head Coach Mike Stothers said. "He was a victim of circumstance. I like to look at it as how he responded to it. He never once tried to duck the assignment that was placed in front of him, never once did he have issues with the players that played in front of him, never once did he question anything."
Petersen's circumstance was making the fourth most saves in the AHL, despite playing just the 26th most minutes in the league. On average, AHL teams allowed 29.9 shots per game. That number jumped to 36.5 shots allowed per game by Ontario, the league's highest total by nearly three shots per game, and jumps again to 38.6 when Petersen was in net and went the distance. The Notre Dame product faced nearly nine shots more per game than the AHL's league average.
"You can have great numbers and it doesn't necessarily mean you're going to be an NHL goaltender and you can have numbers that are a little bit off, but I think you have to look at the overall game and the overall performance and what he did for us night after night after night," Stothers said. "There were times there when it looked like it was him against the opposition and he battled."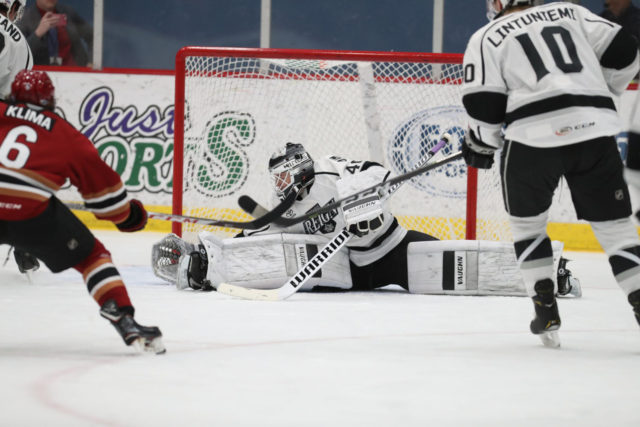 Even for the level-headed Petersen, things got lonely at points for the goaltender and his heavy workload. The Iowa native noted that there were "definitely some times that were frustrating" in a trying season for the Reign as a whole.
Enter in Kings goaltender development coach, de facto Ontario goalie coach, Dusty Imoo. Petersen pointed to Imoo as a support system in the more difficult of times, to help keep him focused on his development.
"It felt like I played some of my best hockey this year and Dusty really helped me to make sure that even when we weren't getting the results on the scoreboard and the statistics weren't there…he just knows my game so well and being able to concentrate on the things that are going to help me get to the next level," Petersen said. "I think we were able to have that opportunity for growth in a somewhat lost season with the results, but I think, like you said, it was one thing that helped me to spin it into a positive season."
Despite the down parts of an up-and-down season, Petersen was happy, overall, with his own performance and his development throughout the course of a campaign that also saw him make his NHL debut, one of 11 games he played with the Kings.
At the AHL level, the 24-year-old goaltender was the workhorse when he played with Ontario, taking the bulk of the starts in a tandem with veteran goaltender Peter Budaj.
"From the beginning of this year until now, I think I made some big strides," Petersen said. "I'm really happy with how my game turned out. Season wise, obviously it didn't have what we wanted, but from an individual standpoint, a lot of things that I wanted to work on, I was able to be successful at and I'm going to keep trying to do that into next year."
As he enters into his third season, Petersen will have his sights set on the National Hockey League on a full-time basis, though much of that depends on how the goaltending situation shakes out with the Kings roster.
Los Angeles currently has two established NHL netminders under contract, therefore an opportunity for Petersen would need to be created in order for him to get a full time look from the start of the 2019-20 season.
"I really feel like Cal's ready," Stothers said. "Now, does he get the opportunity? I don't know, I stay in my lane and that's above my pay grade. You ask me, and I feel he is NHL caliber and I think he is NHL ready right now."
For his part, Petersen was happy with how he handled his NHL opportunity a season ago. In limited time on a struggling Kings team, Petersen was a bright spot, posting a 5-4-1 record with a 2.61 goals against average and a .928 save percentage, as he spent the bulk of November and December in the NHL.
"I'm really proud of [how I handled the NHL callup], that was one of my goals," Petersen said. "You have to be ready whenever you get your opportunity and make the most of it and I think I was able to grab that opportunity and do just that. I want to build on that the next time, whenever that opportunity comes, be able to build on the little bit of success I had and try to take my game to a new level. I'm looking forward to that."
As he looks towards next season, the cool, calm and collected Petersen believes he is ready for the challenge of the NHL on a full-time basis.
"The progression this year getting a taste of it and knowing to myself that I can handle it in a short span…I think if the opportunity presents itself, I'd be able to make a legit run at it and have a chance to be an everyday NHL'er, that'd be awesome."