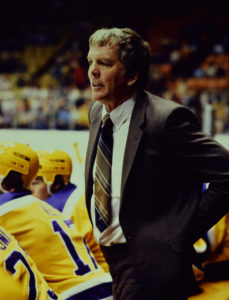 As shared by Pete Demers and Scoop Cooper of Hockey Buzz, former LA Kings Head Coach Don Perry passed away Monday morning in Green Valley, Ariz. at the age of 89. Perry, who played 778 games in the rough-and-tumble Eastern Hockey League after one season in the American Hockey League, coached the Kings' International Hockey League secondary affiliate in Saginaw, Michigan from 1972-81 before he was promoted to become coach of the New Haven Nighthawks in 1981-82 and ultimately replaced Parker MacDonald behind the Los Angeles bench later that season. In 168 games over three seasons with the Kings, Perry guided the team to a 52-85-31 record and the first round upset of the Edmonton Oilers in 1982.
If one were to simply read the headlines, the two events that stick out the most in Perry's career would be the Game 3 Miracle on Manchester in the 1982 series against Edmonton and the incident earlier that year that drew national headlines when he was suspended by the league for 15 days for what was described by the New York Times as a "premeditated" attempt to "ignore or act against" NHL policy" for his role in allegedly attempting to prod an unwilling Paul Mulvey to leave the bench and spice up some on-ice disagreement. Its an interesting discussion that serves as a precursor to the debated (and diminished) role fighting plays in the modern game.
Those who worked alongside spoke highly of his loyalty. LA Kings Hall of Fame Athletic Trainer Pete Demers knew Perry as a "great guy" who was "as tough as they come," which corroborates what others have said of him today. But he also recalled getting a call from Perry late at night before a practice with the instruction that he was supposed to pick Perry up at his house at 8:00 a.m. the next morning. They traveled with Perry's son down to Carson and boarded the Goodyear Blimp, soaring over Long Beach just as the players were getting onto the ice for that day's practice. It wasn't easy leaving practice in the hands of only one member of the support staff – as opposed to the half-dozen trainers and managers teams employ today – but was a good representation of the relationship he had with his coach. "That's old-time hockey," Demers said of a coach whose character he was a firm advocate of.
Daryl Evans' ascent to the Kings overlapped with Perry, under whom he played in Saginaw and New Haven.
two members of the team's training and equipment support staff at the time, not to mention the assistants that were left behind to run practice. "He was the first coach I played professionally for, and we ended up winning the championship in the International League, and then the next year he was promoted, he became the coach of New Haven. I got to play for him there, and the following year he got promoted to L.A., and I got called up there, as well. I had a pretty good relationship with him then. We built a relationship, a trust factor with regards to a player and a coach, and for whatever reason, I think he was able to get the most out of me and I really appreciated playing for him."
"I think he was happy for me being a young guy and somebody that he kind of walked through those couple of steps going from the International League to the American League to the NHL, all basically within a year. I think there was a pride factor because he felt – as he should – that he'd played a part in my development, and I don't remember the exact words, but I definitely remember his show of emotion a nd how happy he was not only for myself but for the team, what we accomplished."
Evans scored what was the biggest goal in franchise history to cap off the Miracle on Manchester, and though they lost Game 4 at home, Los Angeles bounced back one night later at Northlands Coliseum to defeat the Oilers in five games.
"Like everybody, just being a part of that was such a special thing. It was nice I was able to share that with him, as he was the first coach to give me a chance in the NHL."