Good Afternoon, Insiders!
The Reign were back on the ice this afternoon, preparing for a weekend three-in-three set, all on home ice. Ontario was without a few names, more on that later. Here's how the group lined up –
Moulson – Maillet – Grundstrom
Morrison – Sutter – Mitchell
Iacopelli – Bauman – Rempal
Imama – Herr – Eyssimont
RED: Scherbak
D: Clague, Lintuniemi, Wyszomirski, Strand, Watson, Reddekopp, Devane
G: Petersen, Budaj
The Kings made a series of roster moves, with defenseman Kurtis MacDermid heading to the NHL and forwards Mike Amadio and Matt Luff, along with forward Matheson Iacopelli joining the Reign. Iacopelli was on the ice this morning for his first Ontario practice, while Amadio and Luff were in transit from the East Coast, where they left the Kings earlier today, and are expected to re-join the team tomorrow. MacDermid, on the other hand, has joined up with the Kings for his first NHL day of the season, in advance of tonight's game in Carolina, though he's not expected to play tonight with LA.
MacDermid's departure leaves a large void on the Ontario blueline. The 6-5 defenseman has been a staple on the Reign first pairing this season, skating heavy minutes in all situations throughout the season. MacDermid has posted a +8 rating on a Reign team that has a -48 goal differential on the season. Not a bad ratio for MacDermid.
The Reign didn't skate in organized pairings today, but regardless, there is opportunity to be seized. One player with such an opportunity is Cliff Watson, who joined the Reign last week on a PTO from the ECHL's Kansas City Mavericks. Watson is a 6-2 defenseman who is in his fourth AHL stop of the season (Stockton, Hershey, Utica) and made his Reign debut over the weekend, skating in both games in Ontario.
"I think any chance, you get the opportunity to get called up, there's always some opportunity there," Watson said. "Hopefully, if I perform the way I can, I can try to stick for a while."
For Watson, he is one of just six healthy and active defenseman on the Reign roster at the moment, meaning that he's likely to stay in the lineup as long as that remains the case. Does he consider this his best opportunity of the four he's had this season?
"I mean you never know what's going to go on, there's always so much movement, but there's always different situations," Watson said. "In the past, maybe I've been called up for like a week or so and someone's hurt, but an opportunity like this, where there's some guys that are called up and might be up for awhile, so there's a good opportunity."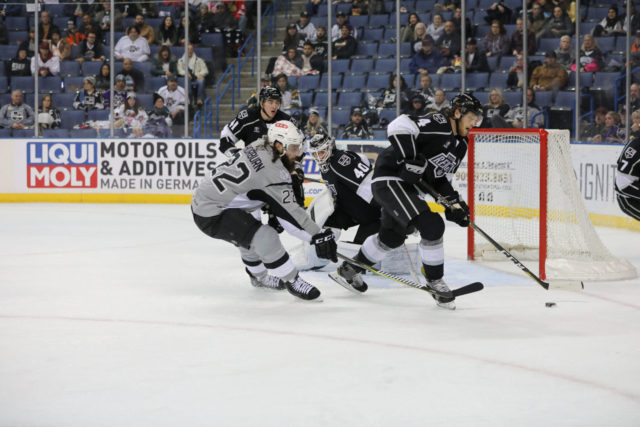 With blueliners Sean Walker and Matt Roy also currently with the Kings, defenseman Austin Strand finds himself as the only right-handed shot remaining in the Reign group. After being a healthy scratch for a large portion of the beginning of the season, in addition to a stint in the ECHL with Manchester, Strand has been more of a regular in the lineup as of late.
"Big opportunity for me, Strand said after today's practice. "Less guys down here means more playing opportunity for a couple other guys like Redds, Wysz and Watty. That's good for all of us to get that opportunity and it's good to see those guys go up."
Strand has found it easier to get himself into a routine as his presence in the Ontario lineup has become more consistent. Since December 15, Strand has played in 23 of the Reign's 27 games, allowing him to develop a more consistent day-to-day routine.
"It's way easier when you're in consistently," Strand said. "When you're in and out, you don't really get as much of an opportunity to build a routine so now I've kind of found that routine. I go through a similar pre-game routine with napping, when you're driving over, showing up to the rink, that sort of stuff to mentally get me focused. For my game, I've got to really be mentally dialed in, just for being focused defensively and being sharp offensively as well."
The first-year defenseman has also been a more consistent member of the Reign power play as of late, something that should expect to continue. With two of the Reign's top three scoring blueliners on the man advantage (Roy and Walker) in Los Angeles, Strand should continue to see time on one of Ontario's two man-up units.
"I hope to start to be producing a little bit more on the power play," Strand, who has two power-play points this season, said. "I think it's going to come. The time and stuff like that, rookie year I'm still feeling everything out and getting used to everything. I know I've got to work on a couple of things like my shot so I can start bearing down on those opportunities."
Overall, Strand has felt that his game has started to develop as he's learned more of the ins and outs of being a professional player, though he still admits he's learning on the job. After a tough first two months to the season, when he saw action in just one AHL game, Strand has felt that he's coming into as own with the Reign and knows that he has more to give down the stretch.
"I think it's progressing along," Strand said of his rookie season. "The first two months were a bit of a struggle, learning and adjusting to the pro lifestyle, doing daily things hard and the right way, just learning that. The past two or three months, I've been in the lineup more consistently, it's been really good for me, it's been fun, I enjoy being in the lineup, it helps my confidence. I still think I can be a lot better this year but I think I've had a couple of games this year where I've been pretty dominant, I've had some pretty good games. I've added in a couple of points here and there but I'm just looking to build and help us get some more wins."