Good afternoon Insiders!
The Reign hit the ice earlier today for their final practice before taking on the red-hot Bakersfield Condors in a home-and-home set, which begins tomorrow evening in Ontario at 7 PM. The Reign had the following alignment at today's practice, which began at around 11:15 at Toyota Sports Center.
Moulson – Maillet – Luff
Grundstrom – Sutter – Brodzinski
Scherbak – Mitchell – Rempal
Eyssimont – Bauman – Herr
Imama – Morrison
D: MacDermid, Clague, Lintuniemi, Roy, Strand, Reddekopp, Wyszsomirski
G: Petersen, Budaj
Brodzinski's Back
The Reign added forward Jonny Brodzinski into the lineup for today's practice, after he was assigned on a conditioning assignment earlier this morning. Brodzinski ranks second in franchise history in both goals and points and rejoins the Reign to get back into game action, after missing the entire season to date with an upper-body injury he suffered in September.
Slated to make his season debut tomorrow, Brodzinski is looking forward to getting back into a game that counts for the first time since the 2018 Calder Cup Playoffs.
"Yeah, it's good, I mean, it's been a long time, it's been about five months since my last game [preseason with the Kings]," Brodzinski said after today's skate. "It's going to be nice to get back into the swing of things, get back into games and just get back to playing with all the guys."
Brodzinski was over a point-per-game (30 points from 29 games played) with Ontario last season, which he split between the NHL and the AHL. Having been with the Reign for at least parts of the past three seasons, the transition back to the AHL side should be a seamless one for the fourth-year winger.
"Similar systems, I've played here for three years, so everything's very familiar, so it should be a very easy transition," he said.
The upper-body injury that Brodzinski suffered during training camp was a particularly tough break for him, seeing as he came into camp "stronger, quicker, more powerful and lighter weight than he was before," via then Kings Head Coach John Stevens.
The injury sidelined him for close to five months and while the physical injury was not easy, it was the mental battle, of not being out there on the ice with his team, that was even harder to battle through. The Minnesota native noted that it was about taking his rehab process day-by-day to make sure he was staying focused and getting as much as he could out of repeated conditioning.
"It's definitely more of a mental battle than a physical battle," Brodzinski said. "Being a professional, it's kind of what you do, you condition all summer and then I unfortunately got hurt right there so it's basically like I had two summers. Just going out every day you have to just focus on day-to-day and try to get the most out of everything."
Brodzinski was locked into a battle for a permanent NHL roster spot and likely would have been a part of the Kings' opening-night roster, if not for his injury. After the extended route of conditioning and returning to game shape, Brodzinski is ready to finally get into a game with Ontario tomorrow.
"For the last, about two and a half months, I've been doing mostly just conditioning, so I think just playing is going to help out so much," he said. "I think just getting the timing down on the walls, making plays with a lot of guys pressuring you, I think will be a big help."
Beat The Streak
No, not the MLB.com contest but the Bakersfield Condors current run of form. The Condors enter tomorrow's action as winners of 13 straight games, extended with a win over Stockton yesterday evening. Bakersfield has defeated seven different teams over the course of their run, including Win #10 against the Reign on February 2 in Ontario (6-2 Final).
Goaltender Shane Starrett has earned the victory in 11 of the 13 wins, allowing two goals or fewer in 10 of his 11 games, including each of the last eight. The Condors goaltender sat at 4-3-3 entering the run and now boasts a 17-3-3 record with a .921 save percentage and a 2.22 goals average, in addition to a pair of shutouts. On the current stretch, Starrett is 11-0-0, with a 1.55 goals against average and a .942 save percentage.
The quartet of Josh Currie, Joe Gambardella, Tyler Benson and Cooper Marody have all scored at over a point-per-game pace on the streak, with Currie and Gambardella ranking second and third respectively in the AHL in overall scoring since January 12, ranking first and second in goals scored (Ontario's Matt Moulson ranks third).
The Reign will have two cracks at ending the run before it reaches 15 games. The two teams will faceoff for the final time in Ontario tomorrow evening, with Bakersfield currently 3-0 this season at Citizens Business Bank Arena. The matchup then swings to Bakersfield, where the Reign won the season's lone meeting in late-November.
Beijing Jr. Kings
The Reign had visitors from the Beijing Jr. Kings earlier this week. First, the Reign hosted the team at Citizens Business Bank Arena as they young guests took in the 4-3 win over San Jose. Following the game, the kids were able to go in the locker room to meet the players and get some autographs and pictures with the players.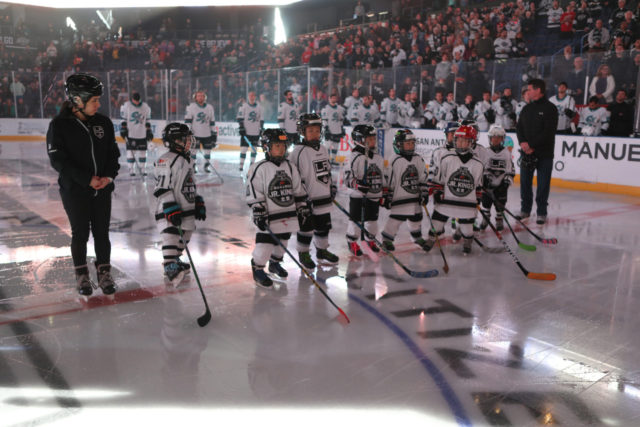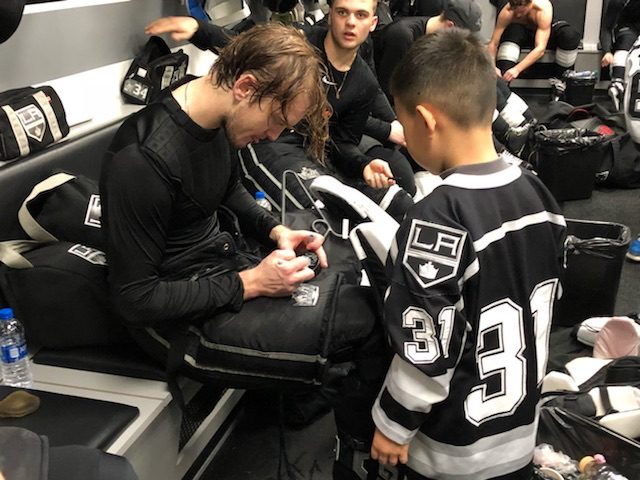 The Reign then skated with the younger players on Tuesday after practice – Alex Lintuniemi, Boko Imama, Matt Roy, Zack Mitchell and Cal Petersen stayed out after Ontario's practice to participate in the Beijing Jr. Kings skate, spending time with the younger players alongside members of the Kings' hockey development staff.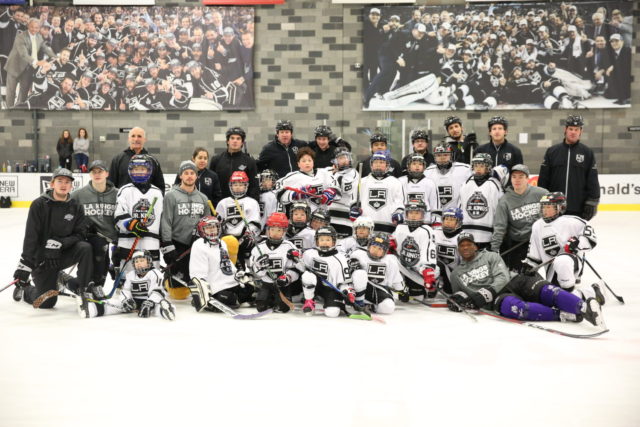 Reign Podcast, v3
Lastly, goaltender Peter Budaj joined Cameron Close and I on Episode 3 of the Ontario Reign podcast – Great chat with Buuds, talked about playing in many different markets, his success with the Reign and Kings, being a rare Slovakian netminder in the NHL and more.