Great news for a pair of LA Kings alums: it was announced Wednesday that Ziggy Palffy will be inducted into the International Ice Hockey Federation Hall of Fame, while Jarret Stoll will be the inaugural inductee member of the Kootenay Ice Hall of Fame.

On May 26 in Bratislava, Slovakia, Palffy will be inducted into the IIHF Hall of Fame alongside Jorgen Jonsson, Mike Modano, Miroslav Satan and Hayley Wickenheiser, along with the late Boris Alexandrov, who will be inducted as a builder. Former Bulgarian goalie Konstantin Mihaylov will receive the Richard "Bibi" Torriani Award, while the late Jim Johansson will be awarded the Paul Loicq Award for outstanding contributions to international ice hockey.

Stoll's jersey will also be raised into the rafters at Western Financial Place, long known as the Cranbrook RecPlex, on March 2. The Ice, who moved from Edmonton to Eastern British Columbia in 1998 and won championships in the small-market Western Hockey League center in 2000, 2002 and 2011, will relocate to Winnipeg, Manitoba for the 2019-20 season. Stoll captained the 2001-02 squad to the WHL and Memorial Cup championships.

Former Kootenay Ice GM Bob Tory to LA Kings Insider on Stoll in June, 2017:
The biggest thing is that he was just a great young man with tremendous character, but he had a tremendous work ethic, and from a hockey standpoint, that slapshot from the point on the power play was something special in juniors that was really good. He was focused, a hard working kid that cared about his teammates and was very personable, and it's nice to see him move on to another career now after a very good NHL career."

Via the IIHF, on Palffy:

The flagbearer for Slovakia at the Opening Ceremony of the 2010 Olympics in Vancouver, Zigmund Palffy was a hockey hero to a small, hockey-mad nation for more than 15 years.

It didn't take long for Palffy to make his mark on the world stage. After a sensational 1991 World Juniors, during which he scored a goal a game and helped Czechoslovakia win a bronze medal, Palffy was drafted 24th overall by the New York Islanders. He played for the Czechs at the Canada Cup that fall and then opted to play for Dukla Trencin for two years before feeling confident enough to test the NHL. Even when he first came to Long Island, however, he was still not quite ready.

Palffy persisted, though, and after two years mostly in the minors his determination was rewarded. Making the Islanders at training camp in 1995, he had two dominant seasons, producing 177 points in 161 games.

During his minor pro days in North America, Palffy also played for Slovakia at the 1994 Olympics, an historic moment for the country that had to qualify to play in Lillehammer, its first ever tournament as an independent nation.

But the greatest moment in Slovakian hockey was yet to come. There was controversy first at the 2002 Olympics because NHL teams didn't release all Slovak players in timely fashion, and the team finished a disappointing 13th. Every Slovak player in the NHL and around the world knew their nation was world class, and at the World Championship a few weeks later, they were determined to prove it.

The Slovaks beat all comers, including Canada, 3-2, in the quarter-finals. In the semis, against Sweden, the game went to a shootout, and Palffy netted the winning goal to take Slovakia to the gold-medal game.

Of course, if you are Slovak, you know where you were the afternoon of May 11, 2002, when Peter Bondra converted a pass from Palffy with exactly 100 seconds remaining in the game, giving their country a 4-3 win over Russia to win the gold medal. It remains the defining moment of their hockey history.

A year later, Palffy helped Slovakia win a World Championship bronze, but midway through the 2005/06 NHL season, he announced his retirement, citing a lingering shoulder injury. Palffy returned home, recovered, and came back two years later, eventually playing at the Vancouver Olympics, his final international event.

His IIHF career is full of highlights. A three-time Olympian, Palffy led the 1994 Olympics in scoring. He was also tied with teammate Jozef Stumpel as top scorer at the 2003 Worlds, and in 12 NHL seasons he had 30 goals or more six times. Over 684 regular-season games, he averaged better than a point a game.

At home on both the NHL and international ice, Palffy was a fluid skater and natural scorer, a sporting player whose competitive nature was as impressive as his shot. But above all he was one of the heroes of 2002, a team that took tiny Slovakia and put it at the top of the hockey world.

______________________________________

Via the Kootenay Ice, on Stoll: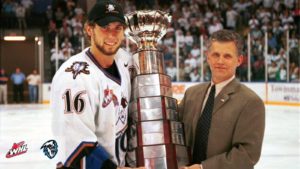 Cranbrook, B.C. – The Kootenay ICE Hockey Club is excited to announce that ICE legend, Memorial Cup and two-time Stanley Cup Champion Jarret Stoll will be the first inductee into the ICE Hall of Fame.
The ICE Hall of Fame will recognize and honour former ICE players and staff who made outstanding contributions on and off the ice during their time with the organization. The ICE Hall of Fame induction is not a number retirement, however, all inductees will be honored with a special ceremony and banner raising to commemorate their achievements.
"I am honored to be the inaugural inductee into the ICE Hall of Fame," said Jarret Stoll. "There were so many great players, coaches and management that contributed to our success."
Stoll added, "What made it so special was the relationship between the players and fans in Cranbrook. I look forward to sharing this with them."
The ICE will create a committee that includes alumni and past members of the organization to determine future inductees into the ICE Hall of Fame.
ICE HALL OF FAME CEREMONY
The inaugural ICE Hall of Fame induction ceremony will take place prior to the game between the ICE and the Calgary Hitmen on March 2.
Inductee Jarret Stoll along with his wife Erin will be in attendance. Some of the other guests include former ICE General Manager Bob Tory, former ICE Head Scout Roy Stasiuk, former ICE Head Coach Cory Clouston, former ICE Assistant Coach Colin Patterson and former Owner, President and General Manager Jeff Chynoweth.
The ceremony will include a banner raising.
"There is no question who the first player is that should be inducted into the ICE Hall of Fame," explained Matt Cockell, President and General Manager. "It was important to Jarret and to Greg and I that this was done in Cranbrook where he had such a great connection to the community."
STOLL'S CAREER WITH THE ICE
Jarret Stoll is considered the greatest player in ICE history. He played four seasons with the ICE (1998-2002), and during that time, he captured two WHL championships (2000, 2002) and one Memorial Cup (2002). He also earned a bronze and silver medal for Team Canada at the World Junior Hockey Championship in 2001 and 2002 respectively.
Regular Season: 245 Games Played, 124 Goals, 162 Assists, 286 Points
Playoffs: 57 Games Played, 18 Goals, 32 Assists, 50 Points
In ICE franchise history, Stoll is second all-time in points (286), assists (162) and power play goals (54).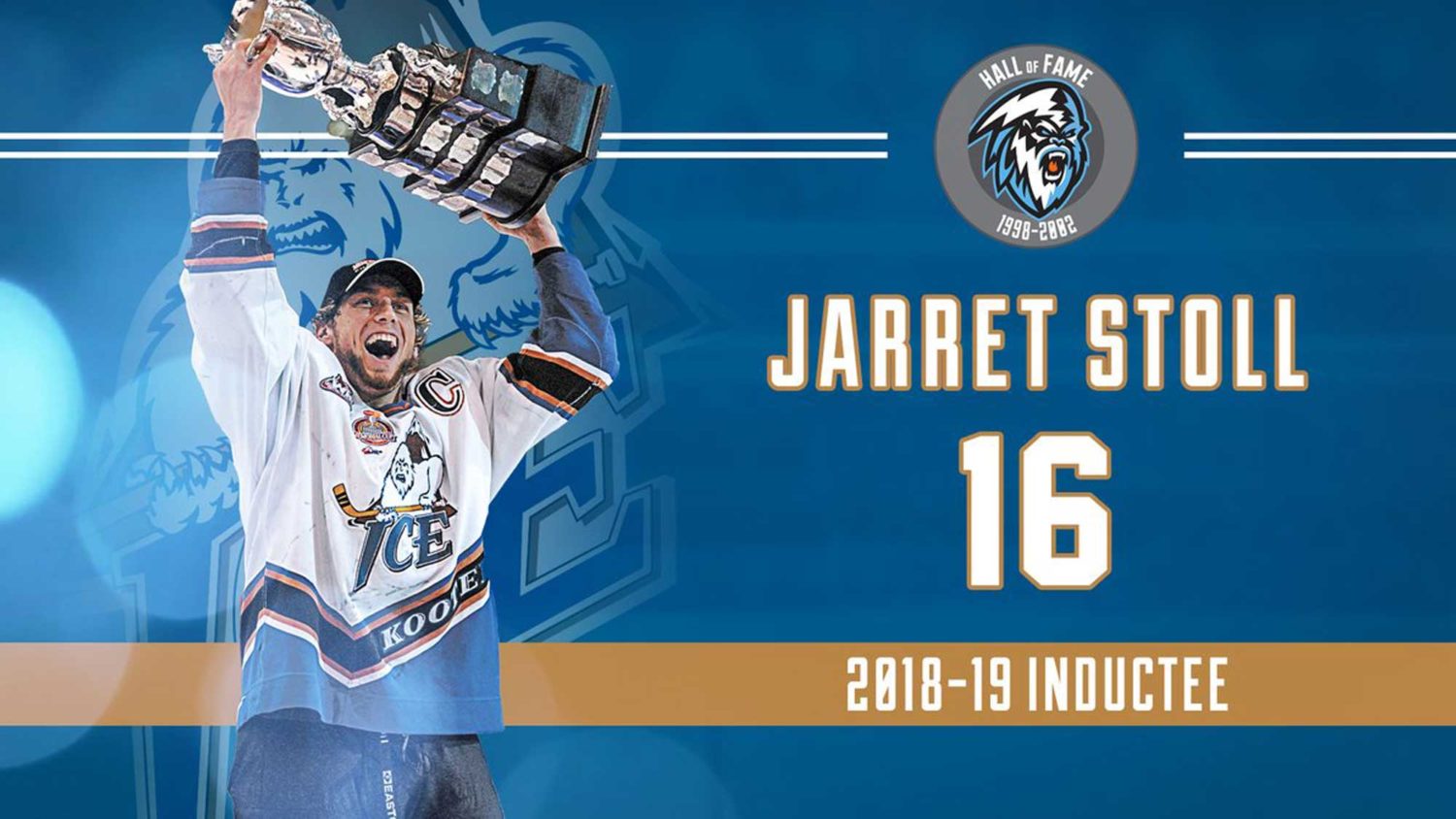 –Lead photo via Glenn Gratty/Getty Images