The NHL announced on Wednesday that Drew Doughty was selected to the Pacific Division's All-Star team and will be joined on a team that also includes Johnny Gaudreau, Clayton Keller, Connor McDavid, Joe Pavelski and Elias Pettersson up front and Brent Burns and Erik Karlsson on the blue line. Marc-Andre Fleury and John Gibson are the two goaltenders. Since the current divisional format was implemented in 2015-16, the Pacific Division has won two of the three All-Star tournaments and fell to the Metropolitan Division in the other final, held at Staples Center in January, 2017.
It was also shared that Anze Kopitar will be the Kings' representative for the Last Men In vote, which begins Thursday morning at 9:00 a.m. PT. and will close at 9:00 p.m. PT on January 10. Fans may choose anywhere from one to four players per ballot and cast a maximum of 10 ballots per day to select one additional player to represent each division at the All-Star Game. Other Pacific Division nominees up for the Last Men In vote are Oliver Ekman-Larsson, Mark Giordano, Leon Draisaitl, Logan Couture, Brock Boeser and Jonathan Marchessault.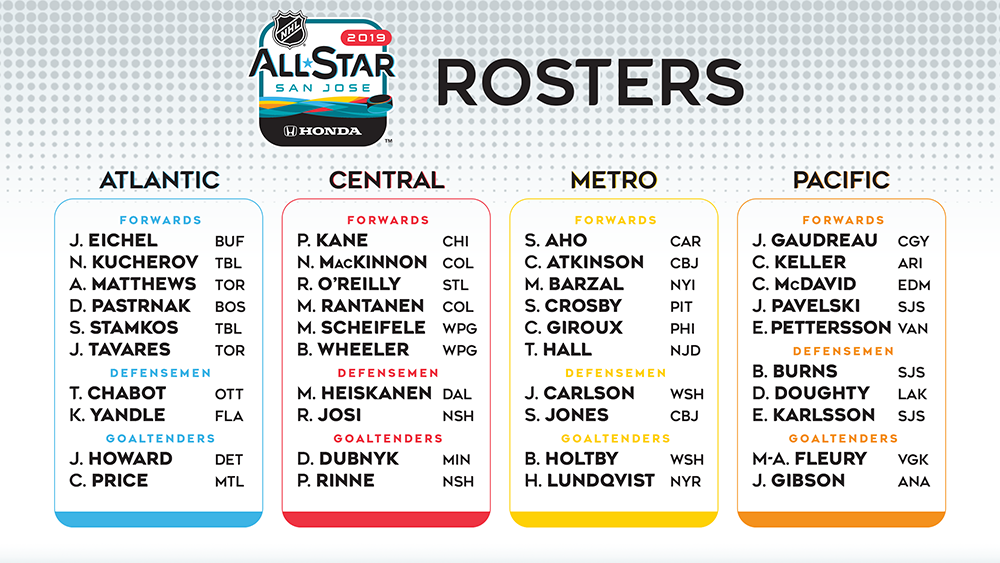 This is Doughty's fifth consecutive All-Star appearance and fifth overall. First selected to represent the team in 2015 in Columbus, he also participated in Nashville in 2016, Staples Center in 2017 and Tampa in 2018. He also participated in the 2009 NHL YoungStars Game in Montreal. The 29-year-old defenseman who signed an eight-year, $88-million contract extension over the off-season has appeared in all 41 games for the Kings, totaling three goals and 22 points. He also leads the NHL with an average ice time of 26:41 one season after leading the NHL in the same category and has appeared in a franchise-record 369 consecutive games.
The 31-year-old Kopitar has also represented Los Angeles in Atlanta in 2008, in Carolina in 2011, in Columbus in 2015 and in 2018 in Tampa Bay and will be vying to make his fifth career All-Star appearance. The reigning Selke Trophy winner and a 2018 Hart Finalist, Kopitar has totaled nine goals and 27 points in 40 games while averaging a career-high 22:42 of ice time.
These All-Star games aren't purely a reflection of the league's top players through recent merit, but rather an entertaining mixture of accomplished and marketable stars, meshed with a fan vote. Jake Muzzin is having a plenty fine season and probably more than any other player on the roster has maximized his ability to the benefit of the team. A plus-eight who eats heavy minutes on a team outscored by seven goals during five-on-five play, Muzzin is a +3.4 CF%Rel, and if we're talking pure merit, he's got about as strong a case as any on the Kings if we're just grading on pure, blinders-wearing, on-ice work. But that's not what these exhibitions are about, so Doughty and, potentially, Kopitar will represent the LA Kings and likely hear a decent share of boos from Sharks fans during the skills competition and three-on-three tournament.
The answer to "Why isn't X an All-Star"? is "Because it's an event designed to appeal to all markets and sponsors as opposed to an unvarnished recognition of the league's best, with particular attention paid to the market hosting the event." No further questions.

— dellowhockey (@dellowhockey) January 3, 2019
SAP NHL All-Star Skills will take place on on Friday, January 25 (6 p.m. PT / NBCSN), followed on Saturday, January 26 (5 p.m. PT / NBC) by the Honda NHL All-Star Game. San Jose last hosted the event in 1997. Dmitri Khristich was the Kings' representative, filling in for an injured Rob Blake. The event took place three weeks before Khristich was injured at practice by teammate Barry Potomski.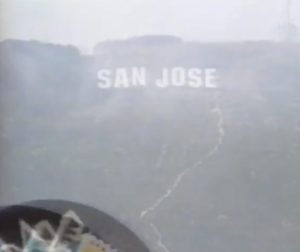 Pay little attention to this 1990's-style video, in which a puck is dropped from space, buzzes by a beach, makes the Statue of Liberty duck, the CN Tower wobble, writes "NHL" in the sky in Chicago – creative! – before cutting a pair of cacti in two and drastically changing the makeup and meaning of the Hollywood sign, as seen at right.
It was also announced recently that the St. Louis Blues will host 2020 All-Star Weekend, which will be held at the fully renovated Enterprise Center from January 24-26, 2020. Make your Charlie Gitto's reservations today.
All-Star Games are always good for player photography. Here are a few from the 2009 YoungStars Game:
Nick Laham/Getty Images[/caption
–Lead photo via Nick Laham/Getty Images