Good Morning 2019! And also, a good morning to Las Vegas and good morning to you, Insiders!
The team left Colorado after last night's overtime win, getting into Las Vegas just shy of the New Year – All of us on the staff bus last night were wondering if we'd make it into Vegas before midnight. As we approached the strip, optimism was low but, alas, we touched down at the hotel at 11:59, getting off the bus just in time to welcome in 2019 on the ground.
Love it or hate it, Vegas is a spectacle, especially around a holiday. I got up to the room just in time to get a glimpse of the end of the fireworks show, or should I say, I saw one of what was undoubtedly many fireworks shows from last night.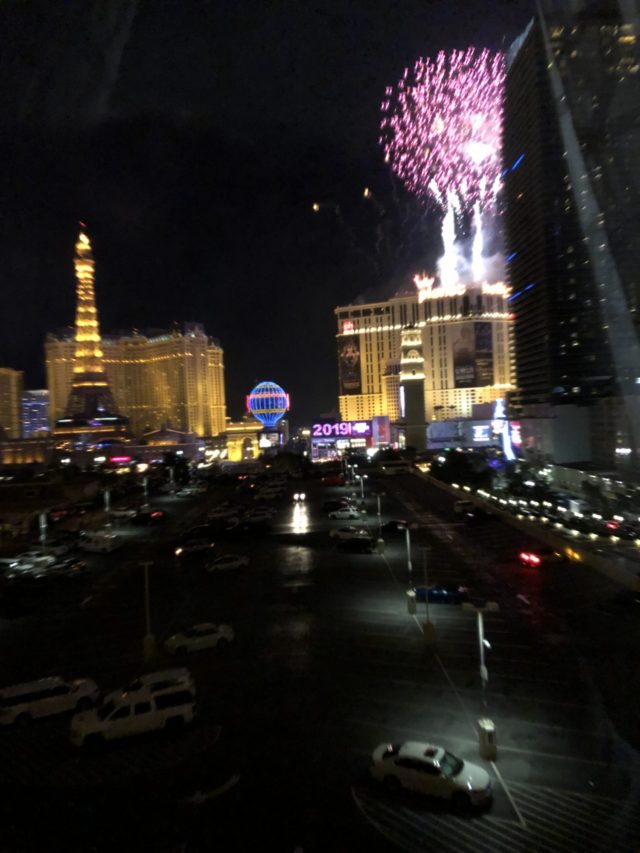 Anyways, onto the city – Las Vegas one of just two of the six cities we've visited in my games with the Kings that I had actually been to. It's even a place I've actually been to a hockey capacity as well. The ECHL held its league meetings here in my three years in the league, two years at the MGM and once year at New York, New York. And while it wasn't on the strip, the Kings participated in the rookie tournament in Las Vegas over the summer, held at City National Arena, where the Golden Knights practice, which is located about 25 minutes off the strip. Hopefully this trip is a bit more successful than that one, which resulted in an 0-3 trip for the young Kings.
The team will not be skating this morning, so no updates or word on lineups until we get a bit closer to game time. For now, feel free to enjoy the Winter Classic in one of Jon's favorite places, Notre Dame Stadium
Waking Up with the Kings is next. Until then, Insiders, hope you're enjoying 2019!