The worst news to share, Insiders: longtime Insider/Blogger, loyal Kings fan and friend Gail Weisman, known on LA Kings Insider as GailWeb, passed away Tuesday morning after a battle with cancer that she fought determinedly for the last two and a half years.
Weisman was a permanent fixture on LA Kings Insider and, along with her sons, a familiar face at Kings games, charitable events and promotional ventures. For the last two years, even as she weathered debilitating side effects like vertigo and constant pain, she still conveyed her own positivity and support, regularly attaching "go kings go" to sobering updates about her chemotherapy treatment and bouts with extreme nausea. Her final post was to wish everybody on the site a happy Thanksgiving, with her familiar send-off. And as supportive and positive as she could be, let there be no mistake, she was a New Yorker through and through – always honest, direct and blunt. Endearingly and appreciatively, there are none like her.
It's impossible to sum up in paragraph form what Gail meant to us. This is brutal. There are few other faces and personalities as linked to Kings events, outreach endeavors and LAKI gatherings than Gail's, and in speaking on behalf of LA Kings Insider, the Kings and Kings fans, we all offer our deepest sympathies and condolences to Gail's family and loved ones.
I'm hoping we can all tell some of our favorite Gail stories in this space. I'll share one from Daryl Evans, who knew Gail for the better part of the last 20 years and coincides with this photo: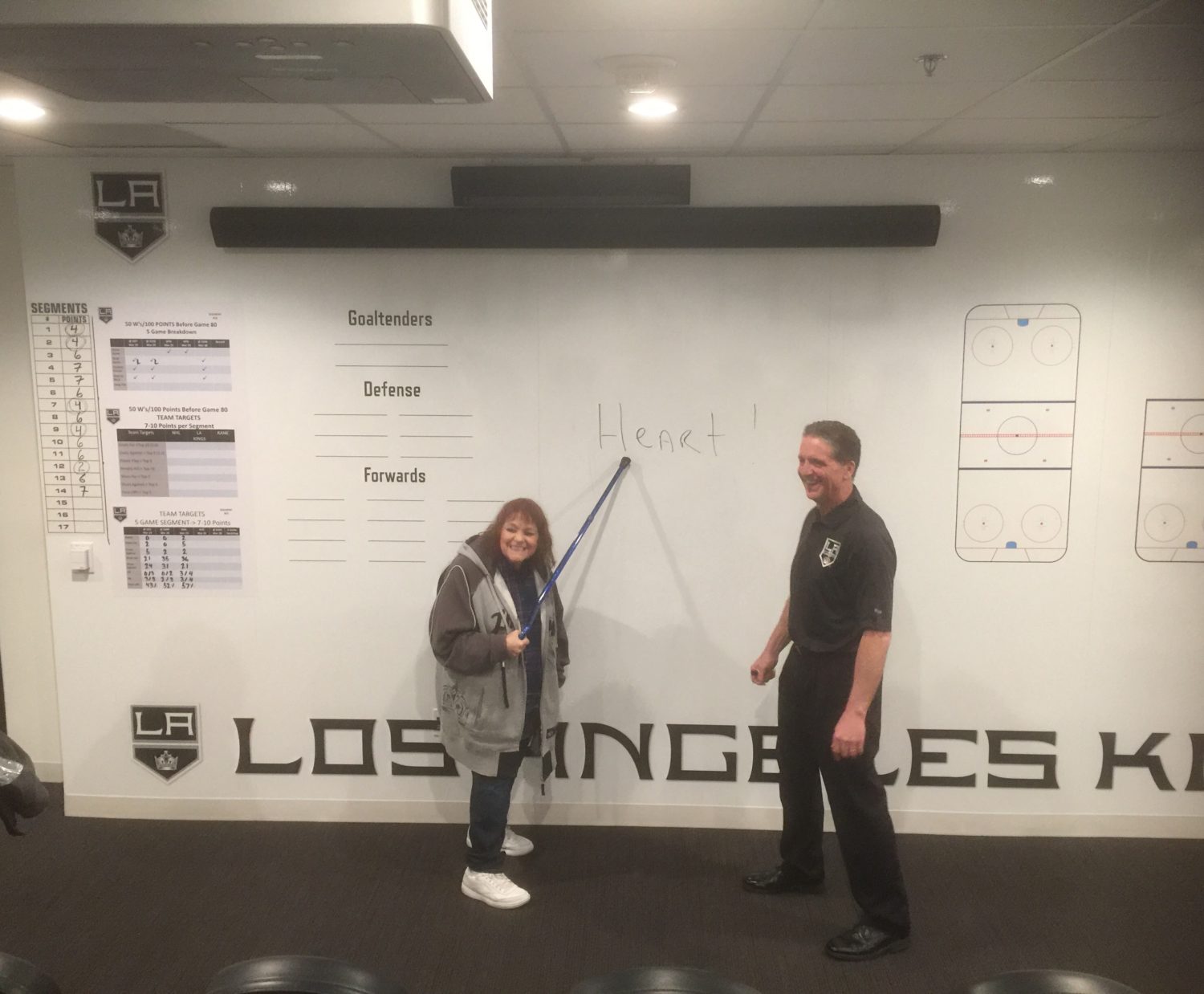 As shared by Evans, Gail won the opportunity to have lunch with Dean Lombardi and tour the Kings' facility by winning a charitable auction. This was during the 2016-17 season, which as we all remember wasn't exactly the organization's pinnacle, and would ultimately be the final season for Lombardi and Darryl Sutter. The team was in a skid at the time, and in the end of their meeting, Lombardi told Gail that she possessed something that the team, at the time, was lacking. He then wrote "HEART" in large letters on the dry erase board.
Please share your memories of Gail in the commenting section. One appreciative recollection: several years ago I asked for fan photos for an article I was working on at the time. Of the 53 submitted, 48 came from Gail. Many of those are below, along with several culled from commenting as well as the Famous Bamboo Summit. I'm looking at those photos from Bamboo – and if that meeting isn't representative of the support and camaraderie on this site, then I don't know what is.
All our love to Gail Weisman, her family, and to the other Insiders and Kings fans we've lost along the way.