More notes that didn't make this morning's deadline…
–Nikita Scherbak says he usually plays right wing, "but I don't mind playing left – sometimes it's even easier for me to play left, but it's the small details, and I'm comfortable with both sides."
If he's on the left tonight, there's a good chance it'll be alongside Adrian Kempe, who scored five of his 21 career goals against Scherbak's former club, Montreal. "He's smart, he's calm and he has a lot of skill. You can see he has a good shot, can pass the puck, he has good vision, he's a good player," he said of a potential linemate – provided his visa process is finalized. "I've played against him a couple of times when he was in LA and I was with Montreal and you can tell that he knows how to play the game."
Communication shouldn't be a problem. Scherbak has taken to English quickly and adeptly and also dabbles in some French in addition to Russian. Swedish? "I know a couple swear words, but that's it," he said.
–Only two players from the Devils' lineup that took the Staples Center ice on June 11, 2012 remain with the club today: 33-year-old Travis Zajac and 36-year-old Andy Greene, New Jersey's captain and a major influence on his younger Miami University teammate, Alec Martinez. "He's an awesome guy. On and off the ice I learned a lot from him," Martinez said. "He was a pretty incredible player at Miami, probably if not the best, one of the best defenseman to go through that program. It was big for me, just being able to be around him and watch him my freshman year, he'd go out and play 30 minutes a night and be the best player on the ice. We still keep in touch, a text every once in a while, but yeah, he's a really good guy and it doesn't surprise me that he's their captain."
Martinez, 31, was a freshman when Greene was a senior, and though they hadn't met until college, he recalled watching Greene play for the Detroit Compuware program. Greene isn't related to Grand Ledge, Michigan native Matt Greene, though the two had played in tournaments together.
"He always showed up to the rink and he's one of the hardest workers," Martinez said. "He had a lot of clout [at Miami], but it was all earned. I guess just being around someone like that, who sets a good example, I would kind of liken him to how Brownie was when I first got in here. Just an older guy, you look up to him, he sets a good example and I think some of the best leaders are just guys you can watch. They don't have to be rah-rah guys, but you just watch the way they carry themselves and you want to emulate that, especially when you're a young guy looking up to someone like that."
–Brendan Leipsic registered four shots in his Los Angeles debut and often seemed to be within close proximity to the opponent's goal. The secondary numbers and scoring chance tally indicated that he and his linemates made good use of his nearly 12 minutes of even strength time. The game ended in a disappointing loss, but there seemed to be a good spark in his own game.
"I'm just trying to play with energy," Leipsic said. "Not trying to complicate too much, just working hard, trying to force turnovers. It's kind of the way you create your offense in this league."
It's certainly the way his former team in Vegas has found success. Work hard, skate hard, create turnovers, get the puck going the other way. Should he skate alongside Jeff Carter and Tyler Toffoli on Thursday, he'll look to use his 5-foot-10 frame to work deep, in edgy areas, and around the goalmouth.
"There are some guys that don't want to do it, and defensemen don't like it when guys come to the net hard," he said. "Trying to get around the greasy areas – that's where all the goals are scored, so I'll try and do a little more of that tonight."
–More to come next week on Seattle and NHL expansion, and while it's still a touch too early to definitively address how it'll affect Los Angeles, that the franchise will begin play in 2021-22 instead of 2020-21 is of benefit to the Kings:
Had the #NHL decided to have Seattle start playing in 2020, here are some of the players that would have required protection as a result of a NMC, but that don't qualify now that 2021 is the official start. pic.twitter.com/YjS8XQ0csi

— CapFriendly (@CapFriendly) December 4, 2018
Again, there will be player movement and this will be a work in progress for two and a half years, so don't lose sleep over the Kings' protected list at this point. As it stands, the only player with a full NMC and is required to be kept by the Kings is Drew Doughty. More to come next week. Click here for the expansion FAQs; the expansion draft will feature the same format as the Vegas draft, as had already been reported.
Key Arena photos from 2007-08 and 2008-09. Never called a win there – the T-Birds were tough to beat in their old, quirky haunt. Excited to see the renovations and how the energy transfers into beautiful Lower Queen Anne. pic.twitter.com/6WhjNNmSd6

— Jon Rosen (@lakingsinsider) December 4, 2018
Willie Desjardins, on looking at special teams between games:
We're fortunate, I think Dave Lowry, he's got a good handle on the penalty kill. It hasn't been as good lately, but I like what I see with it. I thought it was better last game. I think it's the same with Marco. Marco's just coming in and getting the power play going and I like the power play, I think we've got good parts to it and I always think it's going to be better. I just see it every day and I think it gets better, so I think that's going to happen.
Desjardins, on whether Alex Iafallo is someone who does things "the right way":
He is. I like him too, to get to where he's at, he has to have some special stuff and I think he's a winner, like inside of him he wants to win. He's found a way to play higher up the lineup than he probably should play, then I think the team would have expected at one time. He's been a real good fit with Kopitar and Brown and I think that comes from just who he is and how he approaches the game. It's always great to see guys do that. Maybe at one time you could say he overachieved, but not now, now that's who he is. He's moved into that role and he's comfortable in that role and he does a good job.
Big stick tap to LAKI reader and TSC rink rat Daniela, who shared a poster Tuesday of the Slovakian golden generation: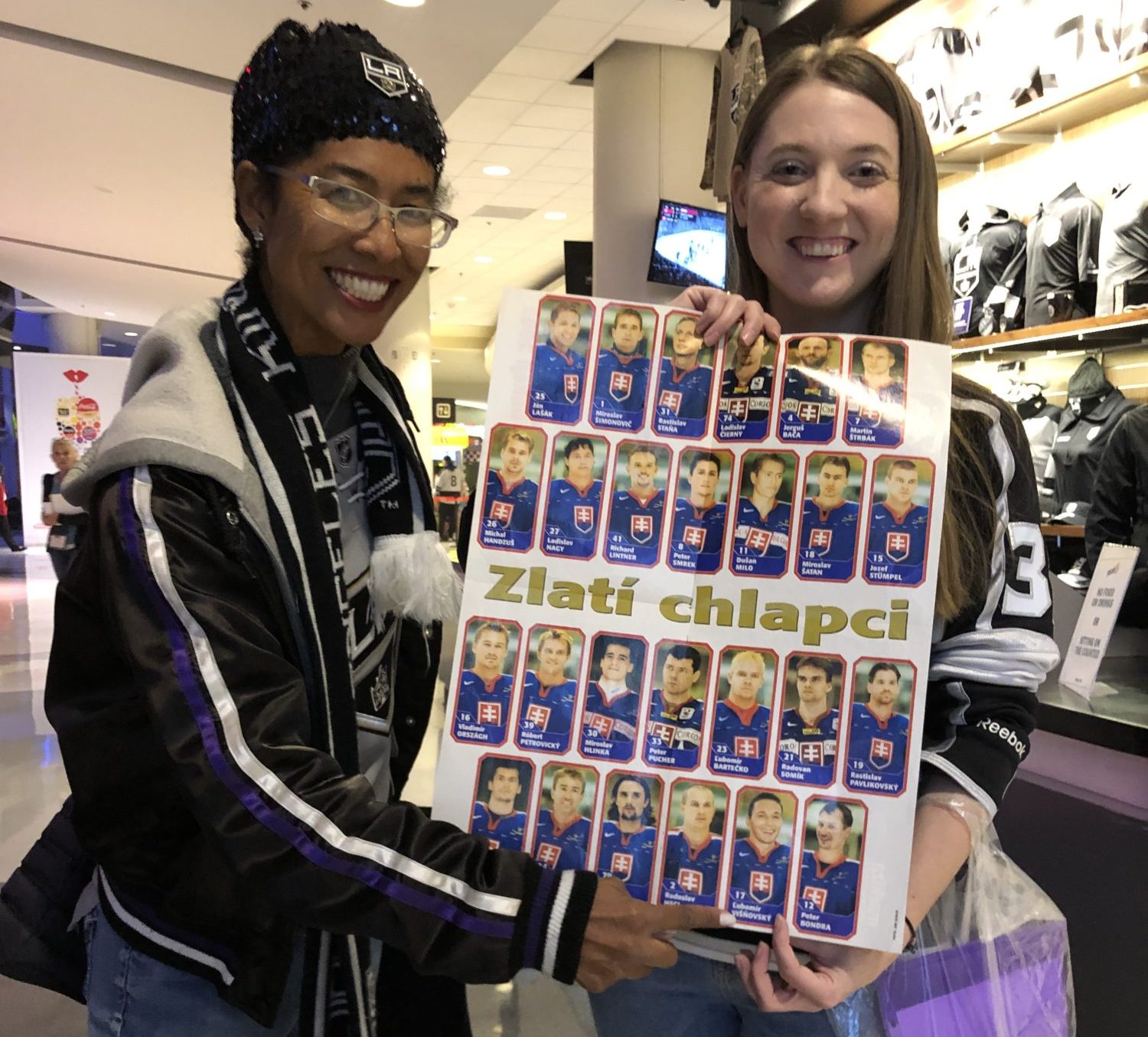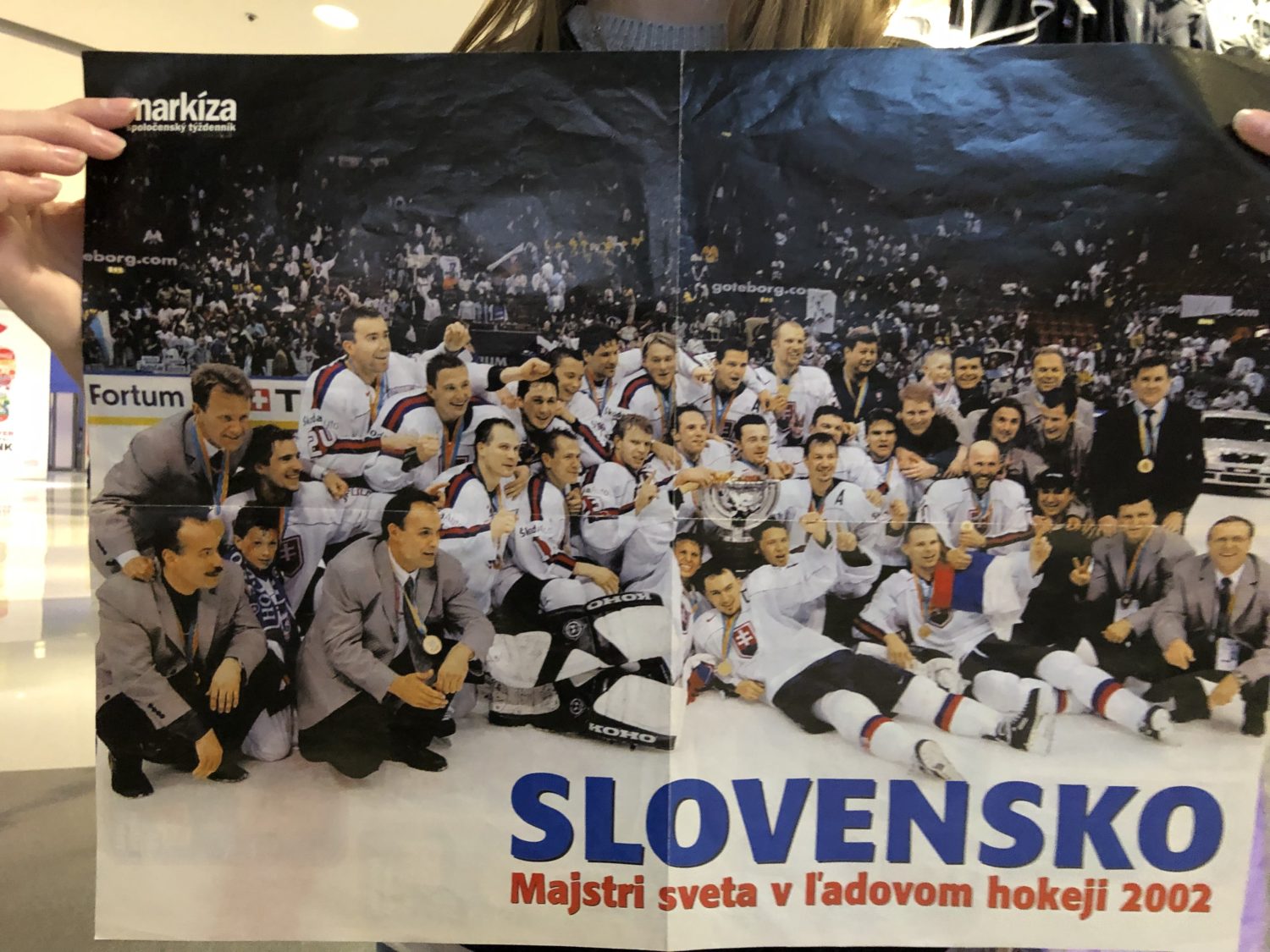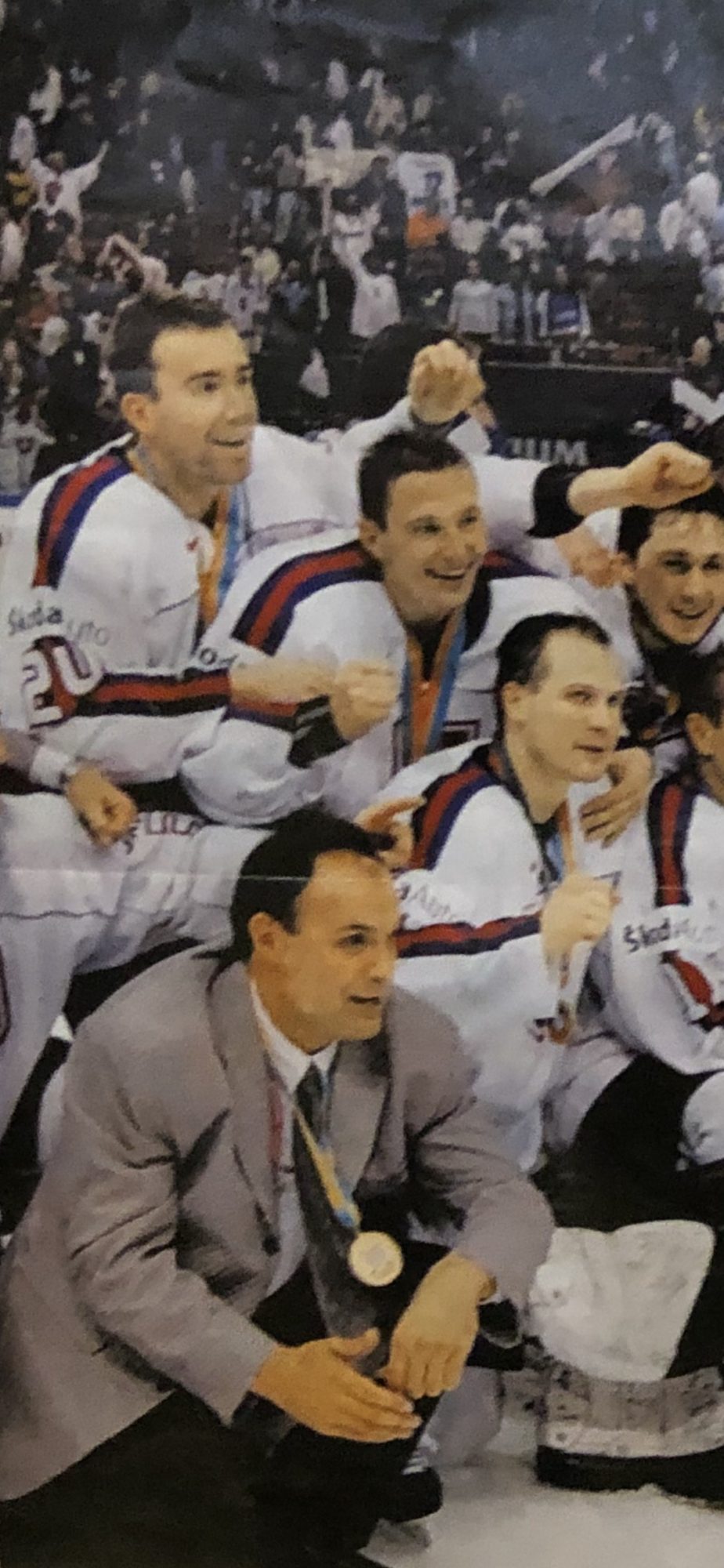 That's Ziggy and Lubo celebrating the Slovakian gold medal at Worlds in 2002, and if you squint, I also believe that's Jozef Stümpel partly obscured by alternate captain Peter Bondra. Bondra's second goal of the game against Russia on May 11, 2012 with 1:40 remaining clinched the gold, while Višňovský – 22 seconds into the game, assisted by Stümpel – and tournament MVP Miroslav Šatan also scored. Peter Budaj, coming off his final season with OHL-Toronto St. Michaels and back-to-back seasons with Slovakia's national junior team, did not participate. Though he was named to Slovakia's 2004 World Cup team, his men's national team debut came at the 2006 Turin Games. More on Lubo:
It is actually illegal in this state to show a Lubomir Visnovsky video without this accompaniment:
–Lead photo via Noah Graham/Getty Images