INSIDERS. There's a lot going on today. Carl Hagelin. Cal Petersen. Peter Budaj. Bill Ranford. Third jerseys. Oh, and the LA Kings are facing the Chicago Blackhawks for the first of the teams' three meetings this year at 5:30 p.m. PT (FOX Sports West / FOX Sports app / LA Kings Audio Network). Let's get down to brass tacks, starting with the projected lineup:
Iafallo-Kopitar-Brown
Kovalchuk-Carter-Toffoli
Hagelin-Kempe-Luff
Clifford-Thompson-Lewis
Forbort-Doughty
Muzzin-Martinez
Phaneuf-Fantenberg
Petersen
Notes!
–The Kings open up the road trip with their first back-to-back set of the season, so even before today, Cal Petersen would've had a good feeling his first NHL start was upcoming.
"I figured whatever the day brings, whatever I need to be ready for, I think is kind of my mindset," he said. It's an appropriate outlook, because Peter Budaj, who had started Tuesday's game against Toronto – the first game since Jack Campbell, in addition to Jonathan Quick, suffered a torn meniscus that required surgery – came down with an illness that prevented him from getting on the ice for the morning skate at the United Center. Even if there was already thought that Petersen could start tonight's game, it's now essentially a given. The 24-year-old former Notre Dame star is expected to make his first career start after debuting in relief of Budaj three nights ago.
"It's basically as much of a hometown game as I can really get," said Petersen, a Waterloo, Iowa native who played minor hockey for the Wheaton, Ill.-based Chicago Young Americans in the western suburbs. "It's really cool. I'm obviously very excited again to be able to wear the jersey. I know the boys are going to battle hard, so it's an exciting opportunity."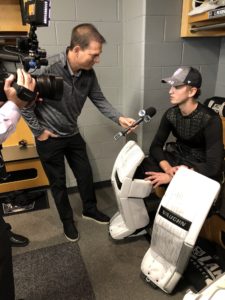 Petersen attended a handful of Blackhawks games while playing for the Young Americans and has the lay of the land down pat. "I've driven through here a lot, so it kind of feels like home," he said.
Interestingly, his final collegiate start came at the United Center during the 2017 Frozen Four semi-finals, when his Fighting Irish were defeated 6-1 by eventual national champion Denver. "It kind of oddly comes full circle," he said.
He's also encouraged by his first appearance with the Kings in which he stopped 15 of 16 shots to become the 71st different goalie in franchise history.
"Once I got the nerves out a little bit, I started to settle down and got some saves under my belt, so it felt good," he said. "I started to get comfortable in the third period all around. It's mostly just soaking it all in, taking it shot-by-shot and getting in there."
Petersen will be supported by his parents, Eric and Mary, and his sister, Annie at the United Center tonight, though they were planning on making the trip even before Budaj's illness raised the likeliness that Petersen would start.
Goaltending Coach Bill Ranford, the 1990 Conn Smythe Trophy winner, subs in a small handful of times a season when one of the goalies on the roster is ill or may need a day off the ice.
He'll be back atop his perch in the press box when the game begins, though, providing an eye-in-the-sky appraisal of the team's execution and structure and communicating with the bench.
If Budaj isn't able to sit on the bench, the Kings (as first shared by Lisa Dillman of The Athletic) will recall goalie Cole Kehler from AHL-Ontario. Because Matt Villata in OHL-Sault Ste. Marie is recovering from a skate cut and neither Jacob Ingham of OHL-Mississauga nor David Hrenak of NCHC-St. Cloud have signed with the club, Kehler is the only remaining healthy goalie in the organization who has been signed to an NHL contract. The word after the morning skate was that the team would prefer to keep a sick player away from rest of the group right at the start of flu season.
"We'll have a back-up if [Budaj] can't go. He has to be ready, though. You don't want to bring a guy in that's sick and get the rest of the room sick on the trip, either, so we'll be smart with him," Willie Desjardins said.
Kehler, who turns 21 one month from tomorrow and was signed last year as a free agent out of WHL-Portland, has also dealt with injury and has made one start for ECHL-Manchester this season, stopping 28 of 31 shots in a loss. It's his lone professional appearance, other than a sturdy outing at the Vegas Rookie Challenge
The Kings, obviously, are hoping that Petersen will make the most of this current opportunity. They'll continue the back-to-back Saturday in Nashville, but no one's focusing that far ahead.
"That's a big step to come in and play, and that's a big challenge, for sure," Desjardins said. "If you're a young guy, what more would you want than to start in Chicago? That's a pretty big opportunity. For [Cal], it's a good opportunity. For us, it's a good chance to look at him."
–Additional vitals: Paul LaDue and Michael Amadio remained on the ice for extra work with Gabe Vilardi, so they're not expected to play tonight. Chicago will probably start Corey Crawford, who is 9-5-1 in his career with a 2.38 goals-against average and a .907 save percentage against the Kings. Chicago activated center Marcus Kruger (left leg) today; defensemen Connor Murphy (back) and Brandon Davidson (right leg) are on injured reserve. Chicago's 67 goals against are the third-most in the league, but, hey, we're not ones to judge.
#Blackhawks lines:
Schmaltz-Toews-Kane
DeBrincat-Kampf-Kahun
Saad-Anisimov-Hayden
Kunitz-Kruger-Martinsen

Defensive pairs:
Keith-Seabrook
Gustafsson-Jokiharju
Manning-Forsling

— Tracey Myers (@Tramyers_NHL) November 16, 2018
–Lots more to come from Carl Hagelin and Willie Desjardins. Tonight's officials are referees Chris Schlenker and Kevin Pollock and linesmen David Brisebois and Derek Amell. I'll join NHL Tonight on the NHL Network at 4:00 p.m. from the United Center and will be joined by Adrian Kempe from the bench during the LA Kings Live pre-game show. Lots more to come from Carl Hagelin and Willie Desjardins. Let's talk very soon, Insiders.