The LA Kings are leading the league in headlines per 60.
Through the first 17 games, they've held a closed door meeting moderated by their GM, lost their top two goaltenders to meniscus tears, fired their coach and traded a secondary core player. 17 games!
That player, Tanner Pearson, was swapped with former Pittsburgh, Anaheim and New York Rangers forward Carl Hagelin on Wednesday and made his Penguins debut in a 4-3 loss to Tampa Bay last night, starting the game to the left of Evgeni Malkin and Patric Hornqvist and finishing with a plus-one rating, one hit and no shot attempts in 13:43.
Hagelin beat the team to Chicago on Thursday and will make his Los Angeles debut Friday night at the United Center. At the morning skate, he was aligned opposite Matt Luff on Adrian Kempe's line. A 30-year-old NHL veteran, Hagelin is a two-time Stanley Cup winner with excellent speed, established penalty killing success and strong defensive acumen.
More on his first day on the ice in a Kings (practice) jersey is below.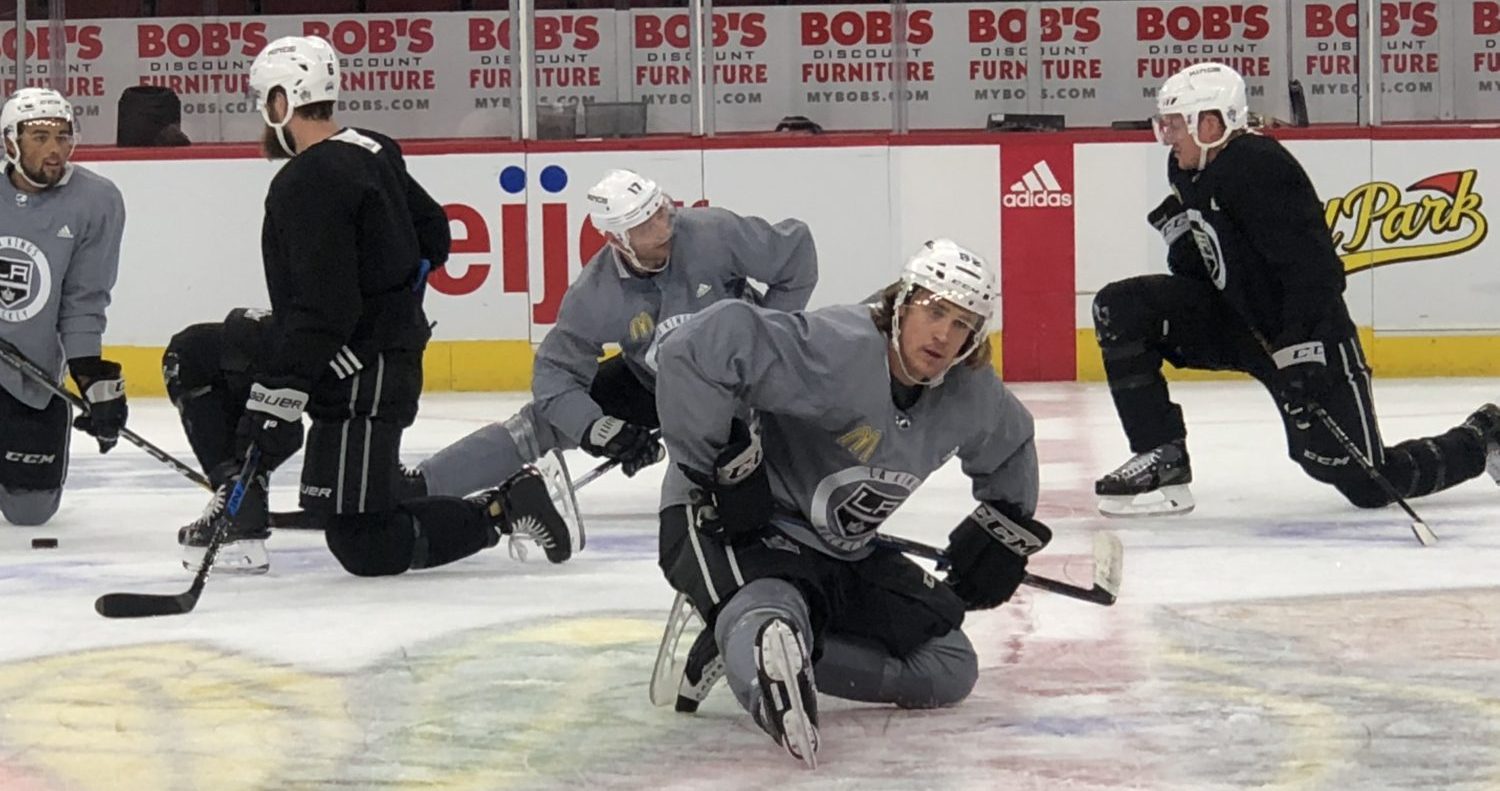 Willie Desjardins, on how the Kings will begin integrating Carl Hagelin:
We'll do a little bit of systems stuff with him. We'll bring him in and talk to him. But I think it's just the learning process. The one good thing is a lot of the systems are the same in the NHL. It's not like we're running something that he hasn't seen somewhere in his career, so there shouldn't be a big adjustment for him. But it'll be great to get him and his speed, and that's something we look forward to adding.
Desjardins, on whether Hagelin will immediately get an opportunity on the penalty kill:
I'm sure we'll see him some on the penalty kill. Dave Lowry runs the kill, but I'm sure that we'll bring him out there and we'll get a look at him for sure because he's good at it and he'll be able to adjust with what we're doing.
Desjardins (from Wednesday), on whether Tanner Pearson had lost confidence:
It's tough. He's a good player, for sure. He was really frustrated on the bench [Tuesday] night, like very frustrated. He was a guy when I came in, that's a guy maybe you could target to get him to turn it around and get going. I don't that happened, but I think there's other reasons it happened, too. I think the organization always has to look at the organization as a whole, what's best for the organization, and when they looked at it, they just felt that was a good move, and that's going to give us some speed, and that's what we need. We need some speed.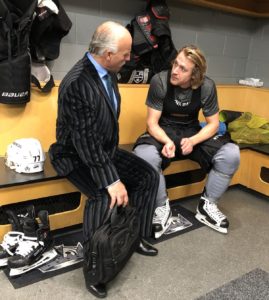 Carl Hagelin, on a recent assertion that he has something to prove:
Yeah, I'm trying to bring it every night. It doesn't matter where I am. I'm going to keep playing my game and I'm looking forward to this opportunity. It's a good team, there are a lot of good players in this locker room, and you want to help the team turn this around.
Hagelin, on his early thoughts after the immediate surprise of the trade wore off:
Like you said, right when it happens, it's a shock, and then a few hours go by and you just focus on your next chapter. I'm a player that's always positive and I always see the good things in life. Things happen for a reason, and now I'm here and I'm trying to make the most of this opportunity, and like I said, it's a good challenge.
Hagelin, on how the team will look to incorporate him and use his speed:
I haven't sat down with the coaches yet – I'm going to do that here soon. But anytime a team's struggling, you just try to get some fresh faces in the locker room and try to find a way to spark it up, I guess. I'm coming in here trying to play the way I always play – use my speed to create offense, and work hard both ways and be a reliable player, so that's what I'm going to do.
Hagelin, on whether he still has memories playing in Southern California with Anaheim:
Yeah, a little bit, but it was such a short time last time so I don't have a ton of memories from back then. It'll be a good challenge here, for sure.
–Lead photo via Mike Stobe/NHLI