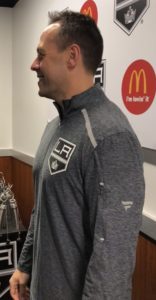 New Assistant Coach Marco Sturm arrived yesterday after a 12-hour flight from Munich, which means he'll join Willie Desjardins and Dave Lowry on the LA Kings' bench for tonight's game against Toronto.
It also means Bill Ranford, who had spent the last three games at ice level, will return to his "eye-in-the-sky" perch to provide a coaching assessment from the extreme long shot, if we're to borrow a filmmaking term.
That displacement is expected but still unfortunate, given Ranford's unique perspective from the bench as an ex-goalie.
"[Jack] Campbell had a bad strap. His strap wasn't great," Desjardins said about a recent game. "So, Billy's yelling at the whole bench to make sure that we get a whistle for Jack. 'We've got to get a whistle for Jack.' He's all over the bench. Jack gets the puck where he can freeze it for the whistle – and he shoots it away."
It was a recollection early in his tenure as Kings coach that made Desjardins smile. "Billy was awesome on the bench. He was good – like, he's really calm and focused," he said. "I'll miss him."
And now begins Marco Sturm's Los Angeles coaching tenure, which should prove to be more fruitful than his 17-game, four-goal, nine-point Kings playing tenure. That stint began when he signed with Los Angeles after undergoing 2010 off-season knee surgery, and unceremoniously ended when he was claimed by Washington off waivers during an attempt by the team to create roster flexibility in advance of the 2011 trade deadline. This was covered in depth by Rich Hammond here, here, here and here.
There has been thought that this assistant coaching position is one that will be used to gauge whether he's the right choice to take over as the Kings' permanent head coach, but any decisions on the head coaching position beyond this season will be made over the summer, according to an organizational source.
Now, he rejoins a team that still features a pair of erstwhile linemates in Anze Kopitar and Dustin Brown.
"I played with half of 'em, probably," he said. "That means I'm still young, right? I played with a few guys here. I played [against] guys a lot, so there are a lot of familiar faces. Just a little weird to be on the other side, right?"
As a coach who brought Germany to within a minute of the gold medal in men's ice hockey, he now inherits another sizable challenge with a team that sits in 31st place in the league with 11 points.
"I think that was probably one of the reasons, just to get a different voice, a younger voice," he said. "I think that's just the way it is. Not just players, I think you can see it on the coaches side, too, that they get younger. Obviously, the game has changed. It's a lot faster. Transition-wise, as soon as you lose the puck, it goes the other way really quickly. That's just a few areas that I think it's where we struggle, what I saw. That's something that we have to get better at also to create more offense, to create more speed and play a little bit more in the other end."
And with his arrival from the Deutschland Cup, Los Angeles' reformed coaching staff has solidified.
"I think he's been watching games," Desjardins said. "Like, he's known for about a week, so I think he's been watching some games before coming over. He's a little bit familiar with some of the guys on the team, so I think he'll get acclimated really quickly. He knows our group, he knows the way we play, and I've had a chance to meet with him and talk to him, and it was certainly a good talk, and I'm glad he's here."
Desjardins and Sturm met last night and will continue to delineate the new coach's responsibilities after tonight's game. Though Don Nachbaur – and before him, Davis Payne – had primarily worked with club forwards and ran the power play, that's not necessarily the same template that will be used in this instance.
"There is so much around it with video and everything else that I have to work on, I have to learn a lot," Sturm said. "Tonight, I was talking to the coach, just go through the game, and then we're going to decide after the game or tomorrow which area I will be on, and then we'll see."
On Tuesday, a game day, Sturm hit the ground running. There were introductions with players and figures he hadn't yet met; Wednesday is when the real conversations and coaching schemes will begin to be laid out.
"I played with Marco. I know what he's all about. I'm sure that'll happen over the next few days," Brown said. "He just kind of rushed into a game day, so the focus is on the game."
Marco Sturm, on what he had seen of the group on video:
When things are not going well, you can see it in the body language, in the weight on their legs, right? I think we've all been through it. But I think the only thing to get out of it is you've got to do it as a group, right? I think they had some good games from what I saw, but also some bad ones also. You've got to head in the right direction game by game, and I think tonight, it's another big one. It's not going to get easier, but we definitely want to start on the right foot tonight.
Sturm, on whether he followed the Kings closely while coaching Germany:
I always kind of follow my old teams, I've got to say, but not as closely, obviously. When I got the call last week just to kind of [hear] what I'm thinking, then I kind of focused a little bit more on the LA Kings and tried to watch some games, but last week was a busy week for me also, so the 12-hour flight, I tried to put as much video in as I could. It's definitely a lot of new things coming at me, so we'll take a little time. On the other side, I think it's good to get thrown in right away with the game tonight.
Sturm, on how he balanced responsibilities at the Deutschland Cup with keeping tabs on the Kings:
It was not easy, but still, I had a job to do. I kind of focused more on my German team. I wanted to finish on the right note. Now, that era ended, so I think the focus is just on L.A., and there's a lot of work to do. I'm excited about it.
Sturm, on his coaching style:
That's what I did with my German team. I'm a pretty good mix. As a player, I've seen both sides – the old style and the new style – so I think that'll definitely help me coaching. I'm a structure guy. I love structure. I think you've got to be structured to be successful, but on the other side, I was a forward too, so I would like to score goals. Like I said, there's just a few points. You've just got to do things a little bit quicker, and that's something my focus was on in the past year or so, and I think that's something we all agreed as coaches already that was something we have to do here.
–Lead photo via Jean Catuffe/Getty Images