Good afternoon, Insiders. The LA Kings worked out at the University of Ottawa on– HOLD ON, ALEC MARTINEZ IS KICKING FIELD GOALS.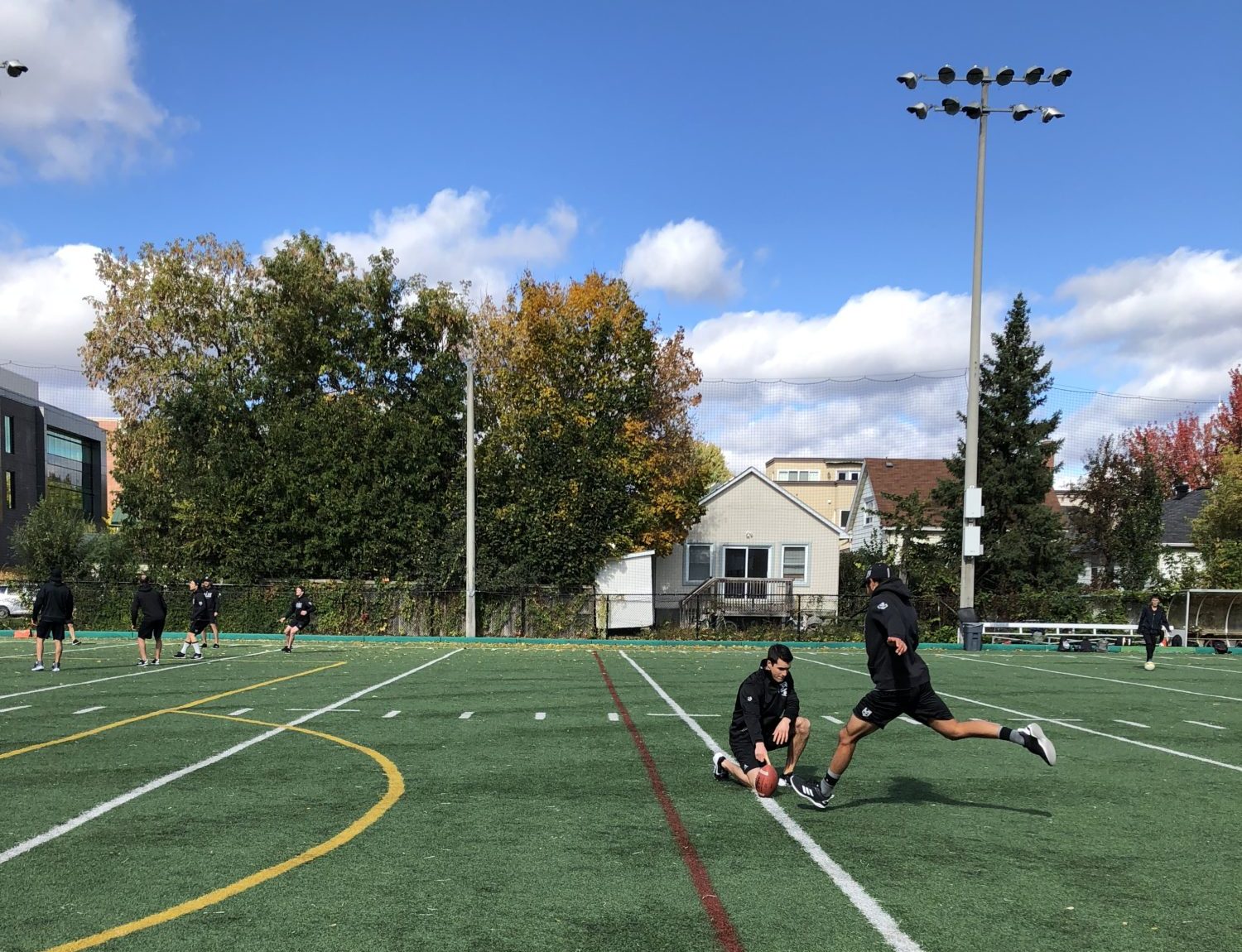 This hastens the question: Who is the best raw athlete on the team?
"I'll let you guys make that assessment watching them [kick field goals], but it's pretty clear some of those guys are athletes and some of those guys aren't," Stevens joked.
Notes!
–The Kings did not actually practice on Friday, one day before their game at 2:00 p.m. local time against the Ottawa Senators (FOX Sports West / FOX Sports app / LA Kings Audio Network). Generally, there are full-team skates the day before afternoon games, but at the mid-point of the trip, and after consulting with the training staff and being mindful of recent travel and the team's regular practice schedule to this point, John Stevens made the decision to let the players replenish their energy in advance of Saturday's matinee. They'll have a good practice day in Toronto on Sunday.
(For video of Oscar Fantenberg nailing a 50-yard field goal, against the wind, and from the left hash marks, check out Alex Faust's Instagram stories and watch tomorrow's LA Kings Live pre-game show.)
Meanwhile, there were several items of note, even though the team did not skate:
–Dustin Brown did in fact skate back at Toyota Sports Center today, and did so in his full gear with two Ontario Reign trainers watching from the bench. Again, he has to miss at least 10 games because he was placed on LTIR, but none of us are expecting to see him sidelined any great deal longer than that. I think the official term the team has used is "out indefinitely," but you should see him relatively soon enough after those 10 games are up.
–Ottawa is also among the banged-up teams:
#Sens roster updates:

Cody Ceci (upper body injury), Ryan Dzingel (lower body injury) and Alex Formenton (concussion) have been placed on the IR.

Defenceman Christian Jaros and forward Nick Paul have been recalled from Belleville (AHL).

— Ottawa Senators (@Senators) October 12, 2018
"Who's excited to see another Tkachuk play against Drew Doughty and the Kings?" asked no one in Los Angeles. Brady Tkachuk, the fourth overall pick this past June has two goals and three points through his first two NHL games. The Senators have averaged 3.75 goals thus far but are averaging a league-worst five goals against. It's early; numbers are still wonky.
–Things John Stevens liked on Thursday:
*getting back with support to send the puck to speed in the other direction
*moving the puck quickly through the neutral zone, which led to more chances in the offensive zone
*the new-look lines, which provided energy
*Jaret Anderson-Dolan's ability to play in tight spaces
*not allowing seam plays on the PK (looking at you, Trevor Lewis and Derek Forbort)
–Still, Los Angeles' 37.5 shots-against per game represents the league's second-highest total (to Ottawa's 38.8, as it turns out). Montreal took 40 shots on Thursday by firing from just about anywhere and getting a lot of pucks to the net, though there wasn't any sort of spike in their quality looks. (There's an interesting user post on Reddit analyzing some of this.)
"If you look at some of the volume of shots, we got in some penalty trouble in the game, which I think took some momentum away from us, especially in the second period," Stevens said. "I keep talking about managing the hockey puck – I think we gave pucks back to them when we didn't have to. We forced pucks into areas when we had better decisions to make with the puck, and they're a really good transition team. If there's one area of our game that can reduce the volume, it's just that. It's making better decisions with the puck. We did at times, but it's something that we've got to clean up."
The quick decisions and puck management issues are still there; the Kings would be wise to take a step forward in that respect Saturday before Monday's game against the offensively elite Maple Leafs.
–Adrian Kempe has been pretty good in three of the team's four games this year, though that's nothing out of the ordinary. Even when he hasn't been scoring, he still plays an effective north-south game, and the Vegas series was a pretty good representation of this. But Kempe has terrific speed and the ability to beat goaltenders, and that scoring is welcome value to a team that could really benefit from it.
"I think Adrian's playing a really responsible 200-foot game, and that's what we like," Stevens said. "You feel really comfortable with him out there playing against top guys, and he can really create with his speed. I thought he did a good job down low last night a couple times where he was really hard on pucks and skated pucks out of trouble, and the goal is just what he's capable of. He can get some separation speed coming out of the zone, but you still want him to be hard on pucks and have the ability to create coming off walls. We think he's got a skill set where he's got good speed, shoots the puck really well, and I think Ty deserves some credit too driving the back side [in the first period Thursday night]. It kind of gives the goalie more room for the shooter to think about. It was a big play in the game. Just come out of a penalty kill there, we come out and get it killed off and score the other way. I think it was a big momentum shift for us."
Dewey's doppelgänger plays hockey for U of Ottawa. He asked Drew for a selfie because he also is missing teeth. Kevin Domingue meet Drew Doughty. pic.twitter.com/1YqmwHkGto

— Patrick O'Neal (@Patrick_ONeal) October 12, 2018
–Tomorrow's game will return Dion Phaneuf and Nate Thompson to Ottawa in the teams' first match-up since last season's trade. Thompson was a Senator for the better part of one season, but for Phaneuf, it's his first return to face a team with whom he made a Cinderella run that ended in double overtime of Game 7 in the 2017 Eastern Conference Final when Ottawa was felled by a Chris Kunitz seeing-eye goal.
"Ottawa is special to me for a lot of reasons. First and foremost, my daughter was born here," said Phaneuf, who spoke highly of GM Pierre Dorion and the Senators fans, who welcomed him even though he joined the club from Toronto, a heated rival.
"I think there's a lot of optimism in the organization with some of the young guys that they have," Thompson said. "Not only that, but some other players they still have here that are really good hockey players, guys like Matt Duchene, Mark Stone, Ceci, I mean, the list goes on."
Both Phaneuf and Thompson scored in the teams' last meeting at Canadian Tire Center – though for the Senators. The Kings won 3-2 after Adrian Kempe's tied the game late and notched the game-winner in the shootout last October.
Though there is optimism ahead with players like Tkachuk, defenseman Thomas Chabot and forwards Alex Formenton, Colin White and Logan Brown, there were also reasons for negative headlines over the past six months, with Melinda Karlsson, Erik Karlsson's wife, filing an order of protection against Monika Caryk, Mike Hoffman's longtime girlfriend, and alleging repeated cyberbullying through a stream of disparaging online remarks.
Neither player was interested in commenting on that dark chapter in Senators history.
"I'm part of the Los Angeles Kings, and I think that's in the past for everyone now, so I'm not here to talk about any of that," Phaneuf said.
Rather, while meeting with reporters at the University of Ottawa on Friday, Phaneuf shared many of the details that led to his February 13 trade to Los Angeles. He was aware that a trade was possible and knew one was imminent when he wasn't getting any shifts midway through the Senators-Penguins game the night of the trade. "When I got sat down, I had kind of a feeling. I didn't think I was playing that bad," he joked.
"It wasn't that big of a surprise, if you want me to be honest," Phaneuf said. "I had an idea of what was going on. Pierre was really good with me through the whole thing. That's why I wish Ottawa nothing but success, and Pierre and the whole organization, they treated me very well. I wasn't shocked."
Likewise for Thompson, who downplayed the suggestion of a locker room divide during his tenure. "We were losing hockey games, and whenever you're losing hockey games, it's tough no matter where you are," he said. "…Everyone says it's always part of the business, and I think it was just the timing and the way the season was going, and I was moveable, and it worked out for both sides."
John Stevens has been appreciative of both players and praised Phaneuf's personality, emotional investment and communication, noting that he's a strong figure for the young players on the team.
"I think any player can be hard to play against," Stevens said. "Sometimes it's with your speed, sometimes it's with your skill, but it's always with your compete, and Dion, he's always involved. He understands the game within the game, and he's a really hard guy to play against."
Phaneuf blocked four shots and issued three hits Thursday night, with Stevens approving the defenseman's performance. He also logged 90 seconds of penalty killing time and was part of a group that faced an enormous array of shots, if not a great deal of scoring chances, during Jack Campbell's first career shutout.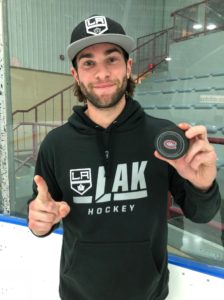 "I think Soupy's been outstanding for us all year. He's definitely given us a chance," Phaneuf said. "I really like his game. He's calm, he's confident, and I'm just really happy for him. He gets his first shotout in Montreal – what a building to get it in. And he puts in the work. You guys follow, you watch how hard he works and how he practices. For him to get rewarded, we're all really happy for him. To be able to do it in a building like Montreal, their home opener, so much history in that building, and as players, you enjoy the atmosphere there. For him to get that, it's well-deserved, and we're really happy for him. We have to get better in front of him. We're giving up a few too many chances, and that's something that we're concentrating on."
As was noted by a reporter, it was Phaneuf that picked up the puck after the win to present to Campbell as a memento.
"There's 20 other guys in there that would've picked up the puck for him, too," he said. "He's a really well respected guy in our room, and we were really happy for him."