A new day means its time for Game 2!
We're on the main rink today as the Kings are in action against the Arizona Coyotes in a 3 PM puck drop. As was the case last night, we will have the live blog here throughout the game and a live stream, featuring Jon Rosen and Daryl Evans on the call, which is embedded below.
Third Period
20:00 – Third period is a go – Kings trail by one.
16:10 – Nice work by Eyssimont to draw a penalty. Picks Pierre-Olivier Joseph's pocket in front of his own net and the Arizona defenseman grabs his stick to avoid a quality scoring chance. Kings to the man advantage.
13:07 – Kings Goal – Spencer Watson, who has been solid all afternoon, ties the game at 2 6:53 into the third period.
8:43 – Coyotes Goal – Capobianco gets his second goal of the evening, as he finishes off a nice sequence in the slot.Primary assist came off of a centering feed from Lane Pederson. Kings were hemmed into their defensive end for an extended period prior to the goal.
6:36 – Hayton (5th Overall Pick in 2018) shows his ability following an LAK penalty for too many men on the ice. Walks into the left-hand circle and fires a wrist shot off the far post and out. Kings remain on the PK, down 3-2.
2:03 – Kings have created a few half-chances but nothing major yet. Capobianco nearly got his hat trick but Kehler shrugged the shot off.
1:30 – Kehler to the bench, 6-on-5 advantage for the Kings
1:18 – Kings take their timeout with an offensive zone draw upcoming after an Arizona icing.
1:09 – Coyotes Goal – Looke with a nice block on an Austin Strand one-timer. Picks up the puck and shoots the length of the ice into the empty net. 4-2.
0:00 – That'll do it. Coyotes earn the two-goal victory with an empty netter. Kings are back at it on Tuesday for their tournament finale against the host Golden Knights.
Second Period
20:00 – Second period is underway.
19:35 – Coyotes Goal – Coyotes tie the game at one just 25 seconds into the second period. Massive cluster in front of Kehler, puck pops out to Jens Looke who scores from a sharp angle.
15:02 – Kind of an uneventful first five minutes to the period. We get a whistle now as Nate Schnarr's skate blade pops out of his skate – Needs assistance from teammate / official to get off the ice.
13:11 – Nice handles and speed from Aidan Dudas creates a partial breakaway. His forehanded effort was stopped by Prosvetov but he drew a penalty on the way through as Busby hauled him down. LAK power play upcoming.
9:13 – Boko Imama has been noticeable in a few ways this afternoon. Several big hits have showcased his physicality and now he gets into a minor altercation with Jenik in the neutral zone, which sends both off for minors. Second penalty of the game for Imama.
6:55 – Another terrific save from Kehler. Made the first stop and then made a sliding save to his right with the pad to keep the game tied. 20 saves on 21 shots thus far for Kehler, who has impressed.
4:06 – Rempal and Morrison get a 2-on-1 rush. Rempal holds the entire time, the defenseman stuck tightly to Morrison and Rempal's shot was turned aside by Prosvetov. Rebound was created but no one able to pounce, Coyotes covered for a whistle.
2:54 – Coyotes Goal – Arizona takes the lead as defenseman Kyle Capobianco sends his shot through traffic and past a screened Kehler. Goal was a power-play marker with Morrison in the box for interference.
0:00 – Second period comes to a close with the Coyotes leading 2-1. Kings will have 38 seconds of power-play time to begin the third period with Howdeshell in the box for Arizona.
First Period
20:00 – The puck is dropped and we're underway in Game 2.
18:20 – Really nice right-pad save through traffic from Kehler early on, but Reddekopp takes a cross-checking minor immediately after. Kings to the PK less than two minutes in.
15:48 – Kings kill off the Reddekopp minor and now head to the power play as Hudson Wilson sits for Arizona (tripping). Shots on goal are currently 6-0 in favor of the Coyotes.
14:22 – Kings Goal – Michal Ivan crashes the net from the left point and buries a rebound off of what looked like an Aidan Dudas shot. LA opens the scoring for the second straight game.
10:30 – Timing may not be 100% accurate…..but Wilson creates the best chance of the game thus far from a Coyotes standpoint. Weaved through a couple of LA defensemen and went to his forehand and hit the post. Only one Kehler, who has been solid thus far, hasn't turned aside.
6:57 – Cole Kehler with another sequence of stops, ending with a glove save for a whistle on a shot from the point that did not have much traffic. 13 saves through 13 minutes thus far.
1:52 – Strand gets a clean look on net and Eyssimont gets a piece on the way through – Nice chance for the Kings late in the first. Eyssimont has been lively in the first.
0:00 – First period comes to a close with the Kings holding a 1-0 lead for the second straight game.
Pre-Game Notes
– Cole Kehler led the Kings onto the ice for warmups and will be expected to start between the pipes, with Jacob Ingham serving as the backup. Last night's starter, Matthew Villalta, is not dressed.
– Last night's top line – Austin Wagner, Matt Luff, Phillipe Maillet – is out tonight. Coming in up front is the line of Kyle Bauman, Nathan Dunkley and Aidan Dudas. On defense, Sean Walker sits out while Michal Ivan checks in. The rest of the lineup is the same as last night.
– Forward Boko Imama will serve as tonight's captain with forward Jaret Anderson-Dolan and defenseman Chaz Reddekopp wearing the "A" on their jersey.
Kings Lines
Morrison – Thomas – Rempal
Eyssimont – Anderson-Dolan – Rassell
Imama – Rymsha – Watson
Bauman – Dunkleey – Dudas
Clague – Strand
Moverare – Phillips
Reddekopp – Ivan
Kehler
Ingham
Arizona Lineup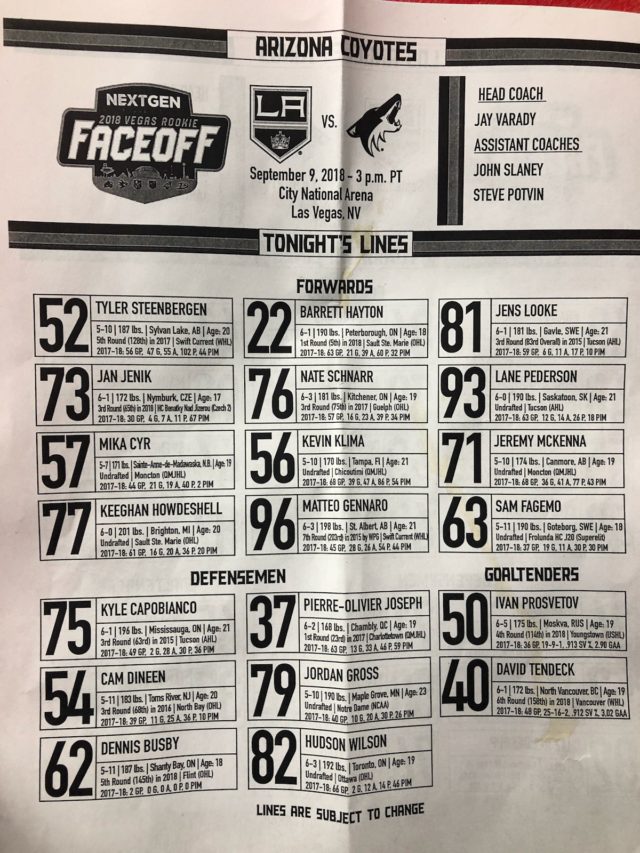 Photos