2018 Vegas Rookie Faceoff Game 1: Anaheim 8, LA Kings 3
The LA Kings fell 8-3 to Anaheim in both teams' 2018 Vegas Rookie Faceoff openers Saturday evening at City National Arena in Las Vegas. The Kings led 1-0 after one period and after falling behind 2-1 had an opportunity to tie the game when Austin Wagner was sprung loose for a clear-cut shorthanded breakaway. Anaheim goalie Olle Eriksson Ek made a strong save on Wagner's backhand-forehand attempt – one of four odd-man rushes Eriksson Ek denied in the second period, which included a Matt Luff breakaway and two-on-one bid – in a moment that proved pivotal when Josh Mahura scored less than 20 seconds later to give the Ducks a 3-1 lead. The Ducks scored five times in the third period to break open a game that had been even until that point. The Mikey Eyssimont-Jaret Anderson-Dolan-Mark Rassell line combined for all of the offense in the 8-3 loss and was the Kings' most consistently notable line throughout.
Other games:
Arizona 4, San Jose 0
Vegas 7, Colorado 6
Sunday:
Los Angeles vs Arizona, 3:00 p.m.
Colorado vs Anaheim, 5:00 p.m.
Vegas vs San Jose, 7:00 p.m.
Tuesday:
Anaheim vs Arizona, 11:00 a.m.
San Jose vs Colorado, 11:30 a.m.
Los Angeles vs Vegas, 2:30 p.m.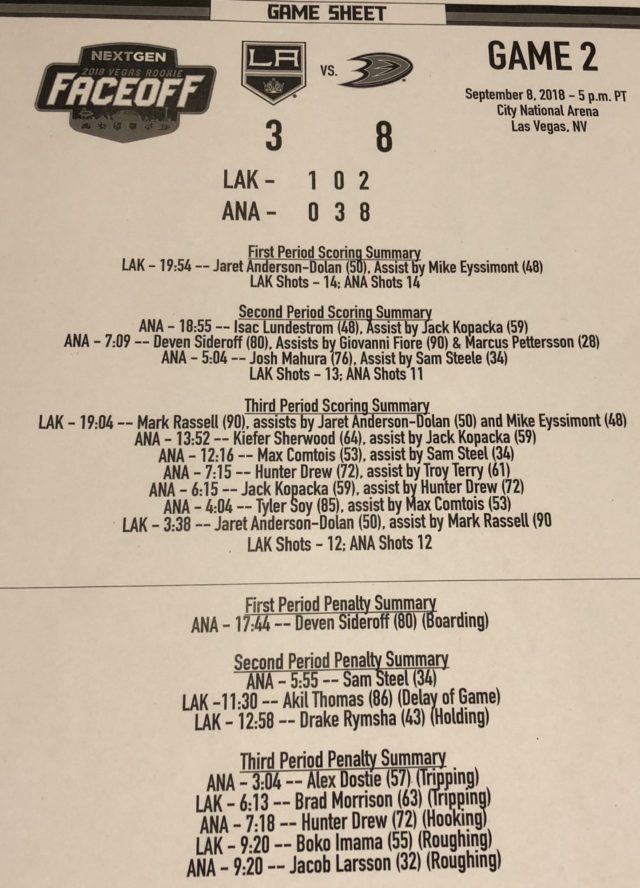 Lines and pairings:
Wagner – Maillet – Luff
Morrison – Thomas – Rempal
Eyssimont – Anderson-Dolan – Rassell
Imama – Rymsha – Watson
Clague – Strand
Moverare – Phillips
Reddekopp – Walker
Villalta
Kehler
Comings and goings:
-With two goals and an assist, Anderson-Dolan, the Kings' most highly touted forward prospect playing in this tournament, jumped out on the scoresheet and clearly passed the eye test. "It's the first exhibition game for a bunch of young guys that are excited to be attending maybe their first training camp and I don't think you look at the score. You look at they're getting on the ice, getting some game action and you take it from there," coach Mike Stothers said. "There were some things that you'd like to see improved upon but that will come with time and there were some good things. One good thing – Jaret Anderson-Dolan was terrific. So, you've just got to find a positive, and I just found one pretty quick, didn't I?"
It was a busy summer for Anderson-Dolan, who attended the World Junior Summer Showcase one month after participating in his second development camp in Los Angeles. His efforts at Canada's evaluation camp left him with a good feeling heading into the season.
"I thought my last game, especially, was good against the Americans," Anderson-Dolan said. "The coaches liked my game. I had a positive exit meeting with them. It's summer hockey, so as good as it can be, I thought I was pretty good, and obviously it's a first step, so hopefully I'll have a good start to the year and we'll see where it goes from there.
Anderson-Dolan had skated primarily with Gabriel Vilardi and Mikey Eyssimont during development camp. But Vilardi is recovering from a back injury and isn't participating in rookie camp, and Mark Rassell, a 21-year-old on a tryout who scored 50 goals for Medicine Hat last season, has acquitted himself well alongside Anderson-Dolan and Eyssimont.
"We were all working. We were all relentless on pucks. That was the biggest thing," Anderson-Dolan said. "All the goals we scored, two of them were off the forecheck, and even that power play one, we lost possession, got it back and then we were able to capitalize. The other one I think is just natural chemistry. We're all good players, all smart players, so I think when you have three guys like that that can think the game and you put 'em together, it usually ends up with good results."
-Rassell is among the players attending camp on a tryout with a valid shot at earning an entry-level contract. Should he fail to earn a pro contract in North America, he'll attend the University of New Brunswick and play for the Varsity Reds' powerhouse Canadian Interscholastic Sport program.
The thought of matriculating at UNB and spending the charming fall months in Eastern Canada is not at the front of the mind of the Calgary native vying to earn a contract in Los Angeles. With a goal and an assist, he did his part on Saturday.
"Obviously the points are nice but that's not what they're looking for out of me, I need to play a solid defensive game," he said. "I've got to be great in my own end and contribute offensively when I can. Just being a reliable player that can depend on in any situation I think will really help me stand out. I'm taking it day-by-day, do what they want me to do, chip in offensively when I can and hopefully they see that I'm beneficial to their team and their franchise."
Rassell scored 50 goals with the WHL's Medicine Hat Tigers as an over-ager last season, and while his goal-scoring reputation had preceded him, there was still immense value in Stothers watching the forward first-hand.
"I don't know a lot about him, other than he scored a heck of a lot of goals last season and that's part of it for me, too," he said. "I hear a lot about these kids from our scouts and multiple people but you have to see them play. There are plenty of opportunities for these guys to make an impression favorably, and hopefully we will atone ourselves a little bit better tomorrow. Again, we're not going to make any decisions on anybody after one game." At that point, an alarm sounded on LAKI's phone, disrupting the scrum. "Maybe we should've had that go off in our locker room," Stothers said without missing a beat.
Two players also vying for entry-level contracts, forward Nathan Dunkley and defenseman Michal Ivan, did not play Saturday.
-Daniel Brickley, who had traveled to the east coast to attend the funeral for his grandmother, did not play in Tuesday's opener. Stothers said Brickley will rejoin the team Saturday in Las Vegas and will make his rookie tournament debut on Tuesday against the Golden Knights.
Post-game reaction and reflection from Mikey Eyssimont:
Mike Stothers, on an insinuation that the players felt they were "run over" in the third period:
"I mean, if that's the way they put it. … I think we got behind and got a little down on ourselves, discouraged, as young guys would. They want to do well, right? They're disappointed, that's part of it. You get knocked down a bit, you get back up, it's the way you get back up, that's what we're here to teach them. Good thing is, we get to play again tomorrow and see how it goes. Everybody got a lot of ice time tonight, which is what we wanted. There will be some guys that will come in that didn't play tonight and some guys that played tonight who will be sitting out and practicing in the morning. But the guys that are out, it's not reflective of any situation like 'the coach is disappointed' or 'the coach is mad' or anything. It's just that everybody's going to try to get in in these three games in four days."
Stothers, on whether Akil Thomas was benched for his penalty, and whether he'll play Sunday:
Jeez, you're trying to prod me on who's playing tomorrow. It's early for that, but you're entitled. If you felt that he didn't get as much ice time, I don't know – it wasn't by design. We pretty much rolled everybody through on the power play, and there were times where we used certain guys on PK, but everyone got to play. There was no message being sent for the penalty being taken. I mean, [Rymsha] got one for grabbing a guy from behind and Morrison took a couple. It's too early for that, I'm not going to lose sleep over that.
Jaret Anderson-Dolan, on balancing the desire to win with the need to improve individually:
I think it's a little bit of both. Obviously we're all competitive guys and we want to win no matter what the game is or who we're playing, so the results were disappointing, but I think we look at individual efforts too, and we had some guys that did some good things, and that's a positive. I think we've got to take that and look at that and take the positives from that and move forward to tomorrow. It's a new day tomorrow, so just move on.
Anderson-Dolan, on how he has changed over the last year:
I've obviously matured a little bit just naturally, and I put a lot of work in. Just got a little bit stronger and bigger, so I think that's allowed me to go out there and feel a little bit stronger on puck battles. I feel I can compete a little bit better than last year with some bigger guys. That's pretty important – I'm a guy that gets in on the forecheck and creates energy, so I've got to win the puck battles. That's something I worked on a lot and I could kind of feel it today paying off.
Anderson-Dolan, on whether Rassell could earn a contract with his play in this tournament:
Yeah, he's a great player. I played against him a little bit in the Western League, so obviously 50 goals there is pretty impressive. He's definitely great offensively. He works really hard, so he has those tools as well, so I definitely see him if he keeps doing what he's doing, he can get there for sure.
Anderson-Dolan, on developing chemistry with Mikey Eyssimont:
Yeah, absolutely. Like I said, we're skilled players, and I think sometimes you just click with a guy. I feel like even though it was one game, you can kind of feel it in the couple chances that we had and the ones we capitalized on especially. We know we can see each other and we're both vocal guys, so we know where each other is. You might say it's 'chemistry,' but I think we're both smart players, so if you put them with other guys who can think the game, like I said before, it's going to end up with positive results.
Photos, courtesy Michal Oleszewski: