Hockey time is nearly upon us – A lot has come together for the Reign as of late, including two big announcements earlier this week, which will be detailed below. As the calendar flips to September, it's officially hockey month with Rookie Camp starting this week, LA Kings main camp the week after and Reign camp not far behind. Let's take a look at the most recent news in the Reign world –
AHLTV
A real gamechanger for the AHL and the Reign. Announced earlier today, AHLTV is the league's new video streaming platform that takes watching AHL hockey to another level.
From the league's website –
AHLTV will feature live streaming of every AHL game in high definition on desktop, laptop, tablet and mobile devices, as well as over-the-top (OTT) platforms such as Roku, Apple TV, Amazon Fire TV, Chromecast and Android TV. AHLTV subscriptions, which include live and archived games, will begin at just $79.99 (US) for the entire 2018-19 regular season.
AHLTV will provide high definition video streams in every building throughout the league, which will be compatible with pretty much every way that a fan would want to watch the Reign. The new platform will integrate game feeds with the AHL's statistical database to proide real-time scoring updates alongside the ability to clip and cut highlights live during the game to share throughout the platform.
New features, new pricing, and new ways to watch. Experience AHL hockey like you never have before with #AHLTV.
→ https://t.co/8gaDEYpI7K pic.twitter.com/nX0m57ZyPF

— AHL (@TheAHL) September 5, 2018
The new "ViPr" technology, provided through the AHL's partnership with HockeyTech, places a new camera in every arena to capture a full-ice shot in high definition. Fans on a mobile device or tablet can control what part of the action they see by pinching, zooming and tilting their phone. So if you have ever felt that you want a tighter or wider angle to watch the game, you now have the ability to customize that experience – If you want to focus on a specific zone or area of the ice you can do that too, all on your own device.
The pricing of the new service is another huge bonus – Pricing ranges anywhere from $6.99 for one day's worth of action to $79.99 for the entire season, all teams, all games. To get just Reign games (or any other team), the service would cost $59.99 and to get Reign home or away games only, it would cost $39.99. The pricing flexibility should cater to different fans – Reign Season Ticket Holders looking for just away games can get those at a discounted rate, while say Kings fans that don't frequently get to Ontario, but want to watch the Reign at home, can do so as well with a package that suits their needs.
Overall, a huge step forward for the league with getting better exposure on a variety of levels.
The Ontario Reign App
The Reign released a new and improved app yesterday which brings a slew of new features to your mobile phone. From the Reign's website –
The Ontario Reign mobile app is back with a fresh look! The Reign app has all of the information you need to know about your hockey team – from up-to-the minute scoring updates to the most recent team news, schedules, stats, standings and more! Whether you're in Ontario (California) or Ontario (Canada), the Reign app keeps you connected to your team wherever you go!

• Sleek new design
• User friendly and integrated w/ Ontario Reign social media and web platforms
• Connected with Flash Seats to buy, re-sell and use your tickets for all Reign home games
• Live, up-to-the-minute game updates for all games, home & away
• Schedule, promotions, giveaways and in-game happenings, all in one, convenient location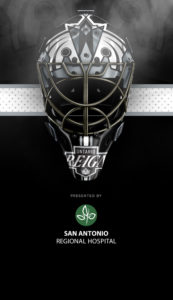 The new mobile app, from what I've been told by…….well everyone, is a massive improvement over the previous version of the Reign app. This app will be updated in real time with notifications available for all Reign goals and final scores, as well as updated stats and standings. Fans can also buy, re-sell and manage their tickets through the app, which is connected to both Flash Seats and AXS.
Additionally, the Reign app will have written and video content available in a mobile friendly format, as well as the full schedule and up-to-date promotions. The app will be a welcomed addition for those that follow the team via their mobile device.
Rookie Camp Opens on Friday
Hockey is (almost) here! Rookie camp opens for the Kings on Friday with a double session in El Segundo at the TSC – I will not be at Friday's session, Jon will have the coverage for the Insider site. The players, along with both Insiders, head to Las Vegas for the Rookie Faceoff Tournament, which will see the Kings prospects play three games in four days against Pacific Division opposition. The camp concludes on Wednesday with another double session at TSC before main camp begins later in the week.
From a Reign point of view, the rookie camp roster – SEEN HERE – features nine players that played with Ontario last season. Seven of those players (Anderson-Dolan, Eyssimont, Imama, Luff, Wagner, Walker, Watson) come to rookie camp on Kings contracts while the other two (Bauman, Maillet) are on AHL deals with the Reign. Also on the roster is blueliner Chaz Reddekopp, who did not skate with the Reign last season but did appear in two games with the AHL team in the 2016-17 season.
The roster will also feature several players that will feature for the Reign this season, once the roster begins to shake out throughout the month. Many players on the rookie camp roster, including the newly signed Drake Rymsha, are AHL eligible for this season
Will have plenty of coverage here throughout the camp!
Lastly……
Today, September 5, marks exactly one month until the Reign kick off the 2018-19 season in San Jose.