The 2018-19 schedule is here! Yesterday, the Reign's first three games were announced, with Ontario opening the season with two games away from home, followed by the home opener on October 12 against Stockton.
Today, the full 68-game regular-season schedule, in addition to three preseason contests, is here. The Reign will take on 11 different opponents this season, which begins on October 5 against San Jose and concludes on April 13 against Bakersfield.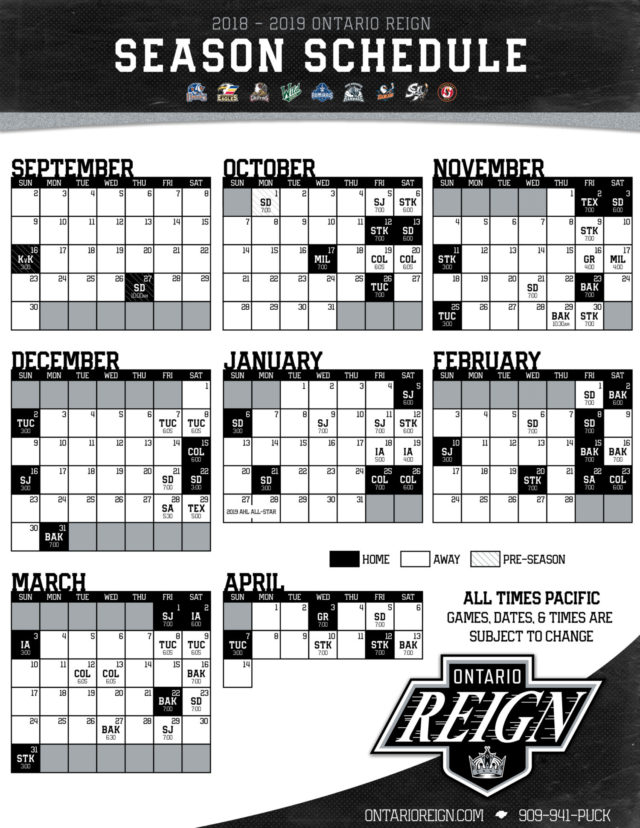 Days (of the week) Of Our Lives
• 31 of the Reign's 34 home games occur on either a Friday, Saturday, Sunday or holiday
• The Reign will host 11 Friday night games, nine Saturday games and nine Sunday games, all taking place at Citizens Business Bank Arena in Ontario
• The Reign are also home for two holiday games that take place on a Monday – New Year's Eve on December 31 and Martin Luther King Day on January 21. Additionally, the Reign are home for two games around Thanksgiving (Friday, 11/23 and Sunday, 11/25) and one game around Christmas (Saturday, 12/22)
• Ontario will host three Wednesday night games – October 17, February 21, April 3

The Other Guys
• Overall, Ontario will face 11 different opponents during the 2018-19 season. Six of those opponents will be within the Pacific Division (Bakersfield, Colorado, San Diego, San Jose, Stockton, Tucson) and five of those opponents are from the Central Division (Grand Rapids, Iowa, Milwaukee, San Antonio, Texas).
• Of the Reign's 68 games, 56 will be played within the Pacific Division while 12 will be played against the Central Division.
• The Reign's most frequent opponent during the 2018-19 season will be the San Diego Gulls. The AHL's version of the Freeway Faceoff will occur 12 times, six in Ontario and six in San Diego
• Two new teams will visit Ontario this season – The Reign host the Colorado Eagles four times, with the first home matchup on Saturday, December 15, and the Grand Rapids Griffins, with the lone California meeting of the season on Wednesday, April 3. The Reign will also visit Colorado four times, beginning with a two-game set on October 19 and 20, and will head to Michigan to take on the Griffins once, on Friday, November 16
• The Reign will face the Western Conference Champions, the Texas Stars, twice in a rematch of their 2018 Calder Cup Playoffs series – Friday, November 2 in Ontario and Saturday, December 29 in Texas
Month-By-Month
• The busiest month at the CBBA will be February, with the Reign home a season-high seven times during that month
• The busiest month for the Reign overall will be March, with five contests at home and eight away for a total of 13 games
• The least busy month of the season is April, which only features a partial schedule, when the Reign will have six games (three home, three away), albeit in an 11-day span. Ontario's calmest full month of regular-season play will be October, with eight total games (four home, four away)

Trips & Stands
• The longest homestand of the season is six games, running from February 20 through March 3 – This span also includes Reign Day, marking seven Reign events in a 12-day span
• Speaking of Reign Day, the event is back in 2019, taking place on Sunday, February 24. Reign Day is an exclusive event for ALL-IN members
• The longest road trip of the season will be five games, occurring twice – January 9 through January 19 and March 8 through March 16
Back-To-Backs….and worse
• The Reign will play in an AHL franchise-record 21 back-to-back sets this season, in addition to one three-in-three set.
• Over the past three seasons, Ontario has played between 19 and 20 back-to-back sets with 19 in 2017-18 and 20 in both 2016-17 and 2015-16.
• The Reign have one three-in-three set this season, with all three games at home (March 1 vs. SJ, March 2 & 3 vs. Iowa). The Reign did not play any three-in-three's last season after playing two in both the 2016-17 and 2015-16 seasons
Time Will Tell
• The Reign will play all of their home games at either 3 PM, 6 PM or 7 PM. All Sunday games, in addition to Saturday, December 22 and Monday, January 21, will begin at 3:00 p.m. (11 games)
• All Saturday home games, with the exception of 12/22, will begin at 6 PM (8 games)
• All other home games – Wednesdays, Fridays and New Year's Eve (Monday, 12/31) will begin at 7 PM (15 Games)
• Away from home, the Reign will play one morning game, in Bakersfield on Thursday, November 29, with puck drop slated for 10:30 AM
• All other away games are scheduled to start no later than 4 PM, ranging anywhere from 4 – 7 PM, depending on the opponent, day of week and time zone
• One interesting note – The city of Tucson does not observe Daylight Savings Time and therefore, local time between Ontario and Tucson will be one hour apart during all four meetings during the 2018-19 season. DST ends on Sunday, November 4, one month prior to the first meeting between the two teams in Arizona. DST in 2019 begins on Sunday, March 10, exactly one day after the final regular-season matchup between the two teams. If the Reign and Roadrunners were to meet in the playoffs, the games would all be on the same clock. Shout out to Reign graphic designer, Matt McElroy for pointing this out!
Pre-Season is here too
• The Reign have also announced a home-and-home preseason set against the San Diego Gulls. The Reign will host San Diego in their annual "Cool School" game on Thursday, September 27 at 10 AM in Ontario. The two teams will meet again on Monday, October 1 at Honda Center in Anaheim with a 7 PM puck drop.
• Previously announced was the Kings vs. Kings game on Sunday, September 16 in Ontario. Kings vs. Kings is a intrasquad scrimmage between members of the Kings during NHL Training Camp. The event is being held for the second time after an inaugural debut in 2016.
Other Impressions
• The Reign could see two former players make their returns to Ontario – Keeping an eye on Michael Mersch (11/2 vs. Texas) and Kevin Gravel (5 games vs. Bakersfield, first on 12/31)
• The Colorado Eagles enter the AHL for their inaugural season at this level, coming off of back-to-back Kelly Cup championships in the ECHL. Ontario will not face the defending Calder Cup champion Toronto Marlies during the 2018-19 regular season
• The full promotional schedule will be announced at a later date, including theme nights, specialty jerseys and more
Downloads
• CLICK HERE to set up the Reign schedule on your smart phone or other favorite device
• CLICK HERE for a downloadable / printable version of the Reign schedule