Good afternoon to you, Insiders. Several notes from today's morning skate in El Segundo, beginning with the team's alignment in advance of tonight's game against the Montreal Canadiens (NBCSN / KABC 790 / I Heart Radio):
Iafallo-Kopitar-Brown
Pearson-Carter-Toffoli
Cammalleri-Kempe-Auger
Andreoff-Shore-Lewis
Forbort-Doughty
Muzzin-Martinez
Fantenberg-Folin
-Jonathan Quick was the first goalie off the ice and will be expected to start against Montreal. Those who remained on for extra work with Brooks Laich and Darcy Kuemper included Nic Dowd and Kurtis MacDermid, so they're not likely to play tonight.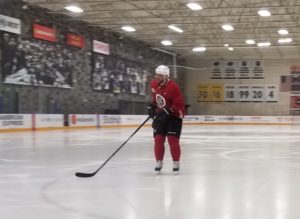 -Marian Gaborik, pictured at right, skated before the team took the ice. After the morning skate, Austin Wagner also got work in and was able to handle pucks, snapping several towards the net. As noted by Greg Harder, who does an excellent job covering the WHL's Pats for the Regina Leader-Post, he underwent surgery on June 7 to repair a torn labrum and dislocated bicep tendon, so his continued on-ice work represents a step in the right direction.
-Calling the game for NBCSN on the national broadcast tonight will be Alex Faust and Jim Fox. The broadcast will begin after the conclusion of the Blues-Blackhawks game, which begins at 5:00 p.m. PT. Tim Kepler has tonight's anthem; referees are Brad Meier and Gord Dwyer, and linesmen are Brian Mach and Brandon Gawryletz.
-So, the Habs. ::tugs collar::
Montreal lost 5-2 in San Jose yesterday and will enter Staples Center tonight with a 1-4-1 record and a league-low 1.50 goals per game. Counterpoint: the Kings are 32-90-21 all-time against the Canadiens and only 22-40-10 in Southern California, so any dismissal of tonight's opponent thumbs its nose at decades of hockey history. That might not be of particular importance when game plans are laid, but the immense pride of playing for Montreal is something that always seems tangible whenever they take the ice.
Of course, Los Angeles also has its own 50 years of history that includes two Stanley Cups since the last parade along the "usual route" in downtown Montreal, a term popularized by former mayor Jean Drapeau.
That current culture in Los Angeles, which was constructed by the success of the players who won 10 playoff series between 2012 and 2014, was palpable when Tanner Pearson was a young player with the club.
"The leaders kind of take it by the horns," he said. "When I was a rookie and we lost three games, Greener (Matt Greene) called a team meeting on the ice in the corner to try and talk about what's going on and get back on track. When you have guys like that taking initiation of stuff, it makes you want to do that much better for the guy sitting next to you."
Such culture in Montreal is profound, and the Canadiens' seemingly perpetually raised expectations serve as both motivation and pressure for those who wear their jersey. Poetic waxing aside, Montreal has not named a starting goaltender for tonight and did not hold a skate the morning after arriving late from San Jose. Elite netminder Carey Price, who has made six consecutive starts, stopped 30 of 34 shots last night and sits at 1-4-1 on the year with a 3.56 goals-against average and an .885 save percentage. Al Montoya has one appearance this season, having stopped five of seven shots over 40 minutes of relief in a 6-1 loss at Washington on October 7.
Despite their struggles to open the year, the Canadiens have a collection of speedy forwards capable of playing an up-tempo game and executing a stiff forecheck.
"It's early in the year, so both teams are trying to take that next step, and we're trying to keep it rolling here," Pearson said. "We're more focused on ourselves. We looked over them this morning, and they're a good forechecking team, so we've got to be a good checking team tonight and limit their chances."
It's a small sample size, but the Canadiens rank fourth in the NHL with a 56.4% Corsi-for rating after having played six games. Essentially, they're simply challenged at transferring strong early season possession rates into cold, hard scoring. Sound familiar?
"I think if you look at the underlying numbers, their record should probably be better than it is," John Stevens said. "I guess fortunately or unfortunately we have the luxury of analytics now, and they've actually rated pretty well in a lot of categories. I watched the game last night and I thought they played extremely hard. I thought both teams played hard. They're an extremely good forechecking team. They've got a lot of speed. They've got a great goalie and they've got a solid back end, so they're no different than us. In terms of the mood, we take every team seriously. Every team's got a lot at stake, especially early in the season trying to get established, and we think they're a very balanced and deep hockey team that we're going to have to be ready for."
-More to come. I have to run to the Westside for a doctor's appointment and will follow that up with a 4:15 p.m. NHL Network hit in which I'll touch on several Kings subjects, including what was discussed earlier today, so bear with a delay until this afternoon. John Stevens quotes will follow from Staples Center. Enjoy your Wednesday, Insiders.
-Lead photo via Juan Ocampo/NHLI