A good afternoon to you from El Segundo, Insiders. Let's get down to brass tacks.
-There were no changes to the Kings lines and pairings from those shown Monday. That means forward groups remained Iafallo-Kopitar-Brown, Pearson-Carter-Toffoli, Cammalleri-Kempe-Andreoff, Clifford-Shore-Lewis and Brodzinski-[Laich]-Dowd, with defensive pairings of Forbort-Doughty, Muzzin-Folin and MacDermid-Fantenberg, with Paul LaDue cycling through.
-Alec Martinez skated and left the ice 15 minutes before the scheduled 10:00 a.m. start time. As expected, he's getting close to rejoining practice. "He just went out on his own," John Stevens said. "Just starting to get acclimated on the ice, so he's progressing along, feeling better, and he's getting closer to a return to practice." Of those who did participate in the main skate, there was a good amount of special teams and breakout practice, and the morning ended with some good one-on-one attacking/defending work.
-So, that third line. Line rushes indicated that Andy Andreoff will get his opportunity after Jonny Brodzinski and Nic Dowd took turns alongside Michael Cammalleri and Adrian Kempe. It's still too early in the season to curiously scratch our pointed goatees and wonder aloud WHAT MUST BE DONE, but clearly there will have to be extra detail implemented when that group is out at extra strength. Kempe logged 9:44 and 7:33 in his two outings, while Brodzinski logged 7:59 and Dowd 5:39. It's early! "That whole line, a lot of guys have been getting an opportunity on that line. We're just waiting for somebody to grab it and maybe secure it a little more," Stevens said. "Brodzinski's been there, Dowd's been there, Cammy's played both sides, whether Adrian, Andy, so they've all given looks there. We're really comfortable with the other three lines right now. There seemed to be chemistry, there seemed to be continuity, we get momentum in shifts, and we'd just like to see a little more momentum from that line, whether it's spending time in the offensive zone, really defensively responsible, creating scoring opportunities, a little bit of special teams. We'd just like to see some momentum shifts from that line with their work responsibility, whether they're able to create from playing the game the right way. And we think they should be able to, so it's a work in progress. We know that. There are always going to be parts of your lineup that you want to be better. I think all of those guys have had a good couple days of practice, so I'm encouraged by that. But ultimately we'd like to see more productive minutes out of that line."
-One minor heads up: I'll be at the L.A. City Council tomorrow morning to support Bob Miller in lieu of attending the morning skate, so I won't have notes and a report from El Segundo.
–Dodger fever spread throughout the area over the summer and will continue to rise throughout the rest of October, as those who bleed blue would like to believe.
That's certainly true for Tyler Toffoli, whose fiancée, Cat, works in the Dodgers' front office. Their toy yorkie is named Dodger. It's common to spot him attending Dodgers games over the summer, and even though it's a pitcher's park, he cleared the wall during batting practice in 2016. It was a tense night in the household as Los Angeles held on for a 3-1 win over Arizona, completing a three-game divisional series sweep.
"We didn't watch the game together – she's a little too nervous to watch, so I was keeping her updated while she was watching her TV," he said. "She's happy – they made the next round, so we'll see who they're going to play."
That'll either be the Cubs or Nationals, depending on how the opposite NLDS shakes out. Regardless of their opponent, the Dodgers will look to continue to get excellent mileage out of Justin Turner, a career .377 postseason hitter.
"Cat's good friends with his fiancé," Toffoli said. "Obviously when I go there, he's always been nice to me, so we just chat it up, and since then we've just kept in touch a little bit. I wished him luck, and he said good luck for the season for us."
As well as they get along, there's one area where Toffoli and Turner will never be equals: facial hair.
Would Toffoli ever consider growing a beard like Turner's?
"If I could," he said. "I'd think about it, but it'd probably take me the rest of my life and I wouldn't be close."
A Scarborough, Ont. native, Toffoli's allegiances – yes, that means he's also a Blue Jays fan – have evolved somewhat since the beginning of his tenure in Los Angeles. John Stevens, meanwhile, was born in New Brunswick but raised in Ontario at a time when there were two Canadian teams vying for popularity and supremacy to the north. He was more of a Jays fan than an Expos fan due to his personal allegiances.
"Toronto's had a team pretty much my whole life, and I've been to several Blue Jays games and they've had success. Obviously they've been to a few World Series," he said.
He was playing in Hartford and Springfield during the 1993 series between Philadelphia and Toronto, but he still got to know Mitch Williams due to his Philadelphia ties, and understands the insular and pervasive love Philadelphia has for its sports teams. It was evident when his Flyers head coaching tenure overlapped with a Phillies World Series win and National League championship.
"When you live in Philadelphia, I think you're always excited to see the city when they're able to win."
Only eight Kings were alive when the team last won the World Series in 1988: Anze Kopitar, Michael Cammalleri, Trevor Lewis, Dustin Brown, Jonathan Quick, Jeff Carter, Marian Gaborik and Alec Martinez.
Tyler Toffoli, on whether he's happy with the team's power play looks and movement:
Yeah, I think we're getting some really good looks, but we've just got to put it in the back of the net now and take the next step, so that's kind of what we're thinking here, and we've just got to execute and keep moving it well and keep moving our bodies and getting the puck there.
Toffoli, on what he has learned about playing the point on the power play:
Just body positioning. I think I have a little more time than I do a lot of times, so just getting used to that stuff and just kind of going with it and trying to make good plays and standard hockey plays.
Photography (including lead photo) courtesy of Jon Bradley: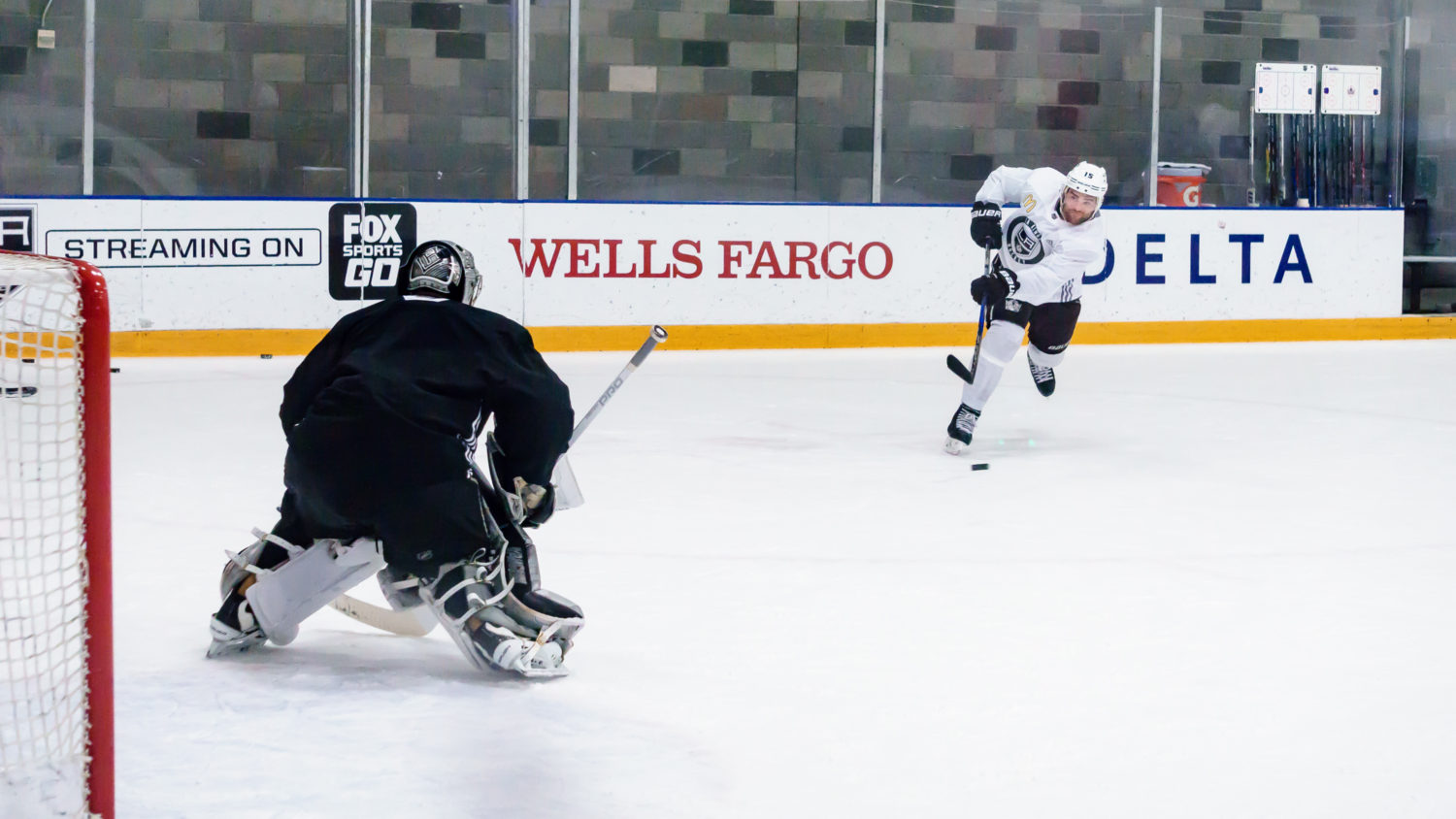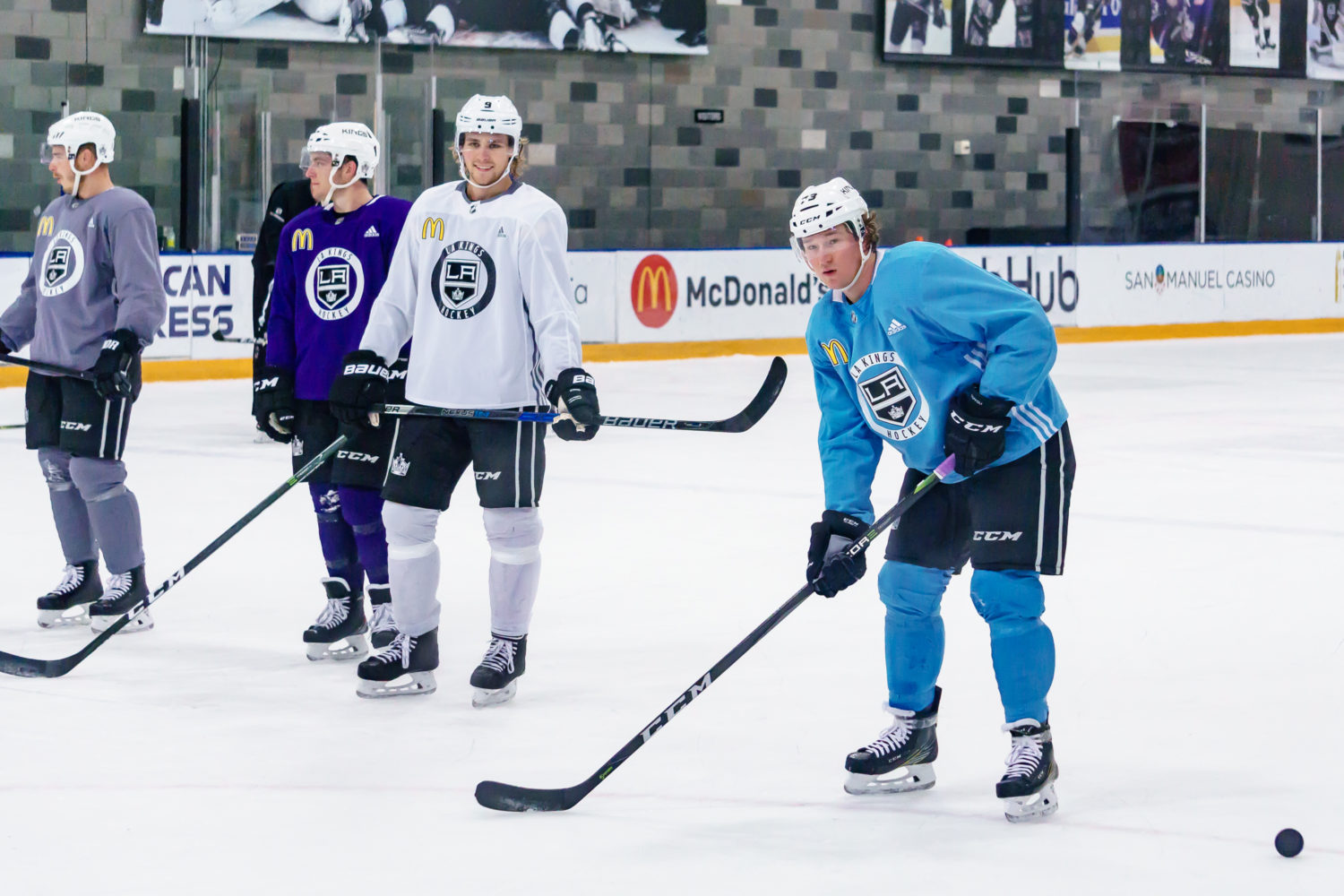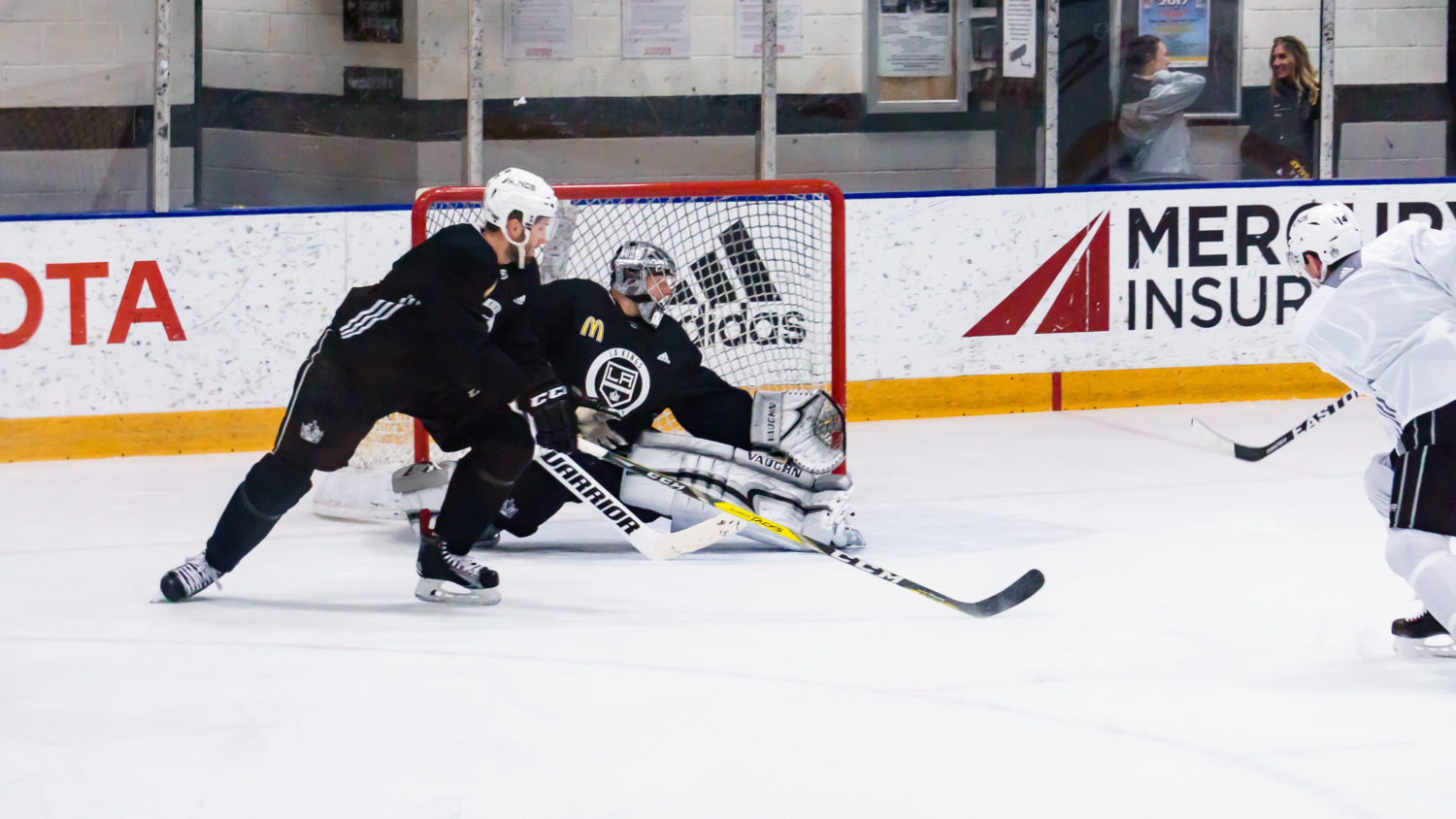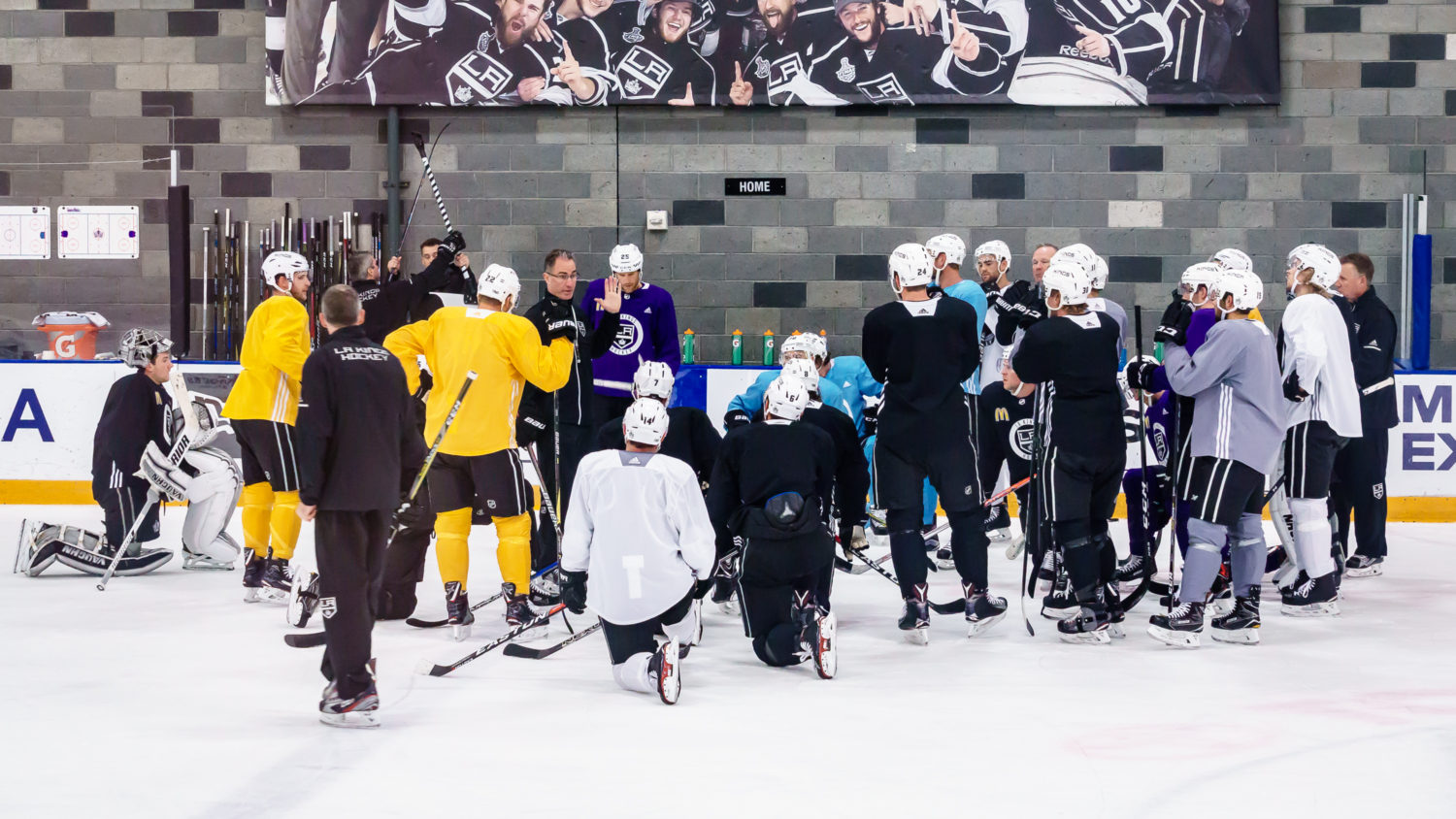 Flames and Jagr shots, courtesy of Bradley: