A few practice notes on this Wednesday afternoon.
The Kings skated at 10:00 a.m. and were color coded as such:
Gray: Brown-Kopitar-Brodzinski
White: Pearson-Carter-Toffoli
Purple: Andreoff-Kempe-Cammalleri
Yellow: Clifford-Shore-Lewis
Red: Iafallo-Laich-Dowd-Auger
-Defensive pairings were Forbort-Doughty, Muzzin-Martinez, Fantenberg-Folin, Lee-LaDue and MacDermid. Don't read into MacDermid cycling through several pairs; he's done everything possible to put himself in position to open the year with the group and appears to be playing his way onto the team. The Kings love how well he listens and builds relationships with the coaches and how well he understands the game. He's also noted for the work he puts in during the season and off-season in the gym. Stick taps to MacDermid, who won't back down for anyone, for scrapping with Deryk Engelland in last night's game.
-Speaking of last night's game, Paul LaDue was among those who enjoyed the experience of a much less experienced Kings squad emerging with an overtime win against a Vegas team that featured a significant part of their opening night roster. "I thought it was awesome," he said. "We had a lot of young guys in the lineup and a lot of guys that hadn't really been in that situation, and it was a big game for them. It was their first game at home, but I thought it was awesome the way we played and it felt great to get the win." Chris Lee, who turns 37 the day rosters are due, was also among those who spoke in the dressing room about the environment and emerging with a win against a team with a much higher degree of NHL experience.
–John Stevens acknowledged LaDue, Nic Dowd, Paul LaDue and Kurtis MacDermid, all of whom played against the Golden Knights after a quick turnaround after leaving China. "It was a real credit to those guys that went and played last night that traveled," he said. "I thought they sucked it up, those four guys, and did a really good job for us. Not easy, but they were feeling good, and I think it was good to get them in another game."
Was it difficult returning to action so quickly while dealing with jet lag and an altered body clock? "The first couple nights were a little hard to get some sleep, but by Tuesday it was fine and I think everyone was pretty much back to normal," LaDue said. "It was a fun game to play in."
-For those pronouncing at home, Christian Folin's last name rhymes with Nolan, and the first syllable of Oscar Fantenberg's name rhymes with "ant," not "want."
-Lastly, here's Jonathan Quick's new mask, courtesy of EyeCandyAir: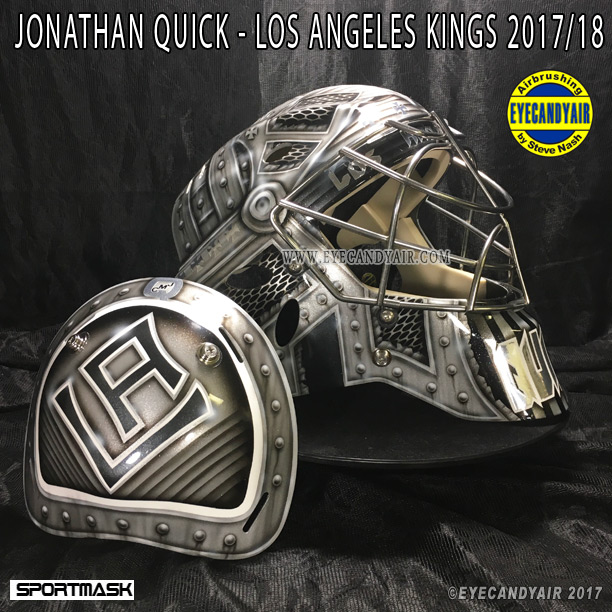 For more images of Quick's mask, and for video of it in action, check out EyeCandyAir's Twitter and Instagram.
-Lead photo via Ethan Miller/Getty Images