A good afternoon to you from the 45th floor of the team hotel, Insiders. (It's a nice view.) It's preseason for bloggers, too, so hey, why not stretch our legs with the first Morning Skate Notes of 2017-18?
Brown-Kopitar-Brodzinski
Pearson-Carter-Toffoli
Andreoff-Kempe-Cammalleri
Clifford-Shore-Lewis
Forbort-Doughty
Muzzin-Martinez
Folin-Fantenberg
Quick
Kuemper
-Making their preseason debuts tonight will be Drew Doughty, Kyle Clifford, Trevor Lewis, Alec Martinez and Jeff Carter. "I think we're all looking forward to it," Lewis said. "We came over here and had a couple days of practice, and it was good to see everything. It's a pretty cool city. We came over here to play hockey, and there are a few of us that haven't played yet, too. Just ready to go." Scratches tonight are projected to be Jordan Nolan, Michael Mersch, Nic Dowd, Paul LaDue and Kurtis MacDermid. I was planning on writing about MacDermid today, but he's not playing tonight, and with this morning serving as the final (non-postgame) media availability of the trip, I'm holding off on that story until Friday or Saturday morning.
-It's Michael Cammalleri's second preseason game as he acclimates himself to his new club and new teammates. He's a veteran; what exactly is he looking for at this point of the preseason? "I think as a group the coaches start implementing what they want to see as far as the personality of the team coming out. On a personal level, you want to get to your game as quickly as possible and feel that you're firing on all cylinders," he said. "I think if guys are telling you that they're easing into it, they're probably lying to you. You want to get to it, you want to see the puck go in the net, you want to make plays, you want to do things that make you feel productive."
-Via Lisa Dillman, Vancouver extras were Scottie Upshall, Alex Biega and Patrick Wiercioch. Jacob Markstrom, who was quite good on Saturday, will draw the start.
-The ice has been a bit soft, but the fog has rolled out and wasn't an issue at today's morning skate. That's because 25 dehumidifiers were rolled into the rink yesterday morning and situated around its circumference. They were quite a bit industrial looking – not the sleek silver bullets we're accustomed to as Munters appreciators – but were dressed up with the NHL China Games logos before the Kings took the ice at 10:00.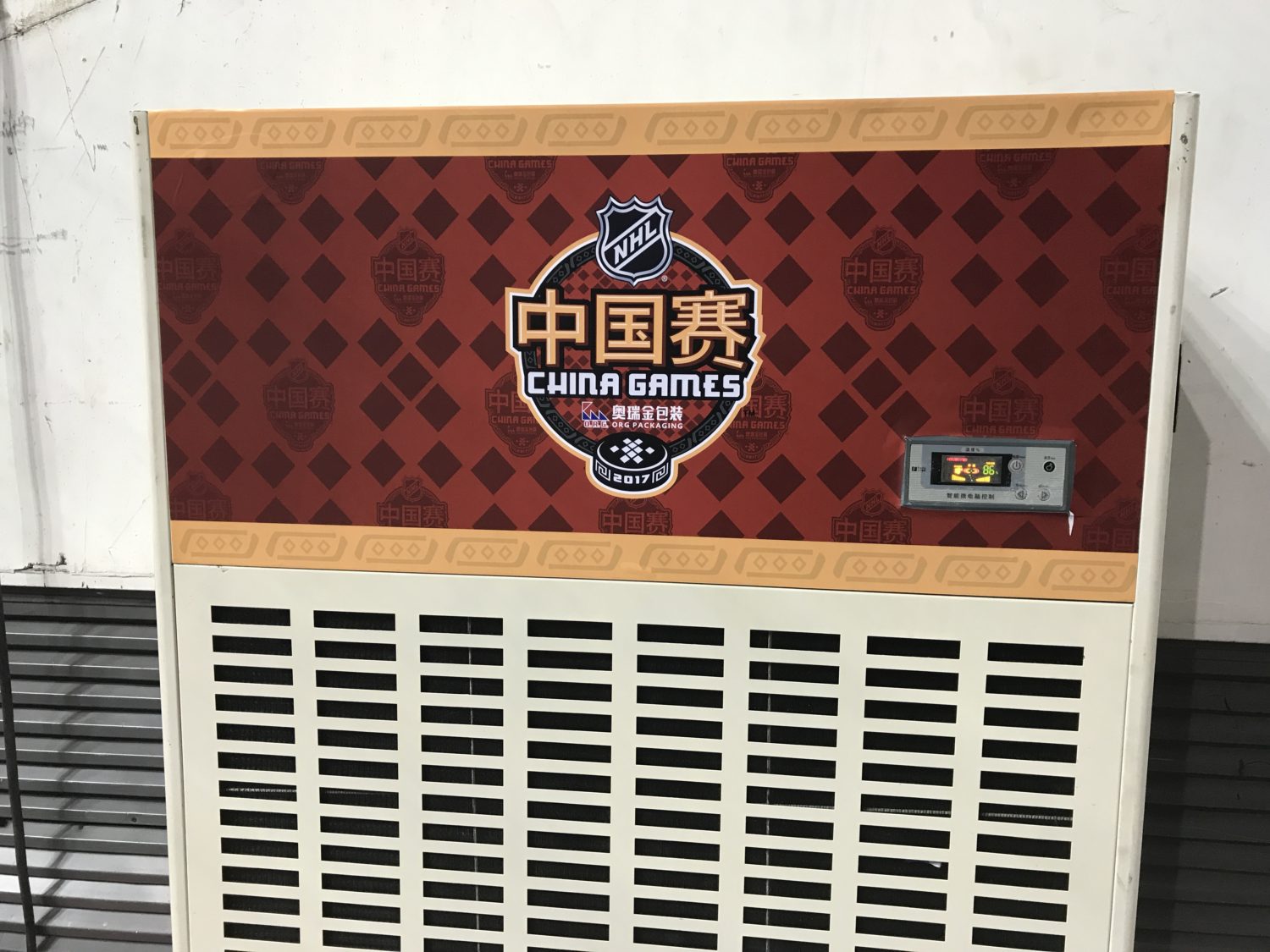 "Those practices got a little hazy," Muzzin said of the fog. "This morning looked a lot better, so hopefully the conditions stay the same way."
-Here's a close look at the back of the new Adidas (practice) jersey, which scientists have determined is 27% stronger in burst testing and up to 72% tougher in abrasion testing than the previous jersey. They're also 19% lighter overall:
Cool. "I obviously don't notice it a whole bunch, but they feel a little tighter fitting and I like 'em so far," Lewis said.
–Don't Do What Donny Don't Does. That means leaving your billy clubs and nunchucks at home: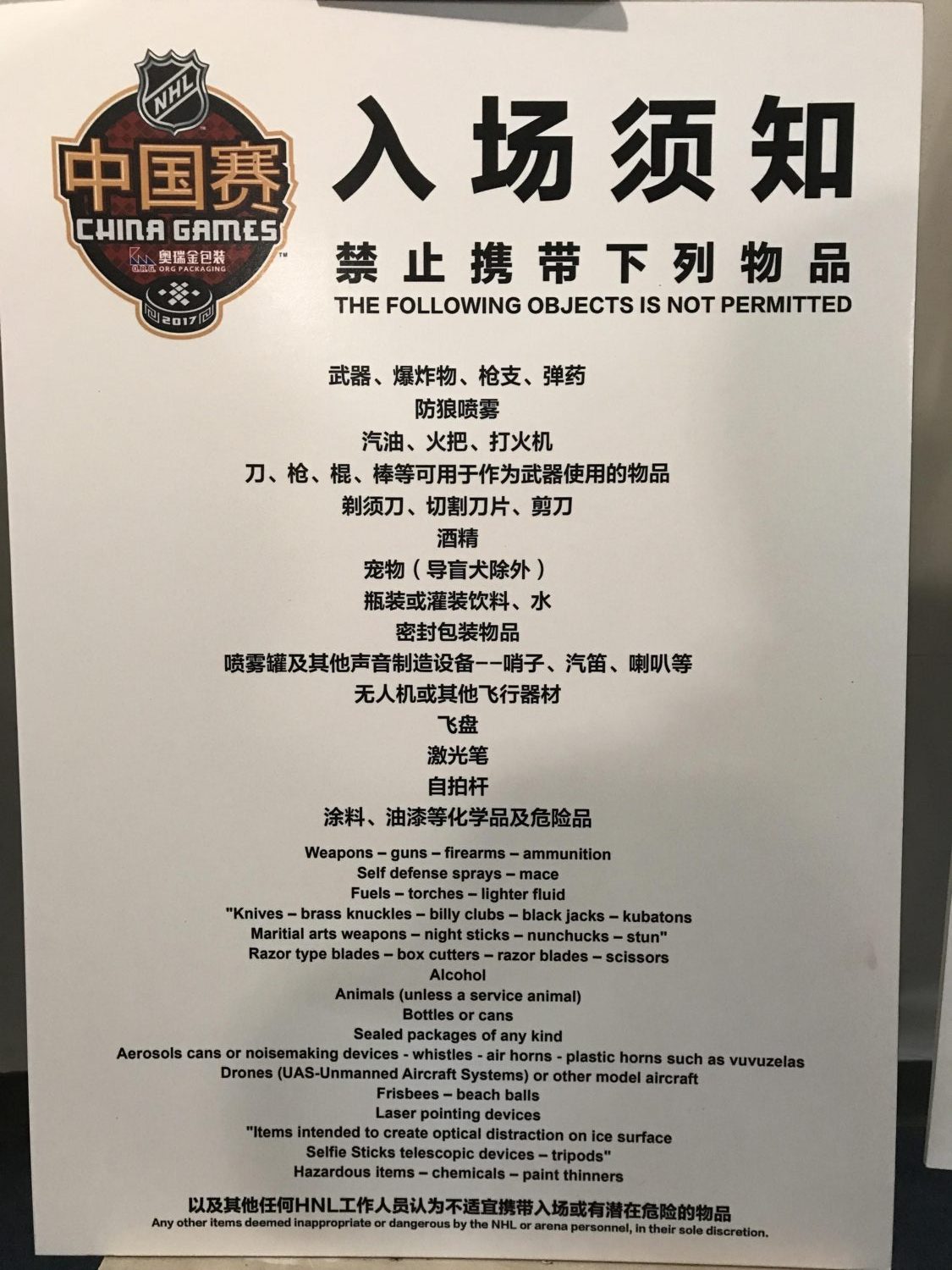 A quick Internet search tells me that kubatons are pointed, handheld shiv-like weapons. I hope this information prepares you well for tonight's game.
-It's a game day, and the players and coaches are focused more on improvement and taking a step towards the start of the season, but they're still interested in how the game will be received. "They've done a good job immersing us in the culture and giving us a chance to feel some authentic Shanghai Chinese culture, so it's been enjoyable. We've had some great meals," Cammalleri said. "…As far as tonight, it'll be interesting and I guess curiosity to see how the fans here accept hockey and enjoy the game. They're expecting a lot more hockey to come in the future. It'll be interesting to hear the noises that we hear from the crowd." Those attending the game will receive commemorative towels to wave, pictured at right.
-The game will be played on an Olympic-sized sheet. The width of the ice might not be the full 100 feet, but it's much closer to Olympic-sized than NHL sized. "Clearly there's a lot of space outside the circles," John Stevens said. Said Jake Muzzin: "Most of it is similar to an NHL rink, obviously. It's an Olympic sheet, which is a little bit of a change for us. It's a little wider, there's a little more room out there, so we've got to be careful, but other than that, it looks like an NHL arena."
-More from John Stevens:
On what he's most curious about tonight:
To be honest with you, our focus is really on the game itself. It's exciting that we get to come to China and be the first group that gets to play in front of the fans here. But really, the focus has been on hockey. We went to Europe a few years ago, and it's certainly a different atmosphere, we found there. I'm not quite sure what to expect here, but I'm sure like the rest of us I'm looking forward to the game. It's a big game in our preseason schedule Hopefully there's a good buzz and excitement in the crowd that can just add to the energy in the game.
On what he'd like to see improved in the second preseason game:
The big thing – you said it. Improvement. We want to see our team get better in all areas. I think we've had agood week of practice. There are a lot of areas we're trying to get better at. We're trying to be quicker, trying to be faster, trying to do a better job with our execution. It'll be a little different tonight with special teams, just because of the big ice, I think, but if I could sum it up in one word, I'm looking for improvement in our hockey team.
-And, from Trevor Lewis:
On transferring the cultural aspect of the trip to actual hockey games:
I think we're all looking forward to it. We came over here and had a couple days of practice, and it was good to see everything. It's a pretty cool city. We came over here to play hockey, and there are a few of us that haven't played yet, too. Just ready to go.
On what the team hopes to gain from its second preseason game:
Guys had a chance to get heir feet wet a little bit, but it comes down to making those reads and making them instinctive instead of thinking about 'em all the time. They're just part of your game, and I think that's the biggest challenge to get back.
-That's it for now, Insiders. I've done little sightseeing since arriving, so it's time to check out more of this sprawling, massive city and find out if the xiao long bao are as good as Lin's. Let's talk in a few hours.