A good afternoon to you from the Mercedes-Benz Arena, Insiders. Like a charming San Francisco morning, the fog that enveloped the Canucks' skate rolled out and the Kings got in some work in advance of a pair of preseason games in Shanghai and Beijing. And then, like a dreary San Francisco afternoon, the fog rolled back in and provided an opaque screen through which we viewed the end of practice.
For John Stevens, there was a resurfacing of early career, early-season moments in which the humidity played tricks on players, coaches and arena staff.
"When I first turned pro, we played in Hersheypark, Pennsylvania, and there was usually at least one game in that building," he said. "It was tough. The summer heat was still around. There was humidity in the air. You usually would have to take a break every few minutes and get the guys out to skate around, lift the fog. So it wasn't too bad – we went to one end there, and we ran a drill that went out of one end, so I think with the lack of movement around the ice I think that it settled in a little bit, but hopefully we'll get some good weather for the game and it's not too big of an issue."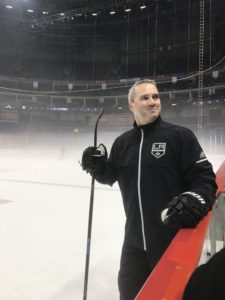 Bill Ranford shared memories with reporters of the 1988 Stanley Cup Final, when fog and, ultimately, a Boston Garden power failure forced a postponement of Game 4.
"When you're dealing with humidity, the buildings back then didn't have air conditioning, so they got hot and humid, and the fog would come rolling in," he said. "All they had to do was just stop the game here and there and get everybody skating around, get it cleared and away you went, drop the puck again, and away you go."
Still, Los Angeles got good work in and showed a slightly evolved alignment from the lines seen Sunday morning at Toyota Sports Center. Via color-coded jerseys:
White: Brown-Kopitar-Brodzinski
Blue: Pearson-Carter-Toffoli
Gray: Andreoff-Kempe-Cammalleri
Yellow: Clifford-Shore-Lewis
Purple: Mersch-Dowd-Nolan
Defensive pairings were Forbort-Doughty, Muzzin-Martinez, MacDermid-LaDue and Folin-Fantenberg. Here's your annual reminder that you should pay little attention to lines and pairings some two weeks in advance in the regular season.
The prime focus of this trip is first and foremost about preparation for the season. Los Angeles will be looking to win both games against Vancouver and continue to take steps forward towards becoming ready for the opener on October 5 against Philadelphia. But there's still an element of cultural enrichment – the Kings will travel to the Beijing Wall on Friday after arriving in Beijing – and on Tuesday morning, John Stevens, Radio Analyst Daryl Evans and Senior Director, Communications and Heritage Jeff Moeller ran from the team hotel to The Bund, a round trip that was over five miles in length.
"It was something I've done pretty much my whole coaching career," Stevens said. "We travel to so many beautiful cities that there's usually somewhere great to run, and certainly here, wanting to get out and see just a little bit of the city, it's terrific. I can't believe how clean the city is, I can't believe how active the people are here. We got a chance to go all the way down to … The Bund, and I was fascinated just by the activities going on outside. Tai chi on the water, people walking, exercising, and just the fact that it was such a clean city – I mean, we ran two and a half miles down to the water and all the way back, and it was uninterrupted. Beautiful city, and we've only seen a small bit of it, but it's been terrific."
More from Stevens, who spoke with the media after the Kings' practice:
On differences and similarities of this trip as it relates to pre-season preparation:
The workout itself was pretty much the normal we're used to in terms of another step in our process of training camp, and obviously the travel yesterday and all the planning that's gone into it to get over here. But I'll be honest with you – it just felt like a road day. Travel from the hotel, it wasn't that long of a commute to get over here. The rink was set up when we got here, and I thought we had a good workout. In terms of the hockey part, it was business as usual.
On using the experience to take advantage of team building and galvanizing the group off the ice:
That's a good question. I think you always look forward to getting on the road with your team, and the trip over here, I thought it was a really good opportunity. I mean, the guys obviously slept for a little bit, but they were in a situation where there was a lot of interaction with the group. Guys were up moving around, and now you get on the road and we've got dinners planned with the team. A lot of opportunities to spend time together and hopefully really cement some relationships. We've got some new people on our hockey team. We have some young guys who are familiar but maybe not that familiar with everybody on our hockey team, so I think these types of experiences are invaluable for our hockey team, just for guys getting to know each other. I think a group that really gets to know each other cares about each other, and I think a group that cares about each other plays harder for each other, so we can have the best game plan in the world, but it's the human spirit that I think we're really hoping to build, and we're excited about this opportunity to be here for a lot of reasons, but that's certainly one of them.
On using the trip to continue to build relationships:
And that's a good point, Daryl. Don Nachbaur is somebody I've known my whole professional hockey career. We were teammates in Hershey back in the day, and then we worked together in Philadelphia, but we've had a lot of time together over the summer, just brainstorming, planning, and if anything, we probably had more time together than the players. But at the same time, getting on the road, getting into the workflow on a daily routine with the hockey team is good for us as it is for the team. It allows them to really spend time with the players as well. I mean, we're part of the group as well. I think the relationships with the coaches and players is as important as the players themselves, so this serves as a great opportunity for all of us.
On the way the players use the trip to build relationships with newer players:
I thought that was evident today. I thought there was good energy and we had a little bit of a competitive challenge in a couple of the drills, and I thought the energy was good. But we really feel like the group here is a group of quality people, and I think that the newcomers would tell you that they've really been welcomed with open arms here and made to feel at home here and welcomed to the group.