The Kings and Canucks traveled to grow hockey in China five years in advance of the 2022 Beijing Winter Games, working in concert with a massive domestic push to invest heavily in winter sports, an endeavor that may culminate in the construction of 300 additional rinks across the east coast of China.
The expectation is that this will not be a one-and-done league project.
Kings President Luc Robitaille said that the NHL wants to return to China in six of the next eight years. The hope is that it will be six straight years, but at this point the infrastructure of future league events in China has not yet been made official. But, like the domestic initiatives to boost hockey participation, the groundwork is being laid at grassroots levels. On Tuesday, that resulted in Los Angeles hosting a youth clinic adjacent to Mercedes-Benz Arena. Over the past year they've sent additional envoys to China to host clinics and will travel to another local rink later today.
"You saw some of the kids that were kind of high-end kids, they were good! They were really good. They could roof it," Robitaille said. "These kids were really young, and you see that in California. You see that in Canada. To me, it's a little bit of the same. I could clearly tell there were kids on that ice that they skated a lot, they knew what to do with the puck. It's exciting to see."
But the vast majority of the population is not familiar with hockey. Hence, the massive investment by the government, which, according to Fortune.com, is expected to grow the sports industry's budget five-fold to $780 billion by 2025 as it looks to become more proficient in cold weather sports.
That's a massive scale, but it's not entirely different from the thrust in Southern California when Wayne Gretzky joined the Kings and interest in hockey exploded.
"It's funny you say that, because when I came in in LA, there weren't a lot of rinks, and most rinks were busy," Robitaille said. "…There were kids, but no one had ever made a push. Obviously when Gretzky came, they kind of turned things around and it was starting to [grow]. But this reminds me a lot of that era, in a way. There were some kids that were good, and they liked to play. Some adults were playing. Like, we know the few rinks that are here in Shanghai, and we know they're all busy full time."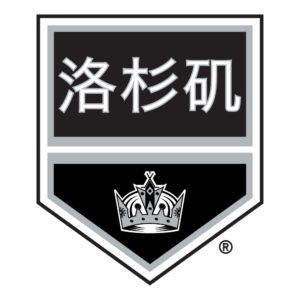 And just as there is an investment 6,500 miles away from home, there will also be efforts to reach a large Chinese population in the L.A. area. These projects are clearly in their infancy, but they will go beyond hosting a Chinese Heritage Night, which will take place on February 7 when the Kings host the Edmonton Oilers at Staples Center. For that game, the team will celebrate the Chinese New Year and host Chinese Heritage night. Before the game, Kings players will wear an official LA Kings Chinese logo during warm-ups, pictured at right.
"You obviously want to do things in an authentic way that are going to reach that particular audience," said AEG Sports COO Kelly Cheeseman. "We're not experts in that, so that's where our partners here in AEG and China, and the ones in L.A. can really help us tell us what's important there to attack it."
The team will start small. They've held preliminary conversations about hosting local Chinese radio broadcasts, but again, this outreach is still clearly in the beginning of the planning stage. Hosting events authentic to the Chinese culture is clearly something important to the team, and like the trips across the Pacific Ocean, the desire is to ensure such projects can be sustained locally.
Los Angeles and Vancouver were chosen to be the pilot clubs to participate in the NHL China Games because of the large Chinese populations in their metropolitan areas. Hockey is obviously more encompassing and pervasive in Canada than the United States, but there have been British Columbia-born players of Chinese descent that have graduated through top junior leagues to play professionally.
Zach Yuen is a 1993-born Vancouver native who spent four full seasons with the WHL's Tri-City Americans and after three seasons spent between the AHL and ECHL, signed with the KHL's Kunlun Red Star for the team's 2016-17 inaugural season. He returned to the Beijing-based club this season and has started the current season with a goal and two points in his first 12 games.
And, of course there's Andong Song, born in Beijing and ultimately bound for Cornell, who was selected by the New York Islanders in the sixth round in 2015. Earlier this week, the Canucks signed goalie Zehao Sun to an ATO. The 21-year-old Harbin native has participated in the Asian Winter Games and both the A and B-pool of Division II at the World Junior Championships.
Sun said that the primary factors limiting hockey growth in China stem from the facilities and equipment not being as readily available as they are in more developed hockey countries. This push, in concert with the construction of hundreds of rinks in advance of the Olympics, should be a boon for the country, even if the fruits of China's and the NHL's labors may not be revealed for another number of years, or until the prospect surfaces of a Chinese-born player entering the NHL.
"It can help to increase the atmosphere in China to let people know more about ice hockey, so we think this is a very good opportunity for China to improve its ice hockey again," Sun said through an interpreter.
It's an investment that the Kings and Canucks are willing to be a part of.
"There's no secret that we've been trying to grow the game. A few years back, that was the NHL season starting in Europe and a lot of different cities," Anze Kopitar said. "I think it kind of expanded our fanbase, but we've never done it in China, so I think for us to be here is a great experience and a good opportunity to extend this all the way here. I believe that Beijing already has a team in the KHL, which tells you that that's the direction China's going into hockey, and for us to be here and trying to promote and expand the game is a great honor, and hopefully we can do our best."