Because there haven't been wholesale changes to a team that failed to make the playoffs in 2016-17, conventional wisdom says that Anze Kopitar needs to have a bounce-back season for the team to make something of its 2017-18 campaign.
"Yeah, I'd say that's very accurate," the Kings captain said. He's not alone. Tyler Toffoli, like Kopitar, played through injury a season ago, and Jake Muzzin is also among the players capable of reestablishing his perch as an all-situational defenseman in his prime.
"Our last year definitely wasn't the year I wanted to have and needed to have for the team to be successful, so this year, coming back here, I feel good," Kopitar continued. "I'm ready to go again and obviously have a better year than last year."
There were mitigating factors that affected his season, but even when his injury and rotating linemates were considered – "there were some sprains and wears and tears" he said of an ailment, likely of the upper-body variety suffered November 11 in Ottawa – his season simply wasn't up to his and the team's standards. It was a difficult episode to endure for an elite player who takes immense pride in his own game and the high level with which he has maintained it for the vast majority of his career.
General Manager Rob Blake spoke about Kopitar's need to evolve his off-season conditioning at the outset of the off-season, a surprising appraisal of a player whose fitness and endurance appeared to have set a model for his teammates and sustained him for extended playoff runs during his mid-to-late-20's. But Kopitar turned 30 in August, and with the added emphasis on speed and pace in the modern game, his preparation for the season needed several tweaks and adjustments.
At the first day of training camp on Wednesday, John Stevens spoke about how conditioning could affect Kopitar's usage.
"We want Kopi on the ice as much as he's played, but I think if we can get his shift length down a little bit, we can get his pace up, and I think if his pace comes up a little bit, along with being a little bit lighter and what he's done over the summer, a little bit of different training, I think he's going to be a better player," he said.
While it will be interesting to see if an adjusted regimen will have a tangible effect on his offensive production, an increase could also be tied to Los Angeles' reformed systems, which will look to maintain the team's structure and renowned defensive play while allowing players more freedom to make plays in the neutral and offensive zones. Head Coach John Stevens has spoken about the push to facilitate clean zone entries and distribute the puck into high-danger areas in the offensive zone as well as utilizing speed through the center of the ice.
"We want to play a high-pace game and we want to play a fast game and we want to attack the net, obviously," Kopitar said. "I think it's no secret that having strength down the middle, it's key in the league right now. You look at all the good teams, they definitely have strength down the middle, and I think with our guys down the middle, we feel confident we're one of the top teams skill-wise and speed-wise and playmaking ability-wise. We've got to use that, utilize that, and we'll see where that takes us."
Stevens shared a presentation at a season ticket member event in August that described, through video and an articulation of the team's systems play, how he will look to implement such adjustments. With Kopitar and Carter lining up as the top two centers, the team's top-end center depth should continue to be a significant strength, provided Kopitar returns to or near the level of production that allowed him to lead the team in scoring for nine consecutive seasons.
"We've talked about Kopi the way we're talking about our team," Stevens said. "I want to see him be much more of a guy that penetrates the middle of the ice, getting off the wall in the zone and on the rush."
_____
Michael Cammalleri took part in his first day of training camp after having left the organization via trade nearly 10 years ago. He said the return wasn't as much "surreal" as it was "odd."
"It's hard to describe – it's so familiar, yet there's so much that's taken place," he said. "Obviously the Kings have accomplished so much and lots has gone on in my life. It's odd to describe, but I'm really enjoying it and really happy to be here. I feel great about it."
If there is a boost of familiarity in his return, it's that he was skating to the left of Anze Kopitar and Dustin Brown during training camp's first on-ice session. The more things change, the more they stay the same. In 2007-08, the Cammalleri-Kopitar-Brown line was far and away the team's most frequently deployed line at both even strength and on the power play, according to DobberHockey.com.
"I remember it being a good line, and I think we all complement each other well. I don't think that's a common thing to reunite this many years later," he said. "But there's a camaraderie and friendship … there's been some text messages in the group with each other, some clips of us way back then and a little bit of fun stuff back and forth. I'm really enjoying it and I'm really keen on the opportunity."
During media availability on Wednesday, Head Coach John Stevens spoke about what he'd like to see out of Cammalleri for the coming season.
"I'd love to see him set a career-high in goals. I think we'd all be excited," Stevens said. (Cammalleri scored a career-high 39 goals with Calgary in 2008-09.) "But I think with Mike, and I've said this before, he's an older player that's extremely well-trained. He's had some injuries the last few years, and I think we're getting a healthy Mike Cammalleri who's extremely motivated. He's a guy that's driven to score. You can see that in his game. He goes down on a rush, he's trying to score every time and it means something to him, so I think just that mindset with our team is going to be infectious, and he's a good offensive player. You see him today, he reads off of Kopi well, he reads off of Brownie. He's got a lot of experience, he's got some really good offensive intuition, he's a competitive guy, so I think that should translate into some offensive success."
_____
Training camp photos, courtesy of Jon Bradley (follow him on Instagram):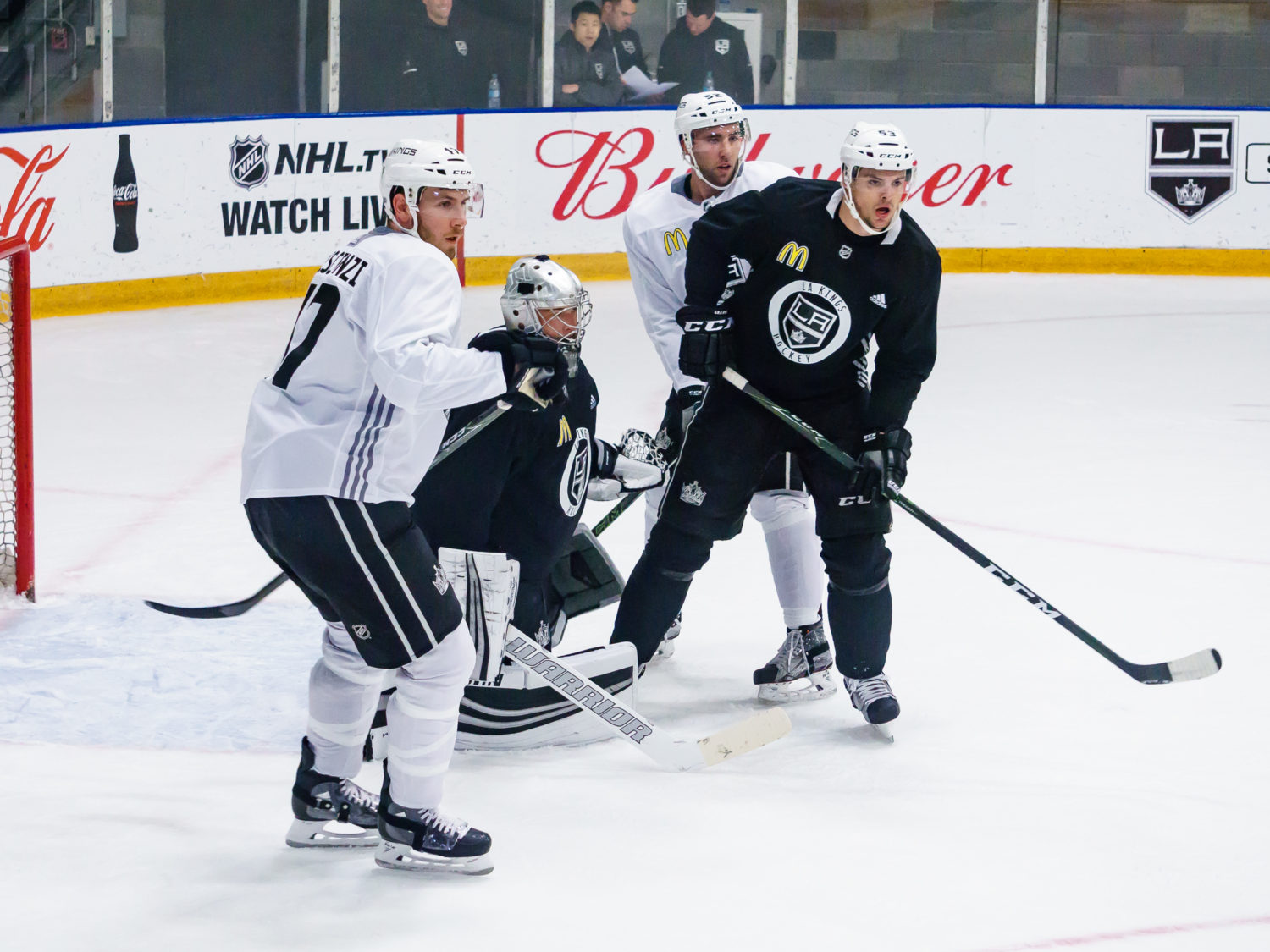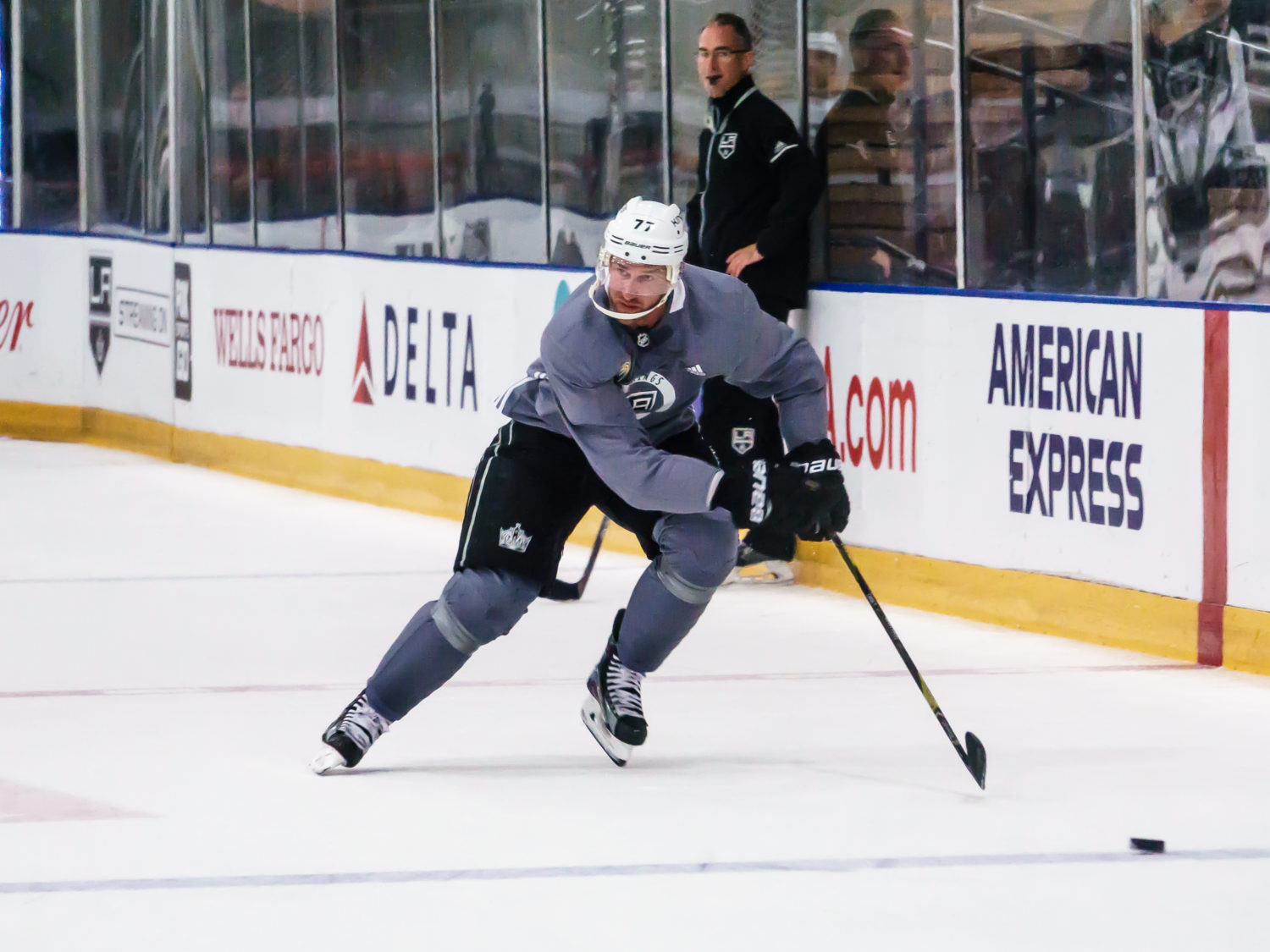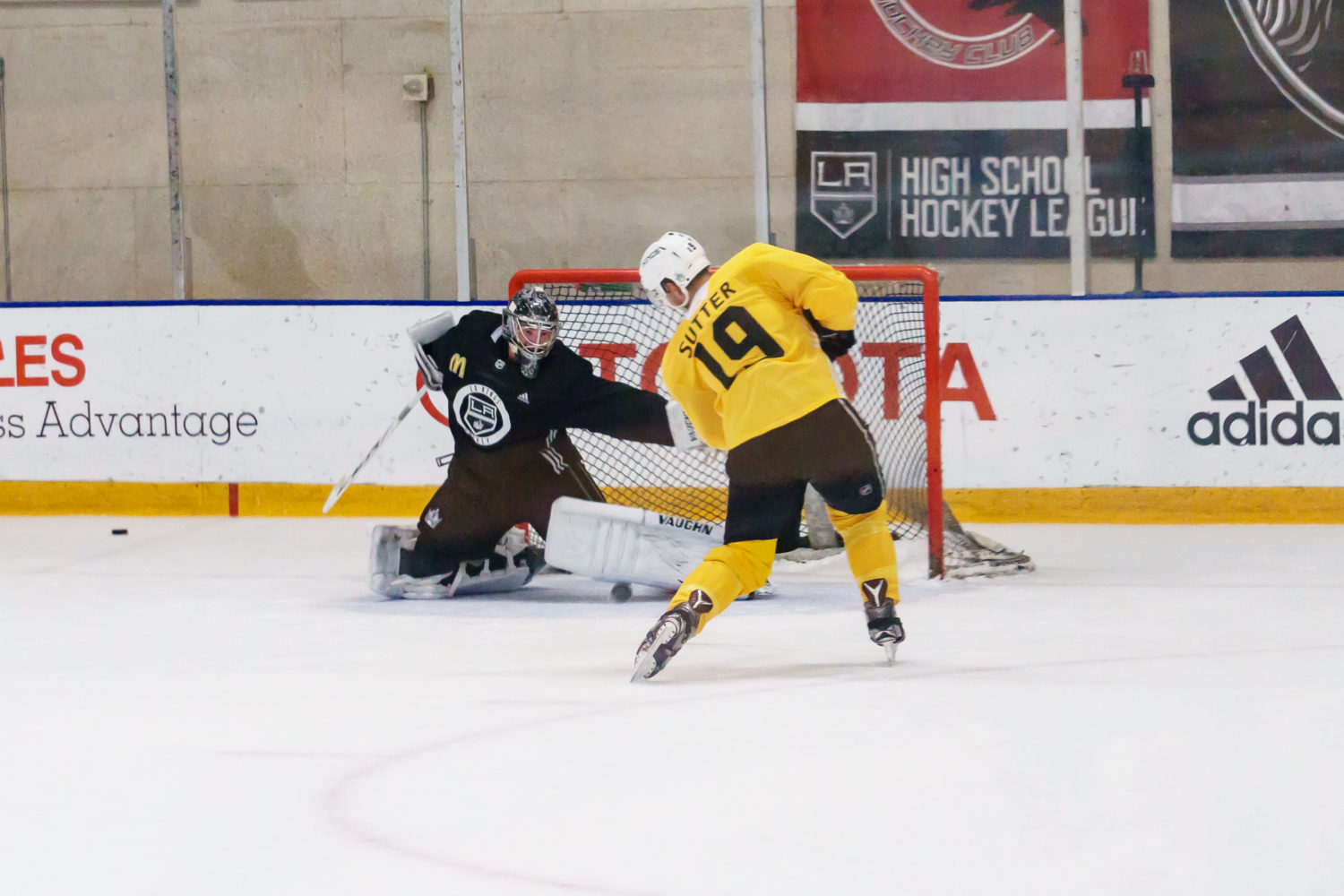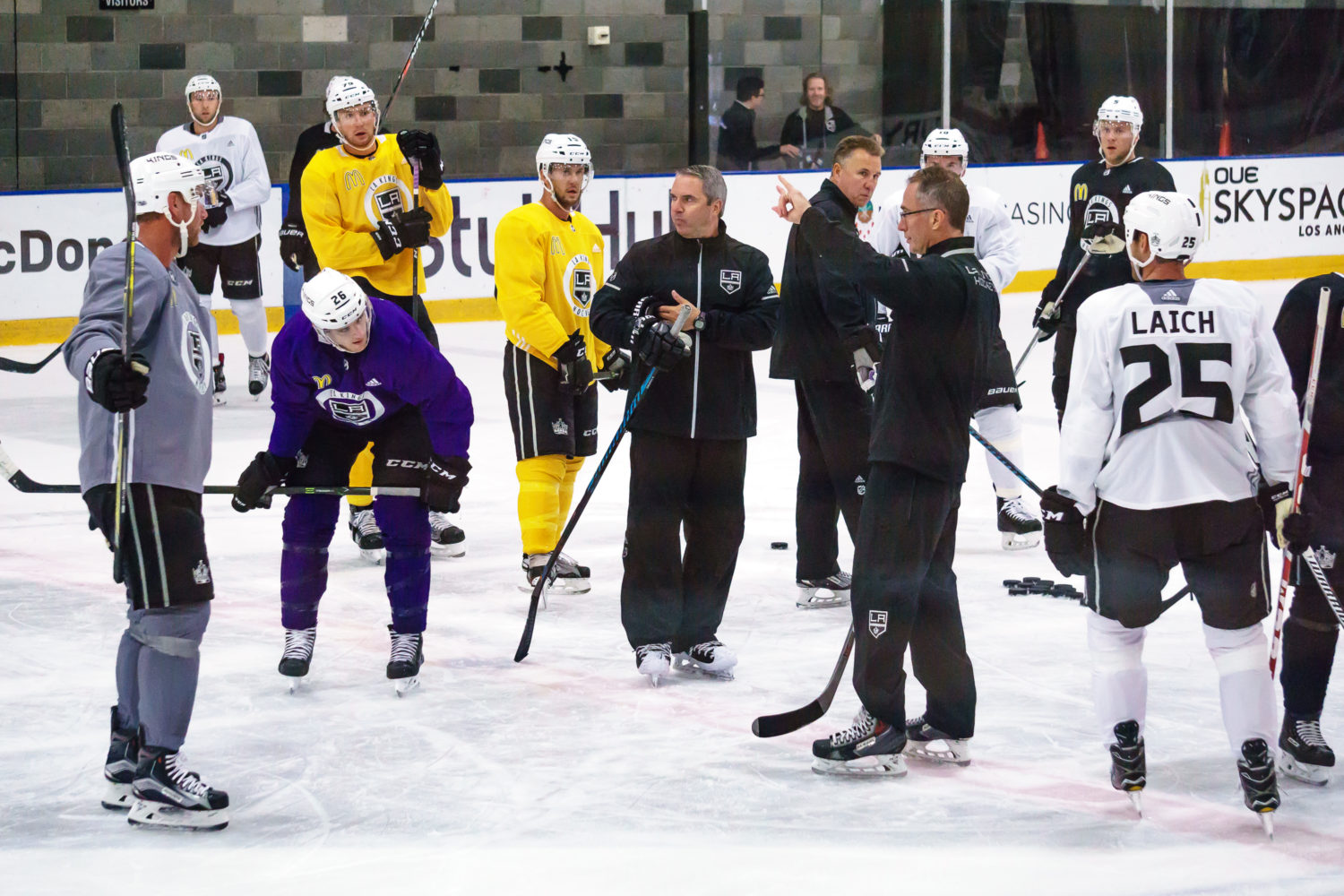 -Lead photo courtesy Andy Devlin/NHLI