The Los Angeles Kings open training camp Wednesday at 8:00 a.m. in El Segundo with 70 players taking part, the team announced Tuesday.
Training camp will be split into two groups, shown below. A third group, which is expected to be formed from players originally assigned to the first two groups, will also take the ice for a third on-ice session on Friday.
Los Angeles will host Vancouver in its exhibition opener this Saturday at 2:00 p.m. at Staples Center.
GROUP A
6 JAKE MUZZIN
11 ANZE KOPITAR
13 KYLE CLIFFORD
14 MICHAEL CAMMALLERI
15 ANDY ANDREOFF
21 NICK SHORE
22 TREVOR LEWIS
23 DUSTIN BROWN
27 ALEC MARTINEZ
29 SHANE HARPER
32 JONATHAN QUICK
37 JEFF ZATKOFF
38 PAUL LADUE
39 ADRIAN KEMPE
41 TJ HENSICK
48 OSCAR FANTENBERG
56 KURTIS MACDERMID
59 JAMIE DEVANE
60 SAM HERR
62 ZACHARY LESLIE
76 JONNY BRODZINSKI
GROUP B
1 JACK CAMPBELL
3 CHRIS LEE
5 CHRISTIAN FOLIN
8 DREW DOUGHTY
9 BRANDON PRUST
10 ANDREI LOKTIONOV
19 BRETT SUTTER
24 DEREK FORBORT
25 BROOKS LAICH
26 NIC DOWD
35 DARCY KUEMPER
45 ALEX LINTUNIEMI
47 ANDREW CRESCENZI
49 MICHAEL MERSCH
52 MIKE AMADIO
53 KEVIN GRAVEL
70 TANNER PEARSON
71 JORDAN NOLAN
73 TYLER TOFFOLI
77 JEFF CARTER
Start times and groups will always be subject to change. This week's schedule:
Wednesday, September 13
Group A — 8 a.m.
Group B — 10:30 a.m.
Thursday, September 14
Group A — 10 a.m.
Group B — 1 p.m.
Friday, September 15
Group A — 8:30 a.m.
Group B — 11 a.m.
Group C — 1:30 p.m.
The rest of the training camp schedule will be announced at a later date.
Rosters: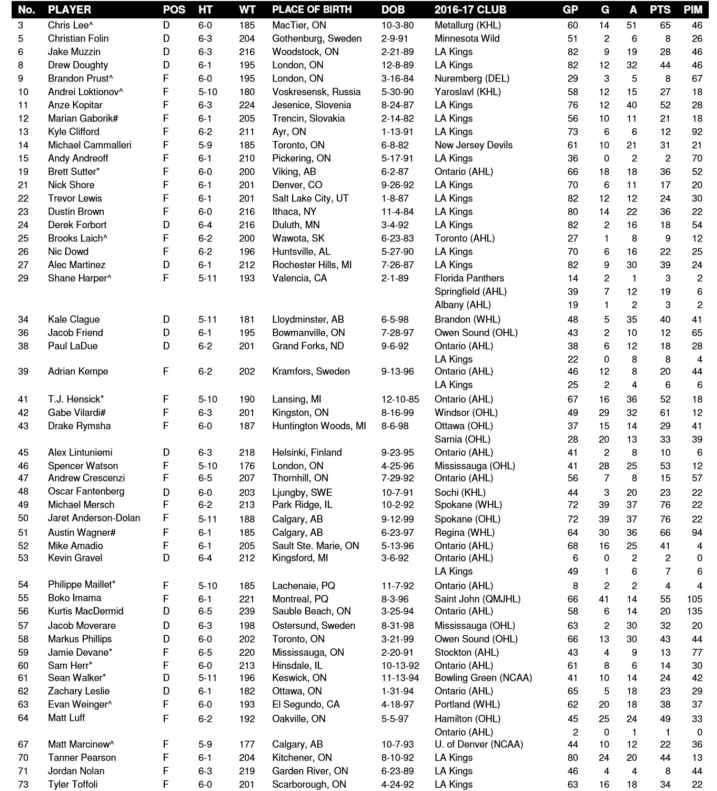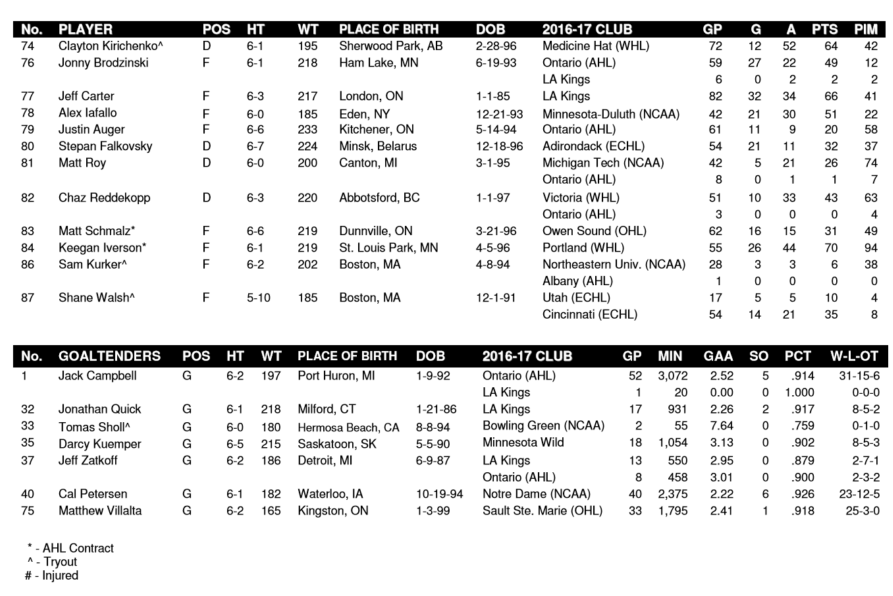 Minor notes:
-Only one player from the rookie camp roster was not included in the training camp roster: 22-year-old Hunter Garlent. The 5-foot-9, 171-pound forward totaled 18 goals and 45 points in 30 games with St. Mary's University in the CIS, the equivalent of Canada's NCAA body.
-Other than the rookie camp invites, there were no additional PTOs other than those that had already been reported by LAKI and others: Chris Lee, Brandon Prust, Brooks Laich, Shane Harper and Andrei Loktionov.
-Listed as injured are Marian Gaborik, Gabriel Vilardi and Austin Wagner. Vilardi (back) and Wagner (shoulder surgery) are not expected to skate at training camp. Marian Gaborik has skated lightly as he attempts to return from an in-depth medical procedure – not surgery – for a chronic issue related to his left knee, but there's no timetable at this point for his return. There has been some hope that he might be able to get into the team's final preseason game September 30 at Staples Center, but it's still too early to start looking at potential dates, and a gut instinct says that seems a bit early. Also please note that the words used are "hope" and "might," not "expectation" and "will." Let's talk later in training camp.
-There are split squad games on September 18 (at Arizona), 21 (vs Vancouver in Shanghai), 22 (at Anaheim) and 23 (vs Vancouver in Beijing), so even with 70 players taking part, this will still be the Land of Opportunity. That's not to say that the 1999-born players should be expected to get into these games, but rather that there will be a chance for players bound for the NHL and AHL to state their case for a roster spot, as there always has been. I've also heard some scuttlebutt that both Los Angeles and Vancouver will be sending the more experienced game groups to China.
The full preseason schedule:
Saturday, September 16, 2:00 p.m.: Kings vs Canucks, Los Angeles, CA (Staples Center)
Monday, September 18, 7:00 p.m.: Kings at Coyotes, Glendale, AZ, (Gila River Arena)
Thursday, September 21, TBD: Kings "vs" Canucks, Shanghai, China (Mercedes-Benz Arena)
Friday, September 22, 7:00 p.m.: Kings at Ducks, Anaheim, CA (Honda Center)
Saturday, September 23, TBD: Kings "at" Canucks, Beijing, China (Huaxi LIVE Wukesong's Le Sports Center)
Tuesday, September 26, 7:00 p.m.: Kings at Golden Knights, Las Vegas, NV (T-Mobile Arena)
Thursday, September 28, 7:30 p.m.: Kings vs Coyotes, Los Angeles, CA (Staples Center)
Saturday, September 30, 7:30 p.m.: Kings vs Ducks, Los Angeles, CA (Staples Center)