SIRIUS XM. Pierre Turgeon was announced as Los Angeles' "offensive coordinator" yesterday, finalizing a one and a half month timetable that began when Kings president Luc Robitaille reached out to "see where I was at in my life," as Turgeon said when speaking with Scott Laughlin and Steve Kouleas on SiriusXM NHL yesterday. In their conversation, Turgeon was asked whether it was possible to teach players to score and improve their skill level around the net, and said that he'll turn to drills that facilitate shooting and scoring, and through repetition, players will be able to better react instead of think. It's not an easy question to answer; a number of times over the last several years, players have been asked, "so, how do you teach scoring?" Via Sirius:
DEAR KINGS FANS. Speaking of Luc, he shared an open letter today.
REIGN FORECAST Home openers had already been announced, so Ontario Reign fans knew that the team would be beginning the season at San Antonio on October 7 and celebrating the 10th year of professional hockey in the Inland Empire with an October 20 home opener against Bakersfield. Today, the AHL announced the full schedule. Ontario's slate (forgive the wonky cropping and posting):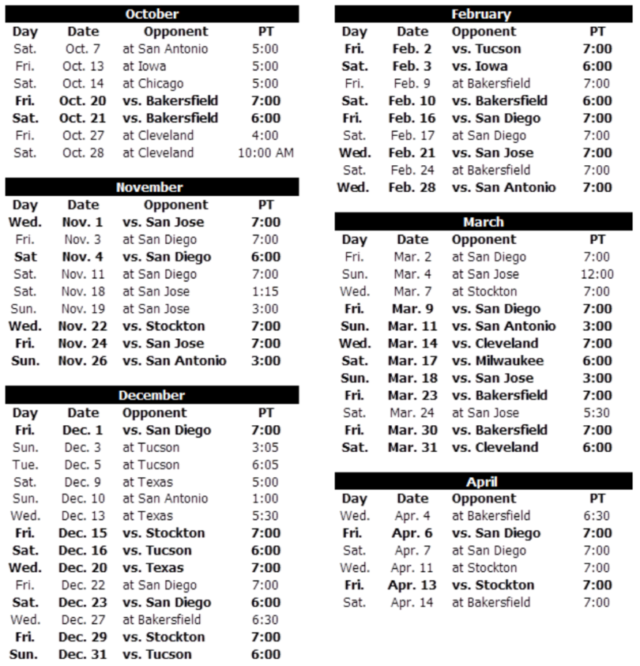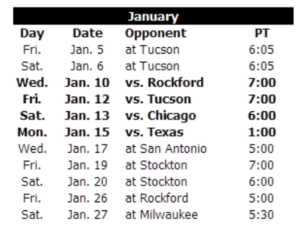 Ontario will play AHL rival San Diego 12 times, and all six home games in the rivalry will take place on either a Friday or Saturday: November 4, December 1, December 23, February 16, March 9 and April 6. In addition to the heavy Pacific Division slate that includes your regularly scheduled fixtures against San Jose, Stockton, Bakersfield, San Jose, Tucson, Texas and San Antonio, the Reign will also welcome (and travel to) Rockford, Chicago (Las Vegas' affiliate), Iowa, Cleveland and Milwaukee in 2017-18.
As has taken place since the Pacific Division's addition for 2015-16, the California-based AHL teams will continue to play a 68-game season, while the rest of the league will play a 76-game season. This is based partly on travel logistics and costs, and partly on the desire to avoid an excess of three games in three nights, which are poor for development.
2017-18 Schedule Breakdown:
Chicago Wolves: 1 home, 1 away
Cleveland Monsters: 2 home, 2 away
Iowa Wild: 1 home, 1 away
Milwaukee Admirals: 1 home, 1 away
Rockford IceHogs: 1 home, 1 away
Bakersfield Condors: 5 home, 5 away
San Antonio Rampage: 3 home, 3 away
San Diego Gulls: 6 home, 6 away
San Jose Barracuda: 4 home, 4 away
Stockton Heat: 4 home, 4 away
Texas Stars: 2 home, 2 away
Tucson Roadrunners: 4 home, 4 away
Most Common Opponent: San Diego Gulls (12 games)
Least Common Opponent: Milwaukee Admirals, Chicago Wolves, Iowa Wild and Rockford IceHogs (two games each)
Longest Homestand: 6 games (March 9-March 23)
Longest Road Trip: 5 games (December 3-13, January 17-27)
Busiest Month: December (14 games)
By Month:
October: 2 home, 5 away (7 total)
November: 5 home, 4 away (9 total)
December: 7 home, 7 away (14 total)
January: 4 home, 7 away (11 total)
February: 6 home, 3 away (9 total)
March: 8 home, 4 away (12 total)
April: 2 home, 4 away (6 total)

By Day:
Sunday: 4 home, 4 away (8 total)
Monday: 1 home (1 total)
Tuesday: 1 away (1 total)
Wednesday: 7 home, 6 away (13 total)
Thursday: No Games
Friday: 13 home, 9 away (22 total)
Saturday: 9 home, 14 away (23 total)
SoCal Series: Of the 12 games played vs. San Diego, eight of the contests will take place in a home-and-home format (4 home-and-home series, all played on Friday-Saturday).
Home Sweet Home: The Reign will play six different opponents during their season-long six-game homestand in March. The Reign will host San Diego, San Antonio, Cleveland, Milwaukee, San Jose and Bakersfield.
Rise and Shine: The Reign and Cleveland Monsters clash at 10:00 a.m. PT on Saturday, October 28 in Cleveland. San Jose hosts the Reign at 12:00 p.m. PT on Sunday, March 4 and at 1:15 p.m. on Saturday, November 18.