The Kings added a player to their prospect pool with an unexpected signing of Belorussian defenseman Stepan Falkovsky to a three-year entry-level contract. A seventh round draft pick by Calgary in 2016 who signed an AHL/ECHL contract with Stockton last year, Falkovsky totaled 21 goals and 32 points with ECHL-Adirondack in 2016-17 in his first professional season. For the Ottawa 67s one year prior, Falkovsky recorded nine goals and 32 points in 58 games and represented Belarus at the 2016 World Junior Championship, notching a goal and an assist in six games.
As @Fan960Steinberg and I both inquired about Falkovsky: #Flames didn't tender him a "bona-fide" offer, so he become a UFA. Wanted NHL deal.

— Ryan Pike (@RyanNPike) July 1, 2017
Sharing that Assistant General Manager Mike Futa and Director of Amateur Scouting Mark Yannetti scouted Falkovsky through his junior hockey career, General Manager Rob Blake cited his size and potential while adding he came into the team's radar more recently.
"From my understanding, obviously he has size and six-seven, 220-plus pounds, and he's a young defenseman, so I think there's some upside there," he said. "We looked at some different things in Ontario depth-wise and adding to that, and he kind of fit the bill to take an opportunity on."
OHL source on Falkovsky: "Big, rangy D that skates well. Made decent decisions. Not overly physical." 67s alum, which makes @JimFox19 happy!

— Jon Rosen (@lakingsinsider) July 1, 2017
The offensive game really came together at the ECHL level this year for the defenseman, as captured by Diana C. Nearhos in the Glens Falls Post-Star:
Stepan Falkovsky has a rocket of a shot; he made that clear when he hit 99 miles per hour in the hardest shot competition at the all-star game. So it's unsurprising when he fires off a rocket to score.

He scored one of those on Saturday, but the 6-foot-7, 224-pound defenseman also landed a more finessed wrist shot. Falkovskey showed off a little stick work as he skated in on Elmira goalie Andy Iles and wristed a shot into the upper corner, over Iles's glove.

It's something he hasn't done this year. That's not to say it surprised anyone on the Adirondack Thunder.

"He has NHL ability," forward Pete MacArthur said after the Thunder's 8-2 win. "At that age, he's just learning how to play the game of hockey, as opposed to just using your skill. You play within a system and then you let your skill shine through and that was a good example of that."
Writing for CalgaryFlames.com, Torie Peterson shared a thorough scouting report:
"His shot is his greatest attribute and his skill with the puck – he's very skilled when he's got the puck. Not only can he shoot but he can make plays in tight areas. He's a skilled hockey player and the exciting thing is he's a very large, powerful player at the same time. That makes for a pretty good recipe."

Falkovsky's skating is his other major asset. He moves extremely well for a player who stands 6-foot-7 and weighs in at 224 pounds.

"The thing that is really exceptional with him is the use of his edges," MacLean explained. "He's a player that has good hip mobility and he can really escape by opening his hips up and using the inside edges of his skates. He's not clunky for big man. He's smooth and he's got that ability to escape.

"Then you combine that with the long reach and some good hands … he can be pretty effective at possessing the puck and finding ways to make his plays, something more effective than a simple chip off the glass."
There will be competition for minutes on Ontario's blue line waged by a consortium of players including Falkovsky, Matt Roy, Chaz Reddekopp, Alex Lintuniemi, Zac Leslie and AHL signee Sean Walker and potentially Kurtis MacDermid and Oscar Fantenberg, the latter of whom will vie to earn roles with the parent club.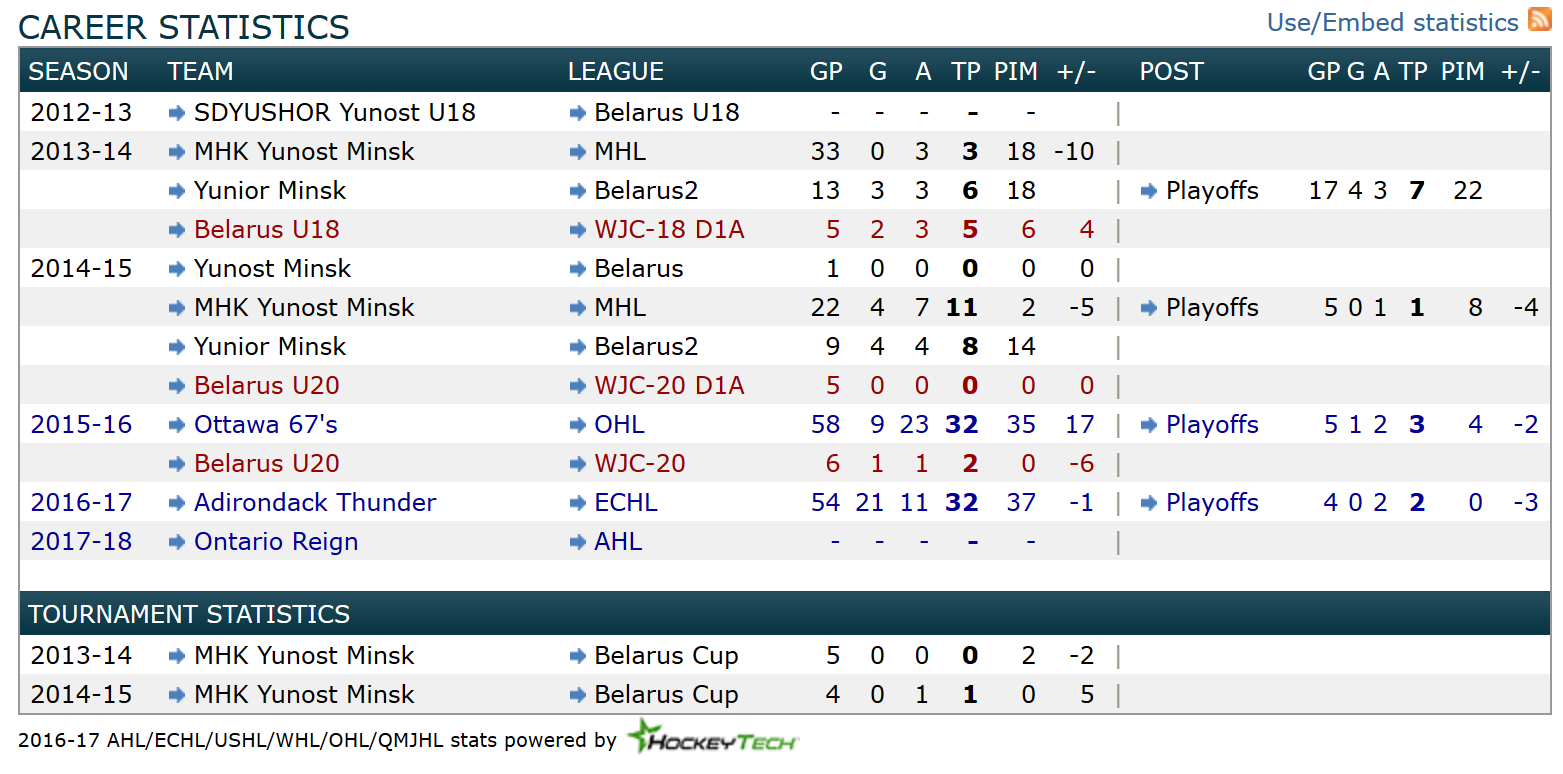 ______________________________________________
Rob Blake, on how he sees Christian Folin fitting in:
I think losing Brayden McNabb in expansion created a hole through our top-seven. I think Christian Folin comes in as a right shot that can fill that void. We also have Oscar Fantenberg, who was here at development camp. Played in the KHL, and I think that gives us some depth throughout the lineup on defense with right and left shots.
Blake, on building the goaltending pipeline with Cal Petersen:
We obviously looked at our necessity in goal, and with Quick and Jack Campbell and not a lot after that, Cal Petersen came into the mix once he notified Buffalo that he would not be returning, and once teams were allowed to contact him, it was one of the teams that he wanted to come to. We gave him the tour here in L.A. and showed him. Billy Ranford, our goalie coach, Mike Futa, Mark Yannetti, they all put a lot of work into a package to explain our development process, our need for goalies throughout our organization and that, and fortunate for us, he chose L.A. That's a big step, like you said, in filling that need that we had throughout the goaltenders.