This was an expected move that provides good competition at training camp, where Kuemper and Jack Campbell will battle to serve as Jonathan Quick's backup. Kuemper was 8-5-3 with a 3.13 goals-against average and a .902 save percentage for Minnesota last season and is 41-34-14 over 102 career games with a 2.60 goals-against average, a .910 save percentage and seven shutouts.

You probably remember Darcy Kuemper as being a regularly used weapon by Minnesota against Los Angeles, a head-to-head match-up that he thrived in. Kuemper is 3-1-2 in his career against the Kings with a 2.33 goals-against average, a .924 save percentage and a shutout. At Staples Center, the Saskatoon, Sask. native has a career 1.96 GAA and a .949 Sv%. He's the 2011 CHL goalie of the year with the Red Deer Rebels and has experience playing in Southern California, having appeared in eight games with the ECHL's Ontario Reign early in the 2011-12 season.

It's a signing that will elicit competition in camp, but if we're talking goaltending, the biggest news this week was that the Kings got a commitment from Cal Petersen, who agreed to terms on an ELC on Saturday and instantly becomes one of the club's top prospects.

But Kuemper's signing creates another link in the chain beyond Quick, an order that will continue to align itself through competition. One thing in Los Angeles' favor is that Kuemper should be entering his prime, and Goaltending Coach Bill Ranford and Dusty Imoo (and previously Kim Dillabaugh) in Goaltender Development have a strong resume of having overseen the emergence of Jonathan Quick, who has been backed by effective understudies in Martin Jones, Ben Scrivens, Peter Budaj and former first round draft pick Jonathan Bernier. Campbell also showed terrific gains under Imoo in Ontario this season. As a counterpoint, Jeff Zatkoff struggled through a difficult 2016-17 after returning to the organization.

On Saturday's conference call, General Manager Rob Blake noted "a big hole" in the goaltending pipeline after Quick and Campbell. "Cal Petersen fills a void. Obviously drafting [Matthew Villalta] fills a void," he noted, referencing Los Angeles' 2017 third round draft pick and the youngest addition to the totem pole.

The 6-foot-5, 215-pound Kuemper was originally drafted in the sixth round by Minnesota in 2009.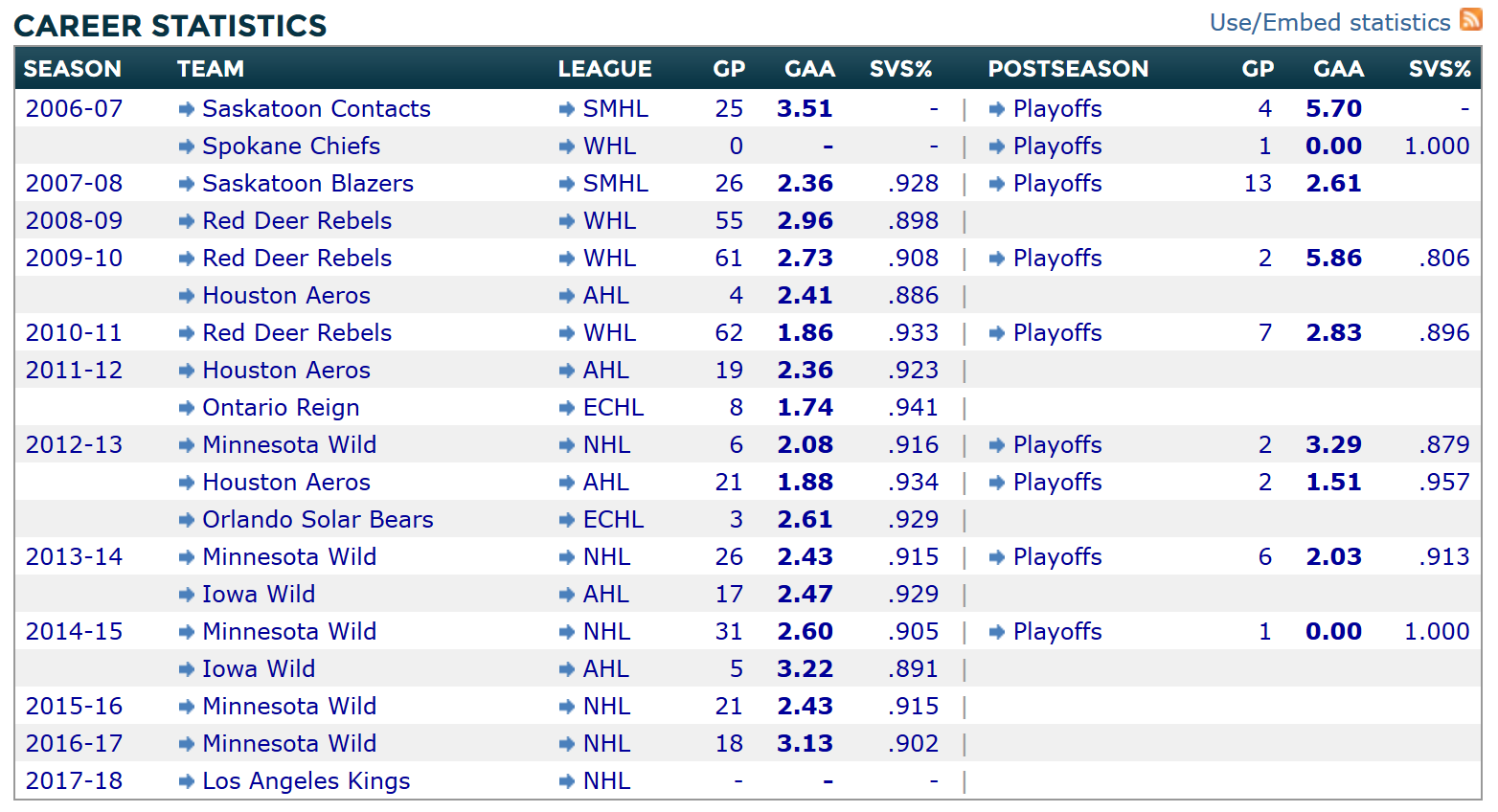 The Los Angeles Kings signed former Minnesota Wild goaltender Darcy Kuemper to a one-year contract for $650,000.