Behold, the 2016-17 Kings schedule is upon us! Please forgive the wonky formatting.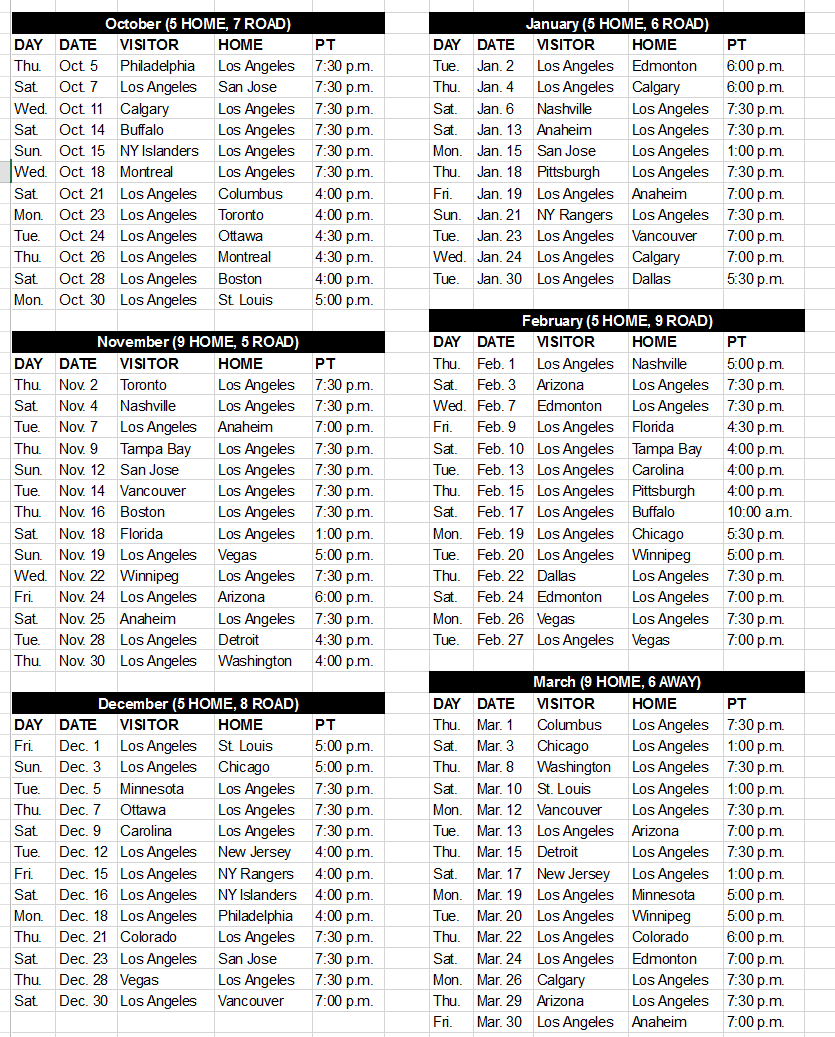 The bullet points:
-The NHL's schedule matrix, which changed with the addition of an eighth Pacific Division team, can be accessed here. Previously, the Kings played five divisional opponents five times, and one divisional opponent four times. With the addition of the Vegas Golden Knights, the Kings will play one divisional opponent five times (Anaheim), and six divisional opponents four times. This did not benefit the Kings, who will play three games at Honda Center and two at Staples Center for the second consecutive year. Ever since the switch from six to four divisions, the Kings have played a schedule marginally tougher than their opponents. When there was an option to play one opponent four times and the rest of the opponents five times, the Kings had the reduced divisional schedule against Edmonton in 2013-14, Arizona in 2014-15 and Calgary in 2015-16. None of those teams were .500 teams. This year, they'll face Anaheim once more than other divisional opponents, and they should finish better than .500. On the other hand, who are we to complain about Kings-Ducks games? They're good theatre and draw better television ratings.
-Those games against the Ducks: Tuesday, November 7 (Honda Center), Saturday, November 25 (Staples Center), Saturday, January 13 (Staples Center), Friday January 19 (Honda Center) and Friday, March 30 (Honda Center).
-Speaking of the Golden Knights, the Kings will travel to T-Mobile Arena in Las Vegas for games on Sunday, November 19 and Tuesday, February 27. Both are the second day of back-to-backs, though the November 19 game follows a Staples Center matinee and is a 5:00 p.m. road start. Vegas makes its first appearance in Los Angeles immediately after the Christmas break on Thursday, December 28 before returning to Staples Center on Monday, February 26 to open up the home-and-home set.
-There will be no changes to the scheduling matrix when Los Angeles faces the Central Division, with one wrinkle. Since divisional realignment, the Kings have alternated playing each team either twice at home and once on the road, or vice versa. That will continue, though Nashville, for the second consecutive year, will visit Los Angeles twice. Gahhh! Why couldn't Winnipeg visit twice for the second consecutive year?! This season, the Kings will travel to Chicago, St. Louis and Winnipeg twice and will welcome Colorado, Nashville, Minnesota and Dallas twice to downtown Los Angeles. They'll continue to play all Eastern Conference clubs once on the road and once at home.
-There are 14 back-to-back sets, which is about par for the course.
Back-to-backs by season under the current scheduling matrix:
2017-18: 14
2016-17: 16
2015-16: 13
2014-15: 9
2013-14: 14
Those back to backs are Saturday-Sunday, October 14-15 (vs BUF / vs NYI), Monday-Tuesday, October 23-24 (@ TOR / @ OTT), Saturday-Sunday, November 18-19 (vs FLA / @ VGK), Friday-Saturday, November 24-25 (@ARI / vs ANA), Thursday-Friday, November 30-December 1 (@ WSH / @ STL), Friday-Saturday, December 15-16 (@ NYR / @ NYI), Thursday-Friday, January 18-19 (vs PIT / @ ANA), Tuesday-Wednesday, January 23-24 (@ VAN / @ CGY), Friday-Saturday, February 9-10 (@ FLA / @ TBL), Monday-Tuesday, February 19-20 (@ CHI / @ WPG), Monday-Tuesday, February 26-27 (VGK / @ VGK), Monday, Tuesday, March 12-13 (vs VAN / @ ARI), Monday-Tuesday, March 19-20 (@ MIN / @ WPG) and Thursday-Friday, March 29-30 (vs ARI / @ ANA).
-There are only five home matinees this year, and three are on consecutive weekends in March. 1:00 p.m. Staples Center starts will be held on November 18 versus Florida, January 15 versus San Jose, March 3 versus Chicago, March 10 versus St. Louis, and March 17 versus New Jersey. All are Saturdays, except for the Monday President's Day game against the Sharks. Los Angeles is currently scheduled to play one road matinee, February 17 in Buffalo. Perhaps an afternoon game can snap the Kings' eight-game losing streak at the building currently known as KeyBank Center.
-Other interesting dates: the Stanley Cup champion Pittsburgh Penguins come make their annual Staples Center visit on Thursday, January 18. The Kings' annual New York trip, which deliciously includes two full days between games at New Jersey on Tuesday, December 12 and at the Rangers on Friday, December 15, will also include a game at Barclay's Center against the Islanders on Saturday, December 16, and a jaunt down to Philadelphia for a game on Monday, December 18. "Who doesn't enjoy the holiday season in New York?," I think to myself while praying that the temperatures will be slightly warmer than our trip to the Tri-State area during the 2015-16 season.
–Click here for the Kings 2017 preseason schedule.