By now, you can recite this verbatim. This isn't expected to be a particularly strong draft, and by the time the Kings pick, there may already be two tiers of first round talent off the board. Nolan Patrick and Nico Hischier represent the top tier, followed by a group that could include Gabe Vilardi of OHL-Windsor, Cale Makar of AJHL-Brooks, who has been rising steadily, Cody Glass of WHL-Portland, Casey Middelstadt of USHS-Eden Prairie and Liiga-HIFK Miro Heiskanen amongst a few others. With the 11th pick, the Kings will be selecting from a pool that comes right after that 3-8 group and includes a number of interesting prospects, including Nick Suzuki and Elias Pettersson, who have been profiled recently. Again, with this draft, questions and imperfections arise earlier in players compared to those near the top of several previous drafts, and the range of players LA could select appears to be a touch broader than you might see in deeper draft years.
The first thing you should know about Michael Rasmussen is that he's a center who stands 6-foot-6 and has steadily grown several inches since he was being scouted heavily during the 2013-14 season. He's intelligent and well composed, and will serve as the Americans' captain when he returns to central Washington for his 18-year-old season. While rehabbing a knee injury, he was diagnosed with a fractured wrist in late February that ended his season after just 50 games. With 32 goals at the time of his knee injury, he was on pace for a near-50-goal season and one year removed from an impressive 18-goal, 43-point, 63-game campaign as a 16-year-old rookie the year prior.
This is a player who established himself during his 17-year-old WHL season as a premier net-front presence and someone capable of winning board battles and using his size, strength and tenacity to do battle around the net. He has been effective as a playmaker and a net-front presence on the power play, where he showed great aptitude in bringing the puck out of the corner into high-danger areas and where 15 of his 32 goals were scored. There's some pretty good bite to his game.
There's also a lot to like about a player who was ranked sixth among North American skaters in NHL Central Scouting's midterm rankings and fifth in the final rankings but may still be available around or just ahead of the 11th overall pick. While there appears to be a strong identity in his game, there are questions over his ceiling. Wrote Corey Pronman ($) in ESPN Insider (subscribe to ESPN Insider here):
It's easy to imagine why some scouts would be optimistic about a 6-foot-6 center with significant scoring numbers. Although Rasmussen has put up a ton of goals this season, I've been more impressed by his passing skills. He's a smart playmaker who plays at a pro-level pace. He has vision and a good shot, and I've seen Tri-City lean on his size as a net-front player on the power play. Rasmussen is also solid defensively and wins puck battles using his size. His main drawback is his skating. He's below-average in terms of speed, and though that isn't a huge issue in the grand scheme of his skill set, it keeps him from being truly dynamic.
McKeen's Hockey notes some wrinkles in his skating, but also calls to attention a quality top speed and ability to use his skating to his advantage in the offensive zone.
Rasmussen is a massive center who skates very well for his size, and pretty well even if we ignore the fact that he is 6-6". He has plus top speed and has been very impressive in the cycle thanks in part to his strong base and powerful lower half. He was nearly impossible to dislodge from the puck in those situations. Further endearing him to scouts is his pro-level shot. Although he was criticized by some for not using it often enough, both his wrist and snap shots are goal scoring threats.

His work ethic has also impressed as he battles hard in all three zones, whether that is his willingness to use his imposing frame to play in the dirty areas, or to clog passing and shooting lanes in his own end. He understands how to position himself when off the puck and how to take advantage of what his gene pool has provided. Although he is not a physical punisher, not really looking to hurt anyone out on the ice, Rasmussen does not let his elite size go to waste.
It's interesting that at this juncture, with the organization looking to add skill and speed, that one of the players who could be available in their drafting radius is precisely the type of player that would have greatly aligned with Los Angeles' prior M.O. He's massive, he's intelligent, he checks fairly well and playes a smart, detailed game. In his top-10 skills lists, Pronman ranked Rasmussen with the 10th best IQ out of any player in the draft and ranked him seventh in the category of physical play.
The question then becomes whether Rasmussen has the skill, playmaking and puck protection abilities to be a Jason Allison, or whether, as McKeen referenced, he's more of a role-playing center, such as a Brian Boyle. The first round comparables to come out of the WHL over the last 10-to-15 years would be Ryan Getzlaf, who played for Calgary, and Martin Hanzal, who spent a year with Red Deer.
For more on these topics (and for some enduring Jarret Stoll impressions), I spoke with Tri-City GM Bob Tory, who selected Rasmussen in the first round of the WHL Draft in 2014, and was the GM in Kootenay when Stoll and the Ice won two WHL Championships and a Memorial Cup:
Michael Rasmussen
Team: Tri-City Americans (WHL)
Birthday: April 17, 1999
Hometown: Surrey, British Columbia
Position: Center
Height: 6'6
Weight: 221
2016-17 points: 50 GP, 32-23=55, -13, 50 PIM
NHL Central Scouting: 5 (North American skaters)
International Scouting Service: 10
TSN/Bob McKenzie: 9
TSN.ca/Craig Button: 21
ESPN.com/Corey Pronman: 19
NHL.com/Mike Morreale: 11
McKeen's Hockey: 12
Future Considerations: 16
Newsday/Arthur Staple: 10
CSN New England/Joe Haggerty: 7
NJ.com/Chris Ryan: 9
Rasmussen became the first Americans skater to record a hat trick in a regular season game since Brendan Shinnimin. He did so with a four-goal performance on opening night this past season: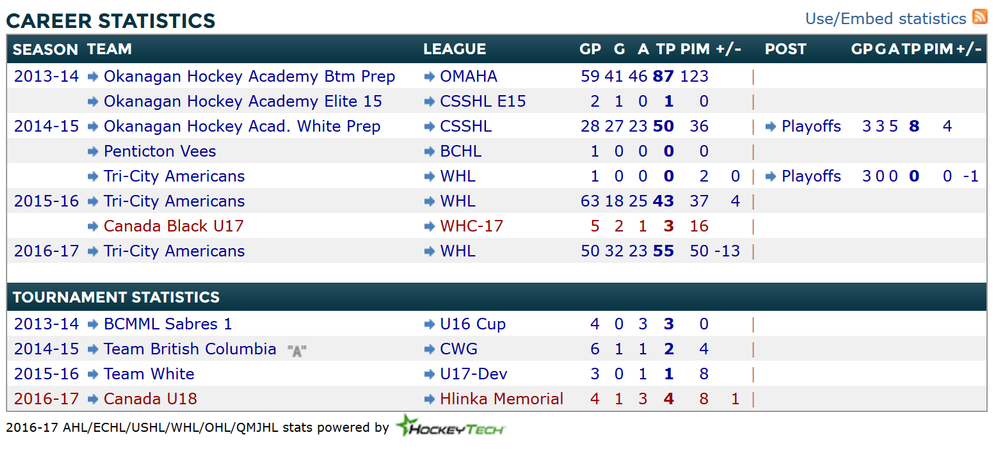 The Los Angeles Kings are slotted to pick 11th when the first round of the NHL Draft kicks off this Friday in Chicago. They might take Tri-City Americans center Michael Rasmussen with that 11th pick. They might not! As part of the Royal Lineage feature, which debuted two years ago and culminated in the team trading its first round pick, LA Kings Insider will familiarize you with a small handful of players who have come up in correspondence and may be among those available when the L.A. brass strides to the podium at the United Center.