The spiel continues. This isn't expected to be a particularly strong draft, and by the time the Kings pick, there may already be two tiers of first round talent off the board. Nolan Patrick and Nico Hischier represent the top tier, followed by a group that could include Gabe Vilardi of OHL-Windsor, Cody Glass of WHL-Portland, Casey Middelstadt of USHS-Eden Prairie and Liiga-HIFK Miro Heiskanen amongst a few others. With the 11th pick, the Kings will be selecting from a pool that comes right after that 2-8 group and includes a number of interesting prospects, including Nick Suzuki, who was profiled yesterday. Again, with this draft, questions and imperfections arise earlier in players compared to those near the top of several previous drafts, and the range of players LA could select appears to be a touch broader than you might see in deeper draft years.
Elias Pettersson is among the highly touted European forwards near the top of many draft lists, and as an 18-year-old with a November birthday, he qualifies for the 2017 draft. He's very creative and dangerous in the attacking zone and put up 19 goals and 41 points in 43 professional games in Sweden's Allsvenskan. Sweden's number two league, the Allsvenskan is a promotion and relegation-based pro league whose top teams are on the same level as the worst teams in the Swedish Hockey League, and Pettersson showed quite well without having yet grown into his 6-foot-2 frame. (Many observers note that Pettersson still has a long ways to go to bulk up and add size.)
McKeen Hockey noted that his 41 points as an under-19 player trailed only marks set by Patrik Berglund and William Karlsson in the history of the Allsvenskan and referenced his offensive creativity (click here to subscribe to McKeen's Hockey):
He has impressive creativity both at top speed and from a passive position such as holding the slot during the power play. His decision making is remarkably well formed for his age level. While there is the occasional lapse, as when he eschews the simple play for something more on the fancy side, he still demonstrates amazing sense of the direction of the play and how to contribute to it. His passes are precise and lead to plus scoring chances at an above-average rate.

He also is a very responsible teammate, backchecking well and reading his opponents when he is on the other side of the puck. His shooting ability is not to the level of his puck play, but is still a plus tool. His slapshot, not much of a weapon, brings the grade down a notch, but the wrist shot can be lethal, ensuring that he still gets high marks here. All shots are very accurate and he can hit the net from tight, awkward angles. While more of a natural playmaker, he has proven that he can also score goals.
He'll join a traditionally strong Vaxjo team one year after his brother, Emil, a 2013 sixth round Nashville draft pick, played for the Lakers. While Emil is expected to earn a spot on the AHL's Milwaukee Admirals this coming season, Elias has inked a three-year contract with Vaxjo, a team that has emerged as one of the SHL's strongest, and will be expected to absorb a large role at the upcoming World Junior Championship, where he'll feature prominently as a 19-year-old. To this point, he's posted one assist in six WJC games and one goal and eight points in seven World U-18 Championship games.
Wrote Corey Pronman (click here to subscribe to ESPN Insider):
Pettersson was a significant riser this season, after producing at a point-per-game pace versus men in Sweden and often appearing on highlight reels for positive reasons. Pettersson has very quick hands and a ton of creativity in his game, and even when he's being tightly checked, he's able to generate space for himself. He sees the ice very well and can make difficult feeds. "He has the talent to be a star," one scout said. That doesn't mean Pettersson's game is perfect. He has heavy feet and struggles to win battles as he has a wiry frame and isn't a very intense battler. On the other hand, it's hard to ignore his significant point-producing potential as a pro and his ability to be a game-breaker on the ice. In my viewings, I didn't see him ever have a great game. However, every Swedish scout I've talked to was willing to go to bat for him as a top-end prospect.
Pronman ranks Pettersson's puck handling skills fourth best in this year's draft crop, while McKeen's ranks him the eighth best skater, the eighth most skilled and the fourth best stick handler.
While Pettersson is among the players the Kings will be looking at next week, they'll also be paying close eyes on Lias Andersson, son of Kings European amateur scout Niklas Andersson and the third ranked European skater by NHL Central Scouting. While Andersson may not have the same skill ceiling, he's still seen as a strong and smart two-way defender who profiles, according to one contact, as a similar player to Nashville's Calle Jarnkrok – someone who excels in a number of facets of the game and who has an upside that is only partially reflected in his nine goals and 19 points in 42 SHL games.
Elias Pettersson
Team: SHL-Växjö Lakers HC (in 2017-18)
Birthday: November 12, 1998
Hometown: Sundsvall, Sweden
Position: Center
Height: 6'2
Weight: 161
2016-17 points: 43 GP, 19-22=41, +15, 14 PIM (with Allsvenskan-Timrå IK)
NHL Central Scouting: 2 (European skaters)
International Scouting Service: 20
TSN/Bob McKenzie: N/A (Bob's list comes out Monday)
TSN.ca/Craig Button: 8
ESPN.com/Corey Pronman: 17
NHL.com/Mike Morreale: 12
McKeen's Hockey: 11
Future Considerations: 8
Newsday/Arthur Staple: 15
CSN New England/Joe Haggerty: 12
NJ.com/Chris Ryan: 13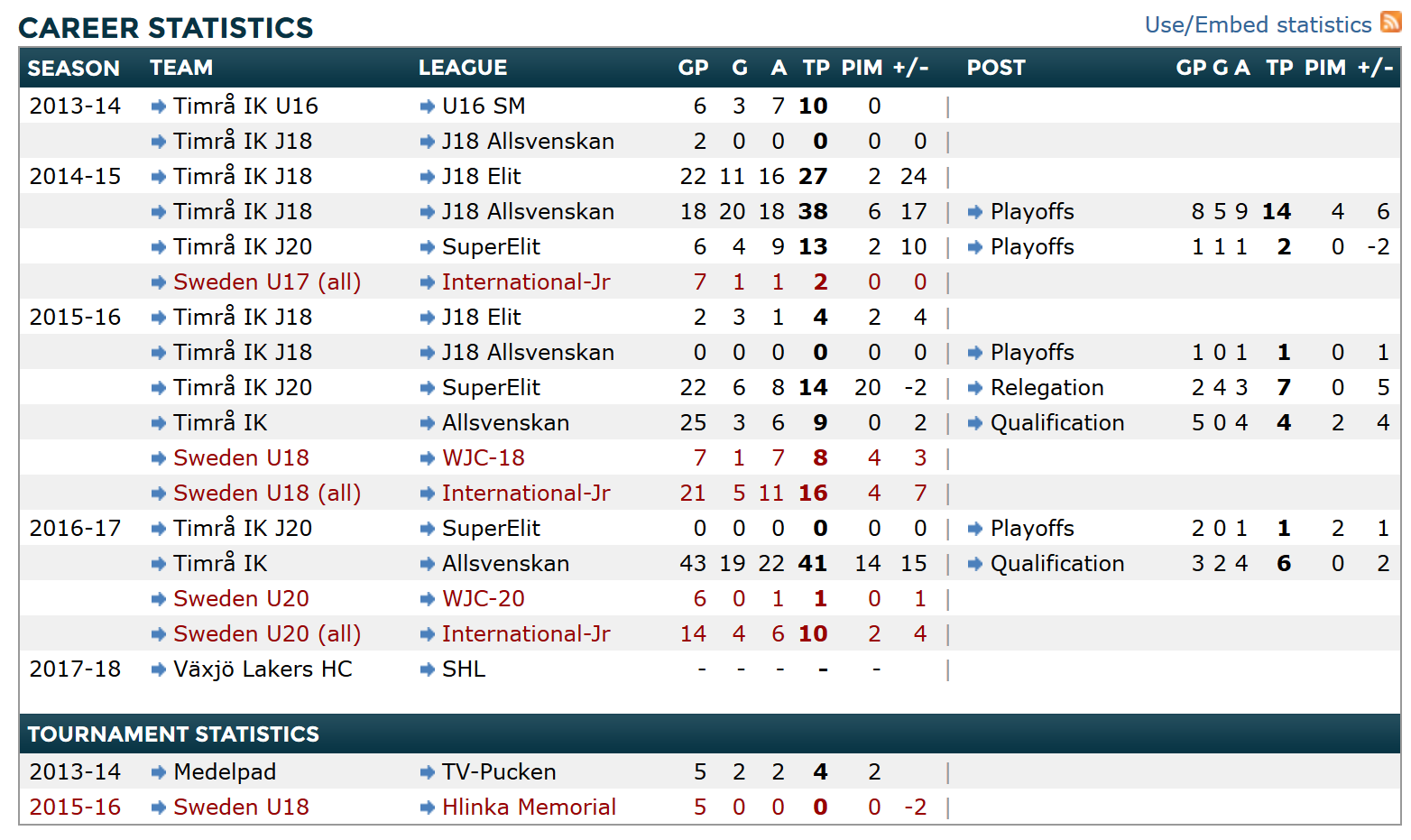 The Los Angeles Kings are slotted to pick 11th when the first round of the NHL Draft kicks off next Friday in Chicago. They might take Swedish forward Elias Pettersson with that 11th pick. They might not! As part of the Royal Lineage feature, which debuted two years ago and culminated in the team trading its first round pick, LA Kings Insider will familiarize you with a small handful of players who have come up in correspondence and may be among those available when the L.A. brass strides to the podium at the United Center.