Whatever moxie the Kings had heading into the playoffs in 2012 wasn't necessarily optimism or pessimism, it was more complex. It was the unknown – to everybody other than Bruce Boudreau, apparently. There was the renewed focus and noticeably improved play over the final 19 games of the season, when they went 12-4-3 and began to score a few more goals. And yet at the other end of the ice stood the Presidents' Trophy winners, the defending conference champion who had won three games in the Stanley Cup Final the year prior.
I'm not sure if there's every been as tight of a five-game playoff series as was 2012 Los Angeles-Vancouver. The Kings' game-winners were scored at 16:46 of the third period, 8:30 of the third period, 6:30 of the third period and 4:27 of overtime. Roberto Luongo, who was not at fault, was replaced by Cory Schneider, who was fantastic. And just as Dwight King and Jordan Nolan and Colin Fraser made impacts in other 2012 junctures, so did Brad Richardson, after a patient, savvy interception and rush led by a 22-year-old Drew Doughty.
Jonathan Quick virtually singlehandedly earned the 2011-12 Kings a playoff spot, and once in, the rest of the team came to play. Mike Richards, who battled through a mid-season concussion and experienced a lukewarm first season in Los Angeles, did not give a damn that the Vancouver Canucks were the league's top seed, and represented the resiliency and hardened focus that the Kings may not yet have been able to harness in their brief postseason runs the two years prior. It culminated in the first trip to the second round in 11 years and a date with the St. Louis Blues, who boasted a four-game winning streak when the conference semifinals began.
So much came into picture on April 28 and 30, 2012. To that point, the Kings had accomplished nothing more than defeating the top regular season team, but after several tense moments early in the second round, it was clear that something special was being grown by this group.
St. Louis was all over the puck in the first 10 minutes of Game 1. Quick made a succession of ridiculous lateral saves on Andy McDonald, and as the pressure continued, was beaten on a David Backes deflection of an Alex Pietrangelo shot through traffic to ignite the Scottrade Center. That momentum shifted when, against the tide of the first period, Dustin Penner offered support to Mike Richards on a forecheck, and after the two pressured Barrett Jackman into a turnover, in popped Slava Voynov, who buried Penner's backdoor feed. One period later, Matt Greene scored a shorthanded goal, and that should tell you all you needed to know about the outcome of that game.
In a sport as random as hockey, it shouldn't make sense that Game 2 of a second round series is when it became cemented that the Kings would win the Stanley Cup. It was clear, after another road win, that something special and extended might be brewing, but when Richards scored 31 seconds into the game, and then Anze Kopitar, Jeff Carter and Kopitar again struck within a five-and-a-half-minute span late in the period, that was the point that I think many who had followed and covered the team understood that we'd need to cancel our June plans. That first Kopitar goal has a pretty good case as the prettiest goal he's ever scored.
Leaving our seats in the press box after the first period, I locked eyes with Bob Miller. We both shared the same incredulous look. We didn't speak – we may have grunted – but both of us conveyed Holy Schnykies, Can You Believe What Is Happening With This Team Right Now?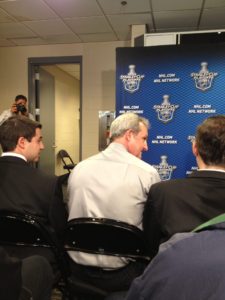 Los Angeles won the two games against St. Louis at home, and the next three against Phoenix before dropping a Game 4 matinee. With the organization's lack of any extended success to this point, it's silly to overlook a conference final, but with the team's steep postseason trajectory after having needed only one game above the minimum to dispatch the Presidents Trophy winners and a 109-point team that allowed the fewest goals in the league that season, it just didn't seem realistic whatsoever that the run would end at the hands of the 97-point Coyotes. Again, there was a diversity of familiar names. Anze Kopitar. Dustin Brown. Jeff Carter. Before the dust settled and collected, Dwight King the yeoman. tensions remained heated after an emotional and explosive climax.
There was such terrible ice in Game 1 of the Stanley Cup Final that it's basically a surprise that Kopitar even had the opportunity to score the overtime game-winner. After a New Jersey scoring chance, Dustin Brown mishandled the puck attempting to leave the zone with it, but Travis Zajac couldn't get it past Doughty. Doughty sent a bouncing puck along the boards up the soft ice where there were two Devils and one Justin Williams. Williams made a quick, simple play to backhand it into space where Kopitar could reach and collect it. He almost lost the puck, but made a number of impressive dekes before beating Martin Brodeur and cueing the Bruce Springsteen exit music.
Two evenings later, with the threat of double overtime looming, Jeff Carter did this:
When had Kings fans had as much to celebrate as back-to-back overtime Stanley Cup winning goals?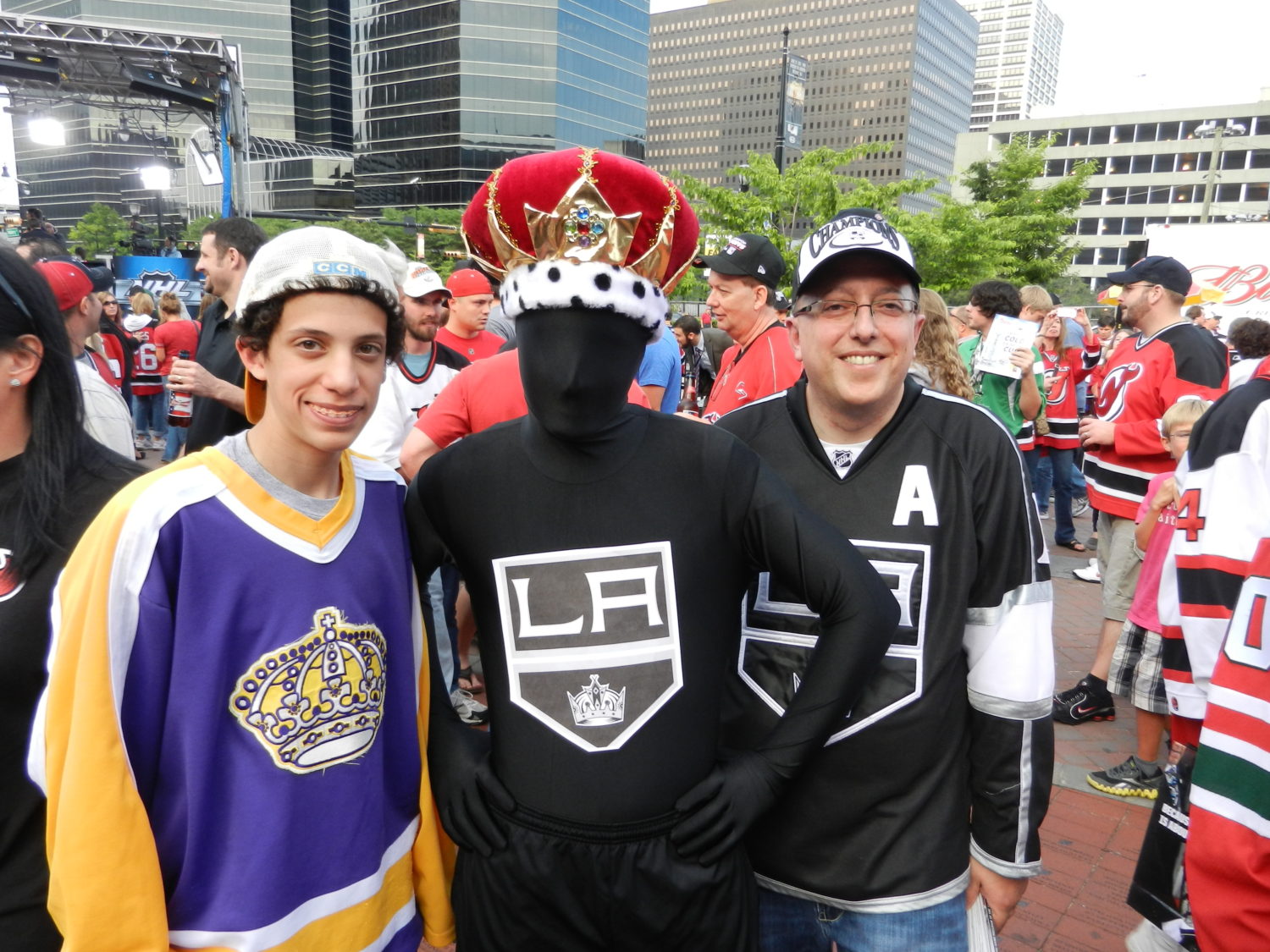 And that's what the 2012 really came to symbolize for many Kings fans: Newness. That spring was so unique and such an abrupt ending to decades of unsatisfying ends that the two month run, in which 16 wins were amassed over 20 games, was such a cathartic release for those who had endured so many low points. I had been a diehard Kings fan from 1986 through 2011, and in my first year covering the team, I published this on June 10, 2012, when Los Angeles was one win away from winning a Stanley Cup for the first time. It was one of the FOX Sports West stories I was proudest of:
To change team's trajectory, all L.A. has to do is win
The Los Angeles Kings are looking to build something intangible, while the New Jersey Devils are looking to re-summon it.
Backed by a three-games-to-two series lead in the Stanley Cup Final but returning to home ice having lost the momentum stored through three rounds of playoff dominance, the Kings don't have the ability to recall the experiences and organizational attitude shifting gained from having won multiple Stanley Cups over a bookended time frame. The Devils have that ability, as do the Red Wings and to a lesser degree the Avalanche, while the Penguins and Bruins are perhaps there on the cusp.
Though rosters change, the expectations within these teams' locker rooms do not.
Forwards Patrick Elias and Petr Sykora have won Cups in New Jersey as players, as has special assignments coach Scott Stevens. Assistant coach Larry Robinson won in a similar capacity with New Jersey in 1995 and 2003 in addition to piloting the 2000 Devils to the Stanley Cup; he also won six times as a defenseman in Montreal. In his 18th season as part of the organization, special assignments coach Jacques Caron's name has been written on the Cup three different times as the team's goaltending coach.
Under president and CEO Lou Lamoriello, the longest tenured general manager in the League, New Jersey has instilled in its identity and has imparted to players rising through its system that Stanley Cups are to be expected, that playoff success be the defining principle.
"I think it's a testament to character, to gut check, to leadership in the room, all those things," Peter DeBoer said of his team's resurgence in the Final. "That's when the rubber hits the road, so to speak, for your season and for your team."
Ask any Kings fan what their mood will be when they walk into Staples Center on Monday, and you'll get a spectrum of emotion from "excited but nervous" to "guarded" to "oh please just win and let this be over with tonight".
Who could blame them? This is a team that has recoiled from arbitrary injustice – whether by virtue of the curvature of a stick or Craig Muni – for much of its 45 years. In unfamiliar developments that place them one win away from the Stanley Cup against a momentum-gaining, championship-expecting team building a reputation of improving deeper in series, ominous thoughts have begun creeping back into Kings fans' minds for the first time since early in the Vancouver series.
And the great thing about this? The Kings can erase all of it by winning a hockey game Monday night.
"If somebody would have told us that we were going to go up 3-2 going home to have the chance to close it out, I think everybody would sign that paper," Anze Kopitar said.
No other Kings game in history has the potential to cause such a tectonic shift in the competitive evaluation of a franchise that had won one conference championship and one divisional title prior to 2012. A nondescript history? Three periods of focused and determined hockey have the ability to change that.
It does not add any extra pressure to a team that will now have its third opportunity to finally put away its opponent.
"I think the only pressure you have is the pressure that's in the dressing room, looking at the guy beside you, see how hard he's worked," Mike Richards said. "It's something you want to do for him, not for everybody else that's trying to put the pressure on you. We put a lot of pressure on each other as players. We expect the best of each other. I'd rather have the guy beside me expect the best than going out there thinking I'm going to be average."
"There's a lot of pressure we put on ourselves, but we don't get a lot of pressure from outside."
The team is 9-3 all-time at home in Game 6, though its final games of the 2010 and 2011 playoffs came at home to the Vancouver Canucks and San Jose Sharks in a pair of Game 6's that averaged 6.5 goals between the teams. Los Angeles should expect a much more low-scoring affair Monday.
The team would certainly benefit with some offense from Richards, who has taken only one shot in each of the last three games and has scored once in his last 11. Dustin Brown, who hasn't scored since his Game 1 game-winner in Phoenix, has been unable to make his mark on a series after finding himself in seemingly every playoff conversation when playing against Vancouver, St. Louis and Phoenix.
Other than the first seven minutes of Game 5, this hasn't been the most run-and-gun of playoff series, and considering parts of the old and new guard protecting nets on opposite ends of the ice, another tense game should be expected by two teams that until this series had relied on steadier offenses.
That means the Kings will be looking to score first – something they weren't able to do in their two losses. The team that scores first has won the last 17 Stanley Cup Final games.
Justin Williams turned in a highlight-worthy goal on Saturday night when he cut to the center of the ice and into a goal scoring area upon entering the Devils' zone before beating Brodeur with a sharp wristshot to his blocker side. He has been among the team's best skaters in the series.
After Saturday's loss, Williams spoke with palpable disappointment that this series is not yet over.
"I'm pissed off. A lot of guys in that room are pissed off," he said Saturday night.
And that's the beauty of their current situation, which can potentially atone for decades of ending the year as part of the disappointed handshake line, if they were fortunate to make a playoff handshake line at all. On home ice, with the backing of their anguished, diehard supporters (and perhaps a few hangers on), the Kings have to win only one hockey game.
"I don't think we feel any pressure," Darryl Sutter said. "Not at all."