Reign game breakdown
Jonny Brodzinski scored with 11.7 seconds left in regulation, his second goal of the game, on a play made possible by the forechecking of Adrian Kempe and the Reign took Game 1 in San Diego by a 3-2 score in the opening round best-of-5 series. Gulls defenseman Andrew Welinski was caught standing flat-footed with the puck behind his own net with over 20 seconds to go and Kempe eventually circled around, forcing the young blue liner toward the corner before stripping him of the puck and muscling him down to the ice. When Brodzinski flew the slot he was wide-open to redirect Kempe's perfect pass behind Gulls goalie Jhonas Enroth. The Reign had gone up 1-0 at 12:34 of the first on a slap shot blast from the high slot by Brodzinski, also assisted by Kempe. T.J. Hensick made it 2-0 at 5:49 of the second period on a wrist shot from the right circle but San Diego cut into the game after that. The Gulls effectively used stretch passes to create scoring chances in the middle frame, out-playing the Reign and eventually using a Sam Carrick one-timer and a shorthanded breakaway finish by Nic Kerdiles to even the score. Play opened up early in the third with the teams trading chances but both Reign goalie Jack Campbell and Enroth had key saves until Brodzinski broke through to prevent overtime.
Best quote
Brodzinski, on the game-winner: "That's all Kempe. Just found the spot in the slot. Great play by him, he kind of just flushed up the side. Little lackadaisical, he took advantage of it, hit him over and put it right between the D-man's legs right on my tape in front and all's I had to do was put it in."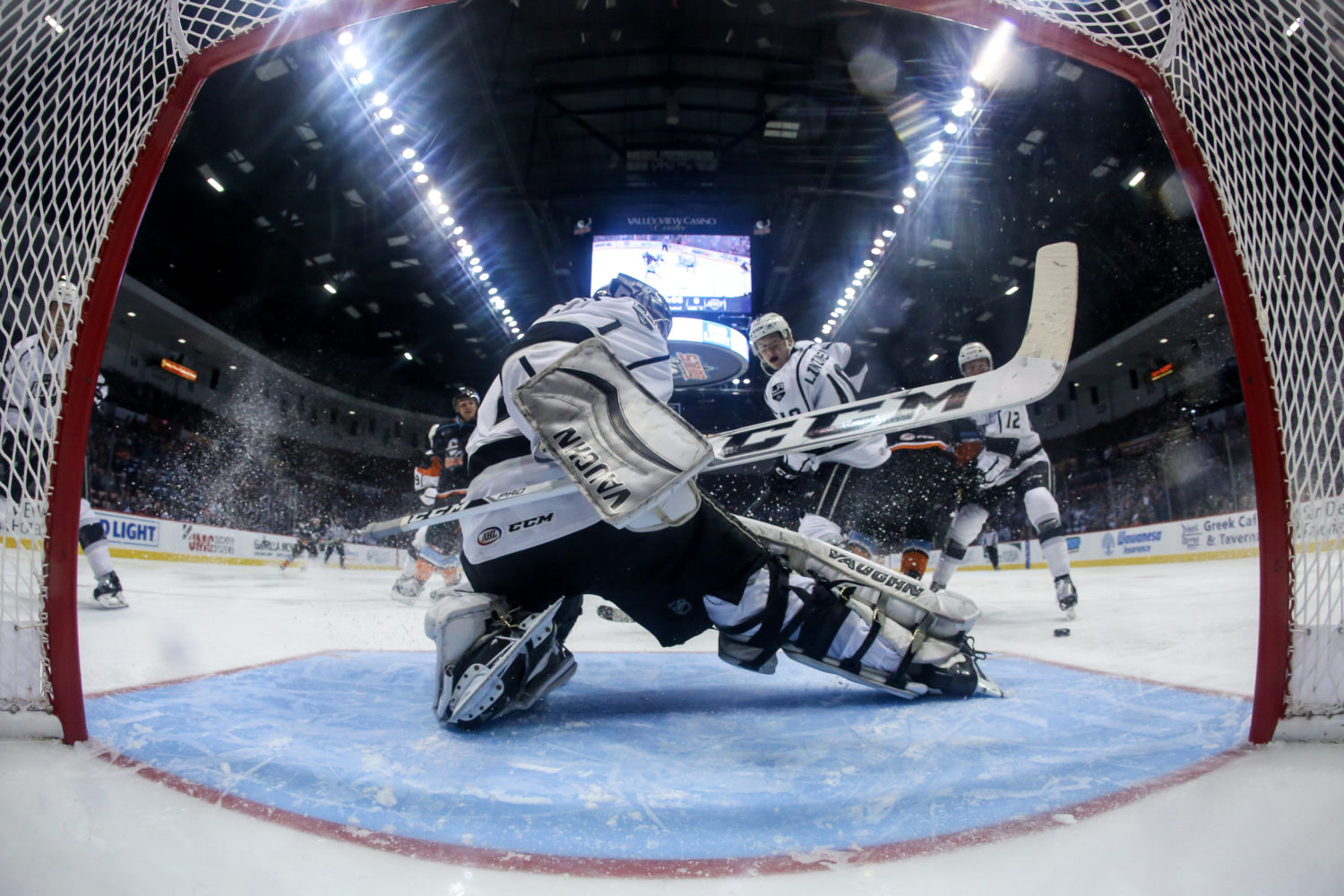 Three stars
–Jonny Brodzinski – Brodzinski has had no problem in solving an NHL-caliber netminder in Enroth. For his first goal he came off the bench and took a pass from Kempe in the high slot, wound up big and sent a slap shot over Enroth's blocker, beating the veteran cleanly without any traffic in front. Brodzinski did the same in the last game of the regular season and now has four goals on 10 shots against Enroth in the last two games. He displayed patience in the game-winner, lurking high before noticing a prime opportunity created by Kempe to put himself in a wide-open position to finish the game.
–Adrian Kempe – The power exhibited by Kempe when he dropped Welinski to the ice to set up the winner is worth watching. As San Diego radio play-by-play man Craig Elsten called it, "Kempe, oh no," the 21-year-old played to the whistle and used his force to bring down Welinski and feed Brodzinski. "I don't think they expected that D-man to turn it over like that," Kempe said. Kempe finished with two assists as he and Brodzinski, both recently back from the Kings, led by example on the scoresheet. "They were up there in the NHL. Kempe got over 20 games and Brodzinski was up there long enough that you get sent back down you're expected, you're counted on to be a difference-maker, a game-breaker and you know what, I thought they were very good tonight. It's obviously to our advantage to have two quality players like that back," head coach Mike Stothers said.
–Sam Herr – Herr earned his first playoff points with a two-assist performance, the first being a secondary assist on Brodzinski's first goal and the second the secondary assist on Hensick's goal. Herr helped keep the puck alive on a signature forecheck started by Michael Mersch, who eventually got the puck free to Hensick. Herr also had a goal-saving play in the third as he came back to tie up the stick of Carrick mid-way through the frame on what would have been a sure goal off a pass that came across the front of the crease.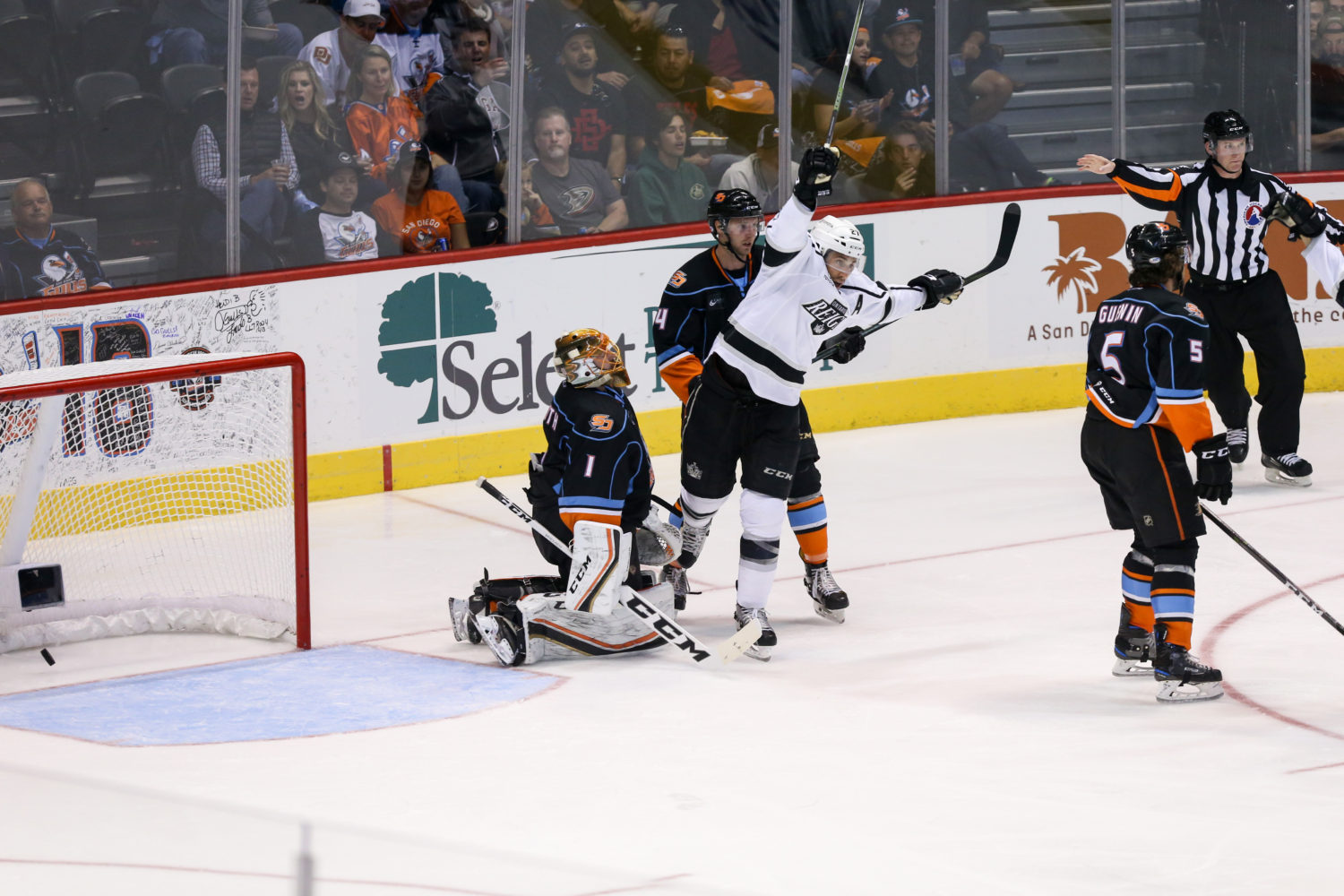 Turning point
The Reign were caught multiple times in the second period with Gulls players behind them and Campbell left to fend for himself. Using the long change to their advantage, San Diego's scheme started off the hop with Corey Tropp getting a breakaway chance that Campbell out-waited as Tropp crashed into the net. Again, Nick Sorensen got by the Reign D less than a minute after Hensick's goal and was awarded a penalty shot after being hauled down by Kurtis MacDermid, who was making his return after missing the last nine games due to an upper-body injury. On the penalty shot Campbell didn't bite and the Gulls forward failed to even get a shot off. The shorthanded goal by Kerdiles though was the result of Brodzinski and the power play unit turning the puck over at the Gulls blue line. Mersch couldn't chase down Kerdiles before he went blocker side on Campbell. "We've talked about that all season long with those guys," Stothers said. "It's a matter of our defense and they've got to be aware. You've got to make a visual count and a mental count of how many guys are in front of you and if somebody's not in front of you, there's a good chance he's behind you. But, you've got to give them credit. That's a good team. I thought it was a real good first game. I think it's only going to get better from here." Campbell finished with 32 saves for his first playoff win as a member of the Reign.
Stat fact
–3-0 – The Reign have yet to lose a playoff game in San Diego dating back to last season's second round series victory.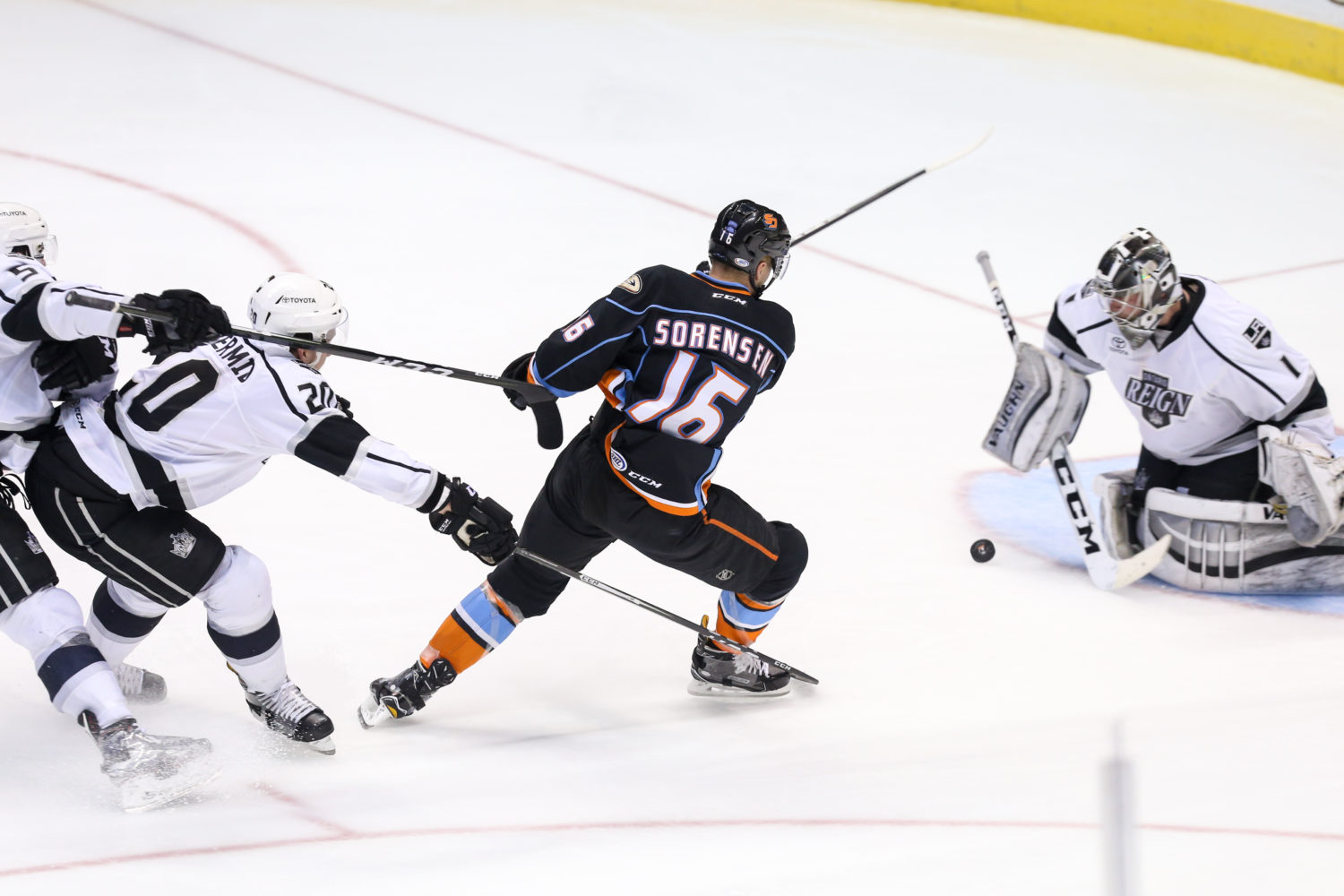 Lineups and injuries
Reign defenseman Paul LaDue was out of the lineup and Stothers did not budge on answering any questions regarding his status going into Game 2. … Center Andrew Crescenzi missed his sixth consecutive game with an undisclosed injury. … Tropp left the game after crashing into the post on his breakaway on Campbell 26 seconds into the second period. The Gulls' top-line right winger not return.
This and that off-ice
Members of the Kings development staff were on hand including, but not limited to, Nelson Emerson and Glen Murray.
Next up
It's a quick turnaround as Game 2 is Saturday at 7 p.m. in Ontario. The Reign have a chance to go up 2-0 in the series and put the Gulls on the brink of elimination.