Reign game breakdown
Reign head coach Mike Stothers nailed it in his assessment his team's 3-1 victory on Saturday night against visiting San Diego: "It wasn't great hockey or great execution from either team but there was some crazy chances and some missed opportunities on both sides," he said. With these two teams playing in back-to-back nights, the Reign won both and now have just three games left in the regular season and are slated to play San Diego two more times and in the first round. Defenseman Zac Leslie's go-ahead goal at 4:01 of the third period stood as the game-winner in a back-and-forth affair that lacked some of the heated play accustomed in these rivalry matchups. Reign captain Vincent LoVerde scored the game's opening goal in the first period at 9:34 as the Reign escaped the first 20 with a 1-0 lead despite giving San Diego four power plays. San Diego then tied the game just 24 seconds into the second period on a redirect goal by Austin Ortega. Leslie's goal in the third period gave the Reign a lead they could hold and Brett Sutter scored an empty-netter with less than a minute to go to seal the victory.
Best quote
Stothers, on what he expects from Jonny Brodzinski, Adrian Kempe and Paul LaDue when they return to the Reign from the Kings on Monday: "The adjustment will probably be them. How are they when they come back after being in the NHL, being the big dogs? That's what I'm curious to see. … I hope they remain ratcheted up nice and high and bring everybody up with them. Don't play down. Don't ever play down. So that's what I'm curious to see. Are they enthused to be back and helping contribute to us having a long playoff run? You never know. They're young guys. They get caught up in the moment. They've spent extended periods of times playing in the NHL. They're not on a charter eating sushi and shrimp. They're on a bus eating a hoagie and a pizza."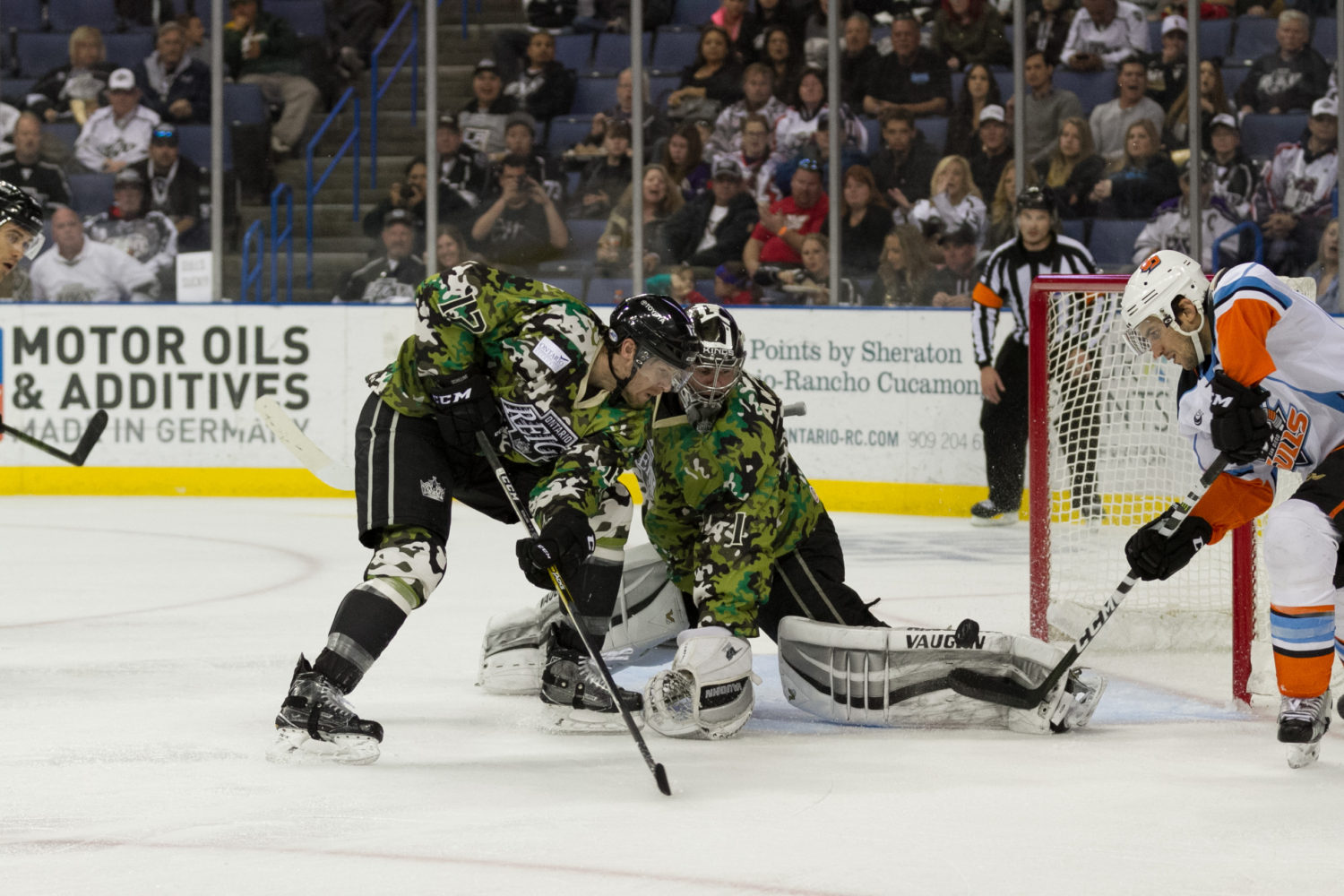 Three stars
–Vincent LoVerde – As the Reign captain, LoVerde is not known as a "rah-rah" guy but he has certainly led by example as of late. His goal in this game came as a result of him fighting through the opposition in the neutral zone to bring the puck into the Gulls zone. When he drew two defenders toward him he moved the puck and the Gulls were chasing their coverage before LoVerde eventually got the puck back at the left point and sent in a shot that beat Dustin Tokarski. It was his second goal in as many games and the Reign improved to 26-5-5-0 when scoring first. "I think we're slowly starting to play the kind of hockey we want to play, which is Reign hockey, get pucks in, go to work," LoVerde said. "It's good, because right around playoff time is when you want to be clicking, so we're excited."
–Zac Leslie – Leslie views himself as an offensive defenseman, so going 43 games without a goal was a frustrating stretch of time. His game-winner was a shot from the right point that seemed to change directions twice as it bounced through traffic and in. "I guess that was probably the one I needed more than anything. It was nice to get that off my back obviously," he said. It was also a form of redemption for his three minors taken in the contest.
–Brett Sutter – The veteran forward collected his fourth multi-point game of the season by notching the empty-netter and grabbing the primary assist on Leslie's game-winner. On the ENG he zig-zagged in the neutral zone to give himself a clear look before scoring.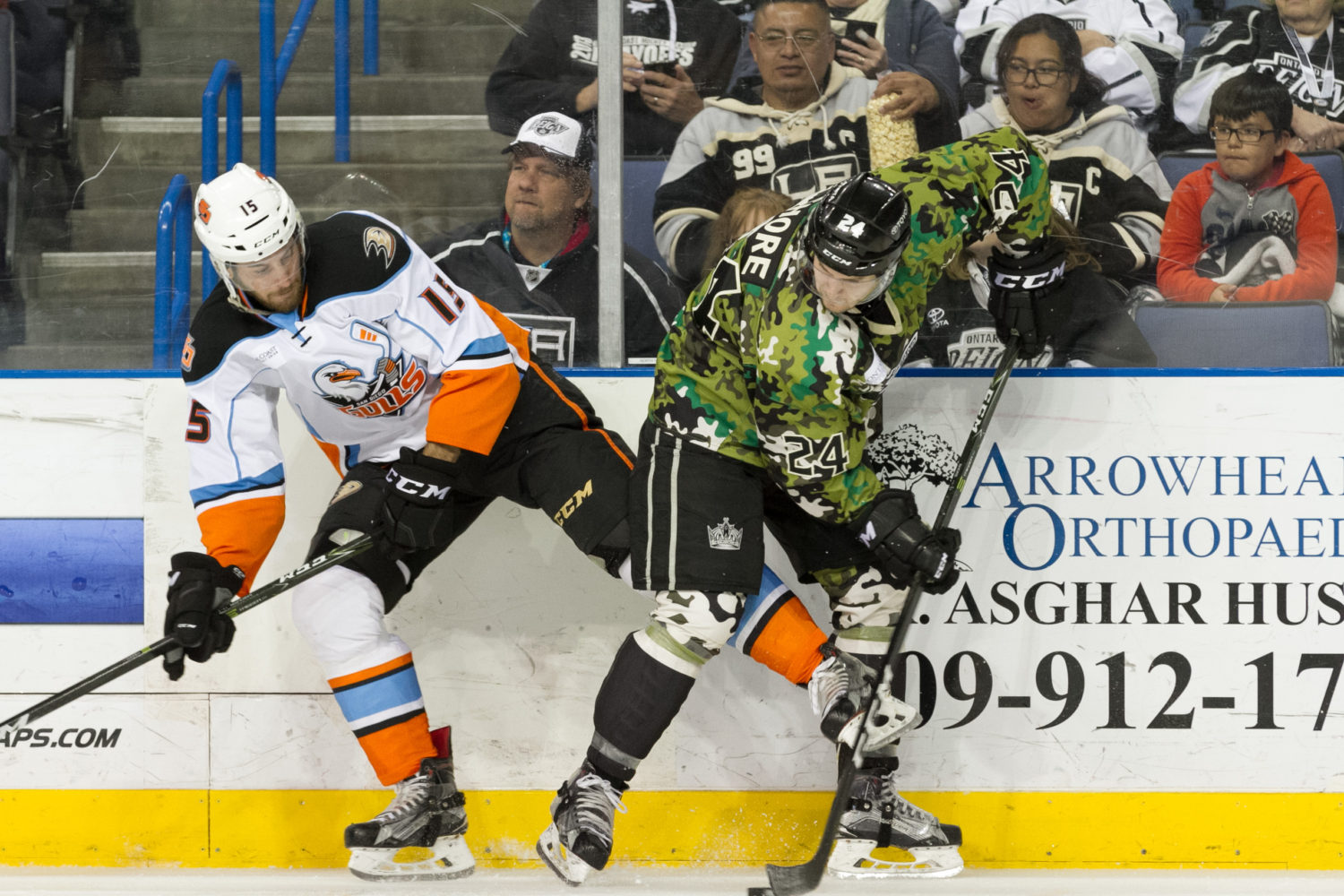 Turning point
In the later moments of the third period, Gulls forward Kevin Roy got behind Reign newcomer Matt Roy and caught a stretch pass to go in alone on Jack Campbell. Kevin Roy's attempt clipped the right post in what would be the Gulls' last Grade A chance of the game and the Reign cashed in on Sutter's ENG to end it.
Stat fact
–31 – Wins for Campbell, which leads the AHL. He stopped 27 shots and allowed just one goal in the two wins against San Diego.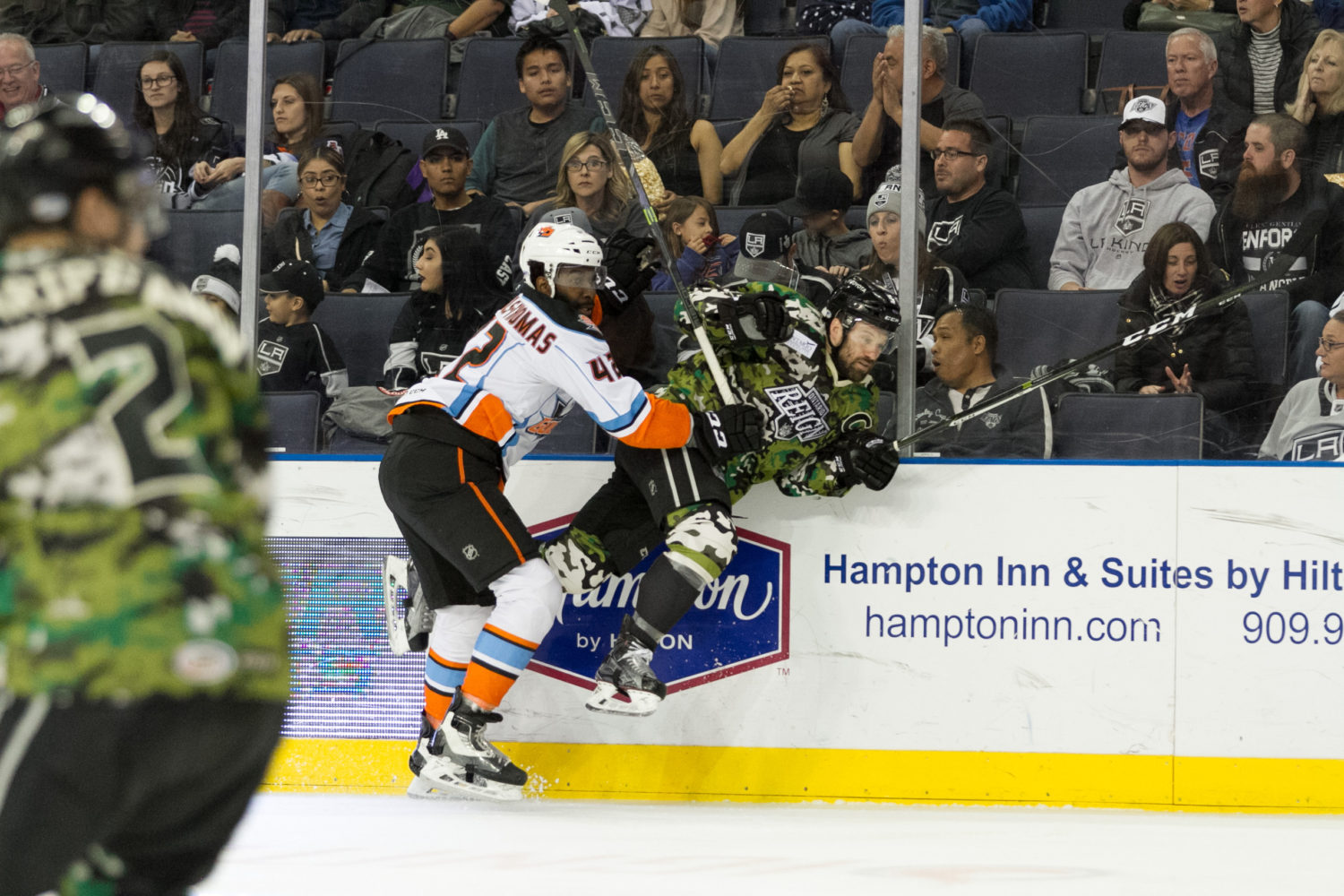 Lineups and injuries
Center Andrew Crescenzi and winger Paul Bissonnette missed their second straight games after being injured on Wednesday in San Jose. Stothers said he had no timetable for their recovery and return — "I really wish I could. I don't know," adding, "Do you know how long we've played without a full lineup? It's been excruciating as a coach." … Nineteen-year-old forward Matt Luff did not play but has arrived in Ontario after being assigned to the Reign by the Kings on Friday. He'll wear jersey No. 26.
This and that off-ice
In honor of Military Appreciation night, the Reign wore special camouflage jerseys that were auctioned off after the game.
Next up
Sunday is a recovery day and the Reign will practice in Ontario both Monday and Tuesday (early) before leaving Tuesday following practice to head to Stockton, where they'll played on Wednesday night at 7 p.m. PT.