is not a "development league," but there are still frequent learning moments to be had.

Rookie defenseman Paul LaDue, who has shown good footwork and growing aptitude in a variety of situations, was on the ice for two goals against in only 7:01 of ice time in the loss at Edmonton to open the road trip on Tuesday and didn't take part in the emotionally charged Calgary game the next night.

The rough start to the trip shouldn't leave much of a lasting memory. The 24-year-old rebounded with a solid performance against Vancouver, one in which he defended well one-on-one, won battles and earned an assist on Jarome Iginla's game-winning deflection of Alec Martinez's power play blast.

"There's been quite a few games I've felt pretty good and a little bit of ups and downs but I'm happy with everything," LaDue said of his performance. "With my play I've just got to keep working at getting better and being solid every night for 60 minutes so it's a learning curve, but I've just got to keep going and keep working hard."

And that's part of the process for a player who now has 19 intriguing games of NHL tenure. The level of focus and effort necessary on every shift is an eye-opening understanding experienced by all young players, and LaDue appears to have the wherewithal to apply the coaching he has received into game settings.

"I mean, he had a tough night in Edmonton a couple nights before, and we took him out for a game and kind of talked about his game, what he needs to do and how he needs to play, and went beyond his skill set to his mindset and compete level and all that stuff that goes within playing in your division, and I thought he had a really good bounce-back game last night. So that kind of needs to be the standard and not the exception," Associate Head Coach John Stevens said. "But for the young player, you take him out, you put him back in, you want to see him respond in a real positive way, and I thought he did."

Some of the strong moments of his performance in Friday's win took place in checking and in defensive zone coverage, and in the first period he did an effective job of harassing Henrik Sedin behind the Los Angeles net – a place the skilled center is often comfortable – and chasing the world class talent away from a dangerous spot. Gaining more experience against divisional opponents and cultivating an understanding of the skill sets of star players is something he'll continue to gain a grasp of as he adds games to his name.

"Yeah, [Henrik Sedin is] great at using his body and putting his butt out there and putting you on the outside, and when he's doing that he's got his head up the whole time looking for a pass, so you really have to go hard at him and give him no time and space," he said.

"You have to know who's out there and once you see a top-end player like that you know you've got to think a little bit differently. You know their ability and you've got to contain them and work even harder to stop them, so I definitely notice when going against guys like that and I just try to work even harder to defend them, and it's tough because you can't rush at 'em. You don't really play them any different, you just know who he is and know what he can do and just keep playing hard."

Paul LaDue, on whether he spoke with UND alums Brock Boeser or Troy Stetcher on the ice:
No, we saw 'em after the game a little bit, but no chatter on the ice. We keep it business on the ice. It was fun to see 'em out there but we needed that win, so it was all business.

Nick Shore, on whether he recognized when his brother was on the ice:
You're aware of him just in the same way of you're aware of when most guys are on the ice. When you're out there you tend to know who the other five guys on the other team who are out there, but other than that, no.

Shore, on any "indicating factors that would lead to the team success":
I think it's still a confident group in there. We're going to keep fighting. We've still got a shot, so I think going into each game if we play the way we're capable of we're going to give ourselves a really good opportunity to come away with two points and we were able to these last two games on the trip.

Shore, on whether the Kings position in the standings is ever talked about:
Not necessarily. Everybody's aware of the situation that we're in, but you're really just focusing on the game at hand. Just worried about tomorrow and that's it.

Jonny Brodzinski, on the difference between the AHL and NHL:
Yeah, it's just a faster game. You just have to make plays quicker. It's as simple as that. You don't have as much time and space to shoot the puck as you do in the American League and with the very few chances you get a game you have to capitalize on them. I think that's the biggest thing right now is, me personally, when I get my chances to capitalize on them.

Brodzinski, on whether he gets a scouting report on opposition goaltenders:
Yeah, right before every game we watch clips on them, we kind of know what they're doing, the gist of it. Their breakouts in neutral zones, stuff like that. But then we also, from Billy, we get their goalie breakdown and where he's getting beat a lot and trying to pick corners where he's weak.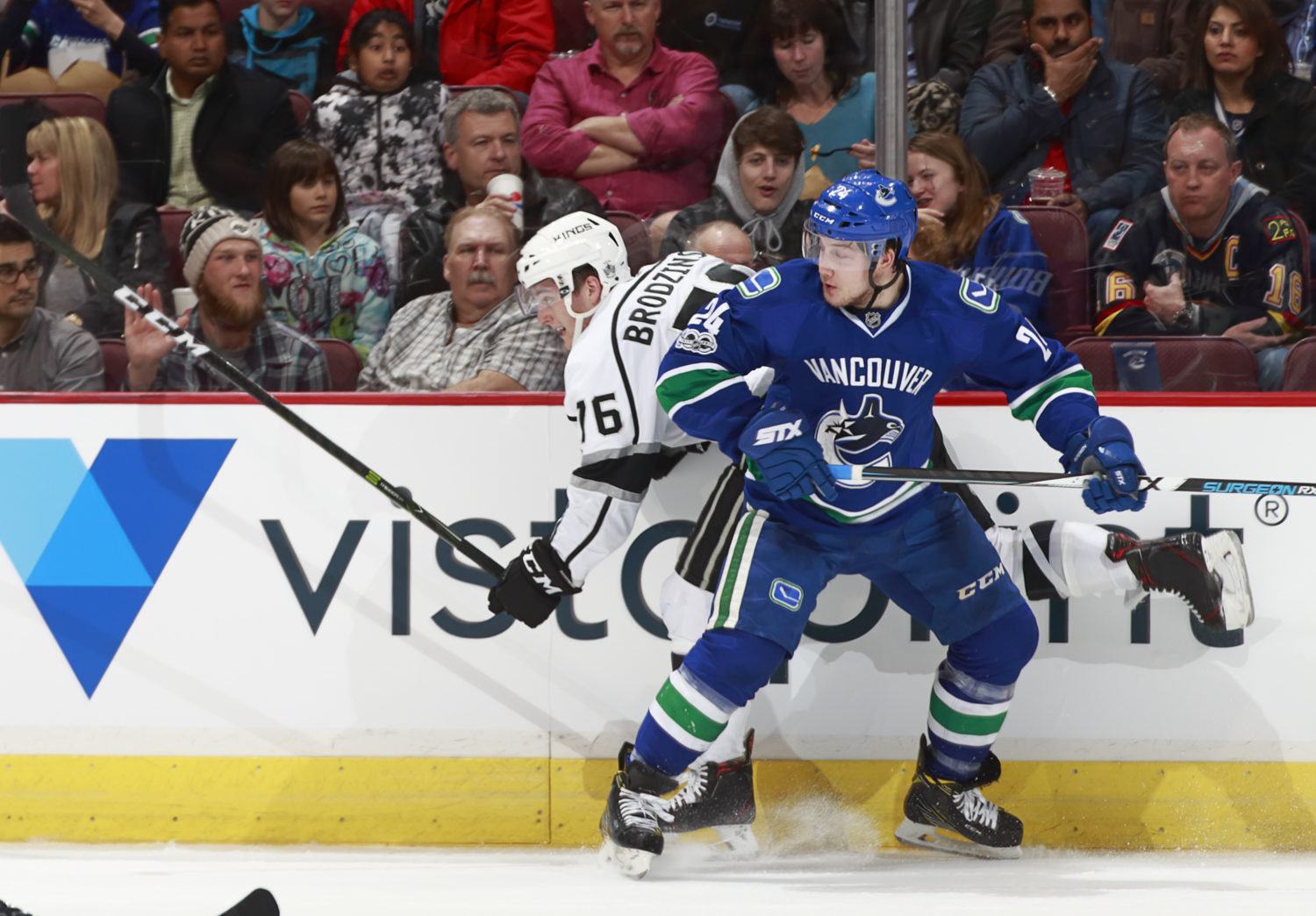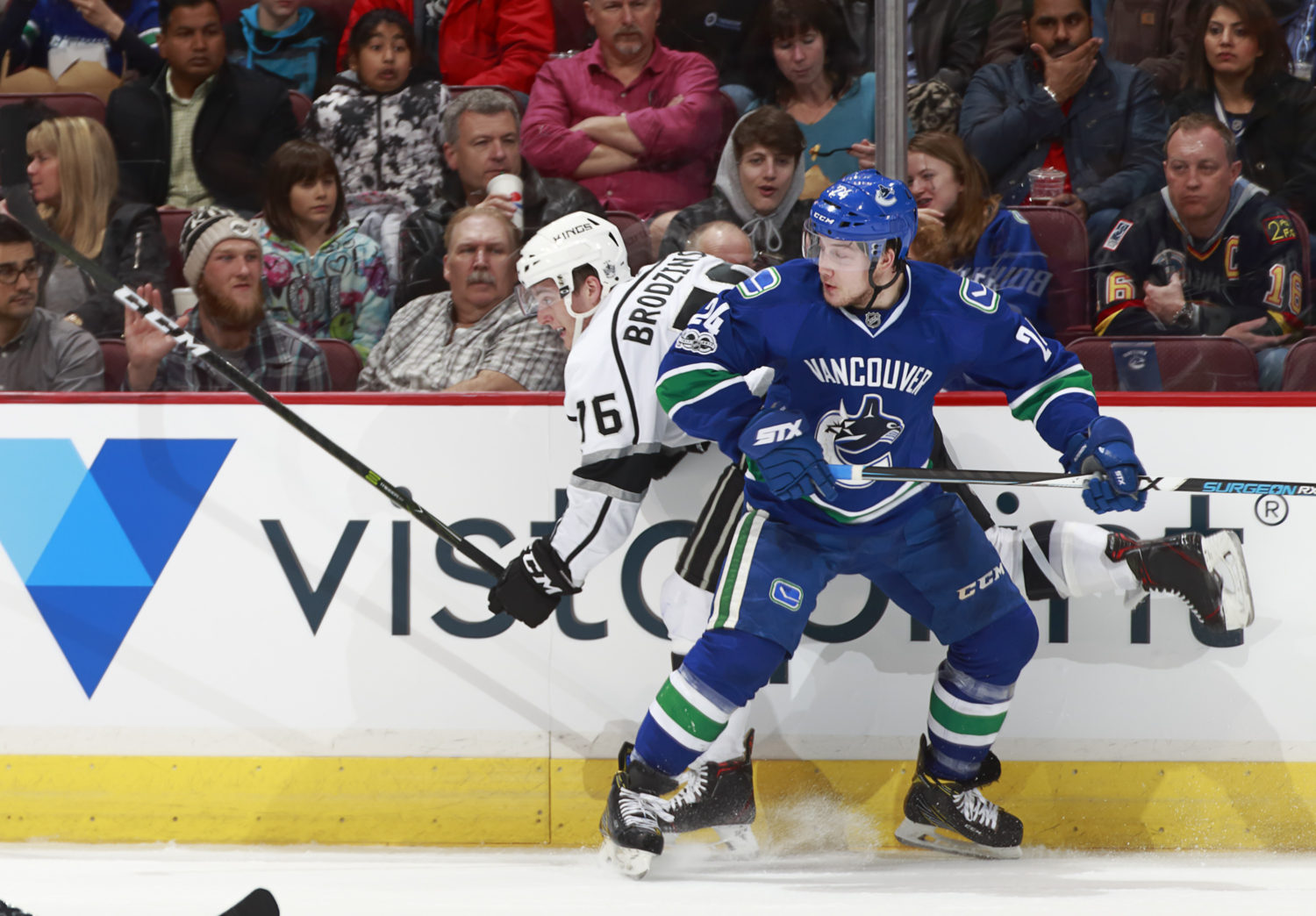 Darryl Sutter has spoken about how the National Hockey League