Reign game breakdown
For the first time since mid-February, the Reign have won two games in a row. The feat was accomplished by the Reign scoring yet again, the game's first goal in a 2-0 win over San Antonio on Saturday in Ontario. The team was backstopped by Jack Campbell, who staved off a flurry of Rampage chances on five power plays. He earned his fourth shutout of the season by making 25 total saves. Ontario scored first on a rebound mark by Andrew Crescenzi at 5:03 of the first period. In the second period, the Reign were able to battle through the Rampage's physical attempt to throw them off their game and also took a 2-0 lead on a rising Michael Mersch shot, a finish of a dandy skip pass from Teddy Purcell. Campbell took over in the third, a period in which his team was outshot 10-2, to hold off the Rampage. Ontario's magic number to reach the Calder Cup playoffs is now down to seven with eight games remaining.
Best quote
Campbell, on how much easier it is on him when the team scores the first goal: "It's an excellent question. It's definitely an easier game when you play with the lead. Not necessarily and easy game but if you're executing and you can start with the lead it's huge, confidence-wise and then just momentum too. They're always trying to come back so just loved the way we played tonight and last night too. That team doesn't give up at all. For us to get four points out of the weekend just shows we played two really good sixty minute games."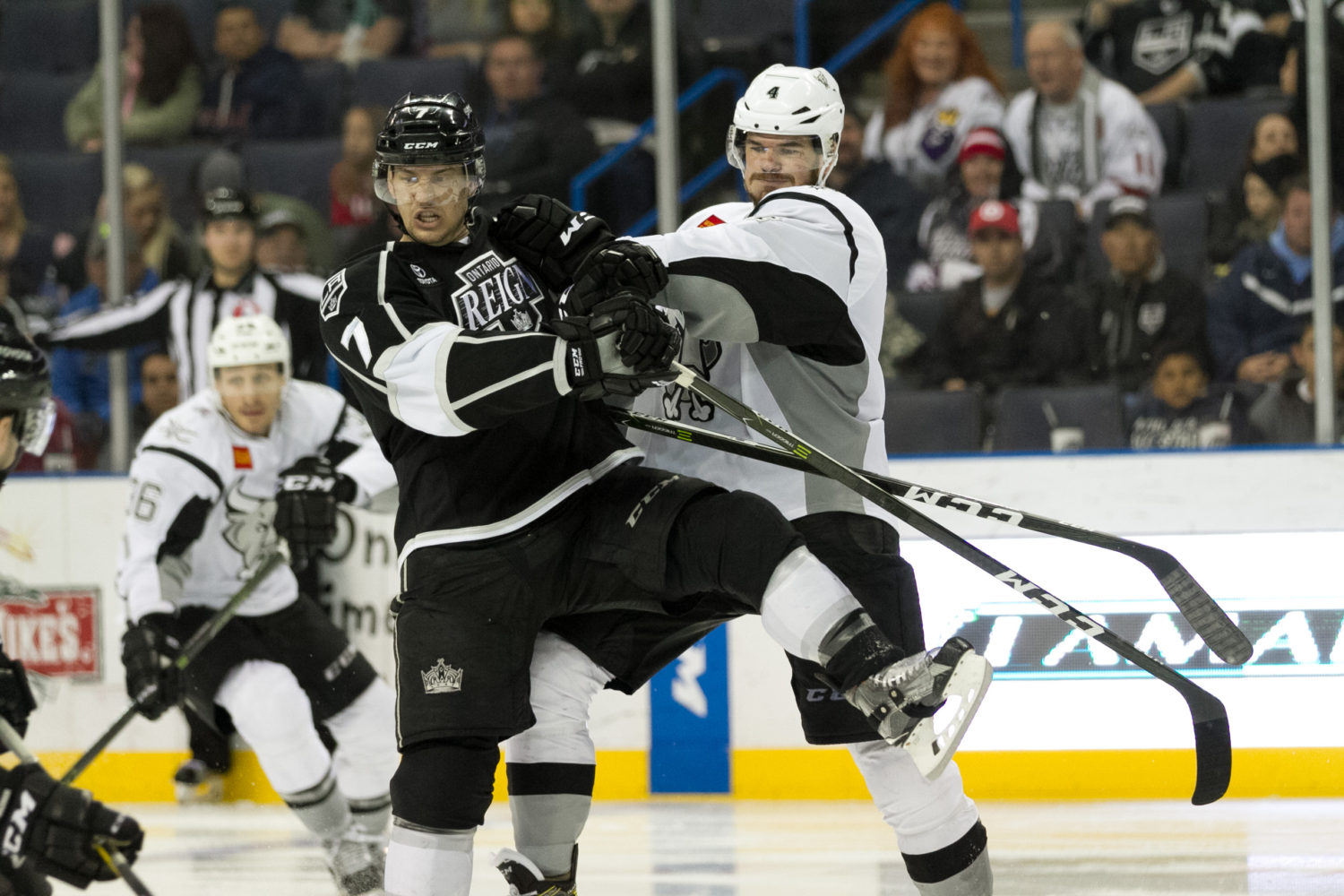 Three stars
–Jack Campbell – Campbell started both games on the weekend and added to his AHL wins lead, reaching 28. In this one he made several key saves, including a point blank stop on Brendan Ranford from the slot on an early third period power play try for the Rampage. "He looked very calm," head coach Mike Stothers said. "He looked poised in net tonight. He kind of gave you a sense just from watching him on the bench that it was going to be tough to get anything by him."
–Andrew Crescenzi – The reliable centerman broke a 22-game goal drought by tapping in the rebound of an odd-angle Sean Backman bid to open the scoring. Earlier in the same shift, Crescenzi had an open look from the slot after an errant pass by San Antonio but his bid was stopped by the blocker of Martin. As the Reign continued to work the puck, Crescenzi made eventually due on the rebound. It was his seventh goal of the season and counted as his first game-winner.
–Michael Mersch – Scoring his third goal in the last three games, the Reign improved to 10-3-1-0 when Mersch finds the back of the net. He took the saucer pass from Purcell and went down to one knee to roof the puck over a diving Martin.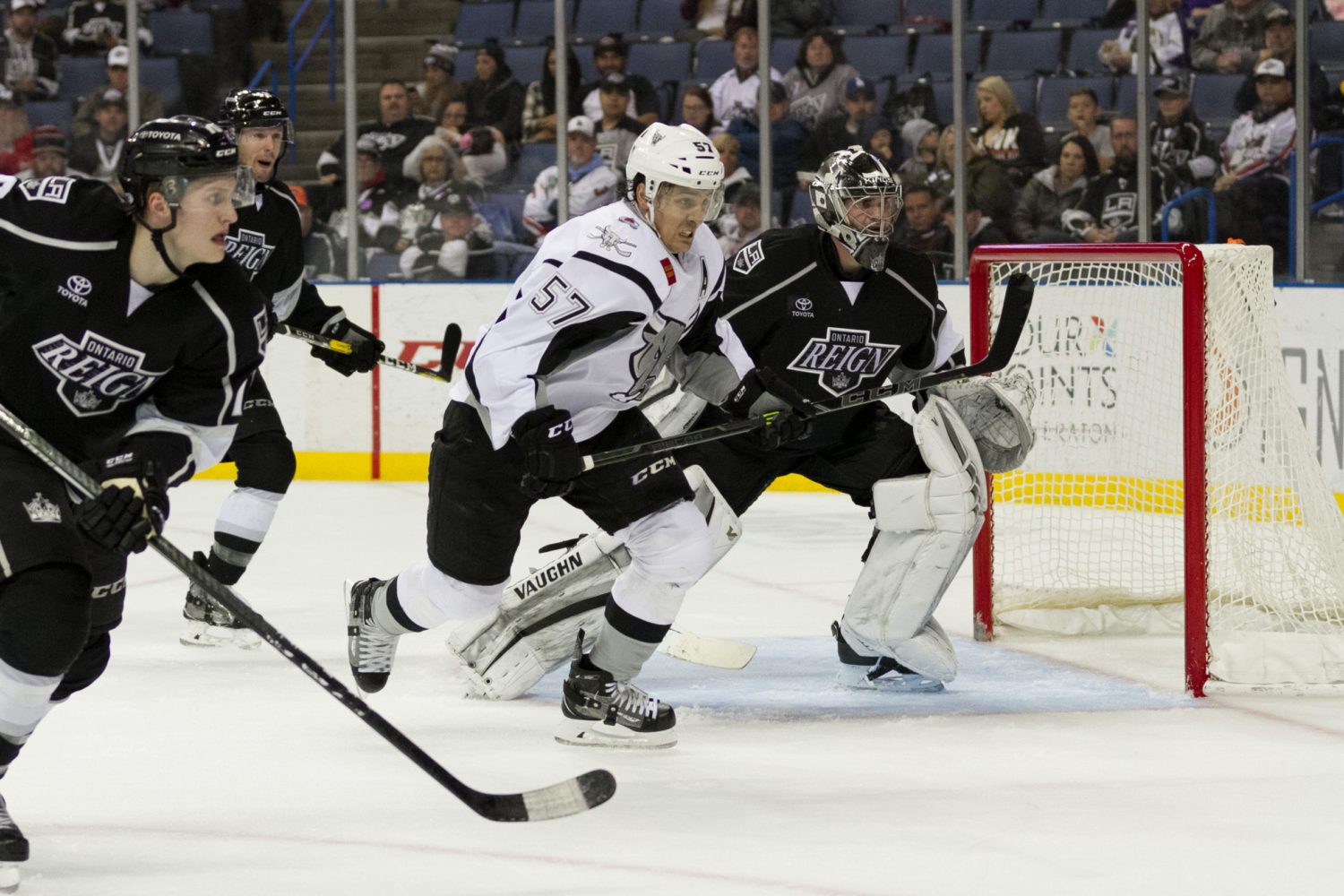 Turning point
Physical play erupted in the second period, sparked by a frustrated Martin after the Reign went up 2-0. When Sean Backman crashed his crease a fired-up Martin charged into a pile of players. Backman was called for slashing and roughing and Martin for roughing. On their ensuing power play, the Rampage's A.J. Greer made contact with Campbell, knocking the goalie off his feet, and was called for goalie interference. There was even a moment during a media timeout where the two goalies skated by one another on the way to their benches and Martin pointed his finger directly at Campbell. "Yeah, it was interesting," Campbell said when asked about Martin's try at intimidation. "But I was just focused on getting the team two points and was able to do that. That's what feels good to me."
Stat fact
–6 – The average of power plays allowed by Ontario in the two games against San Antonio, which is the one area that Stothers wants to team to correct as soon as possible. "The only flaw or negative I can find in it is again we took, how many tonight, five penalties? Seven last night. Five tonight. It's too many," he said. "So, just when I think we can maybe take a sigh of relief during a game we take a penalty and it's like, here we go. Let's worry about it next week."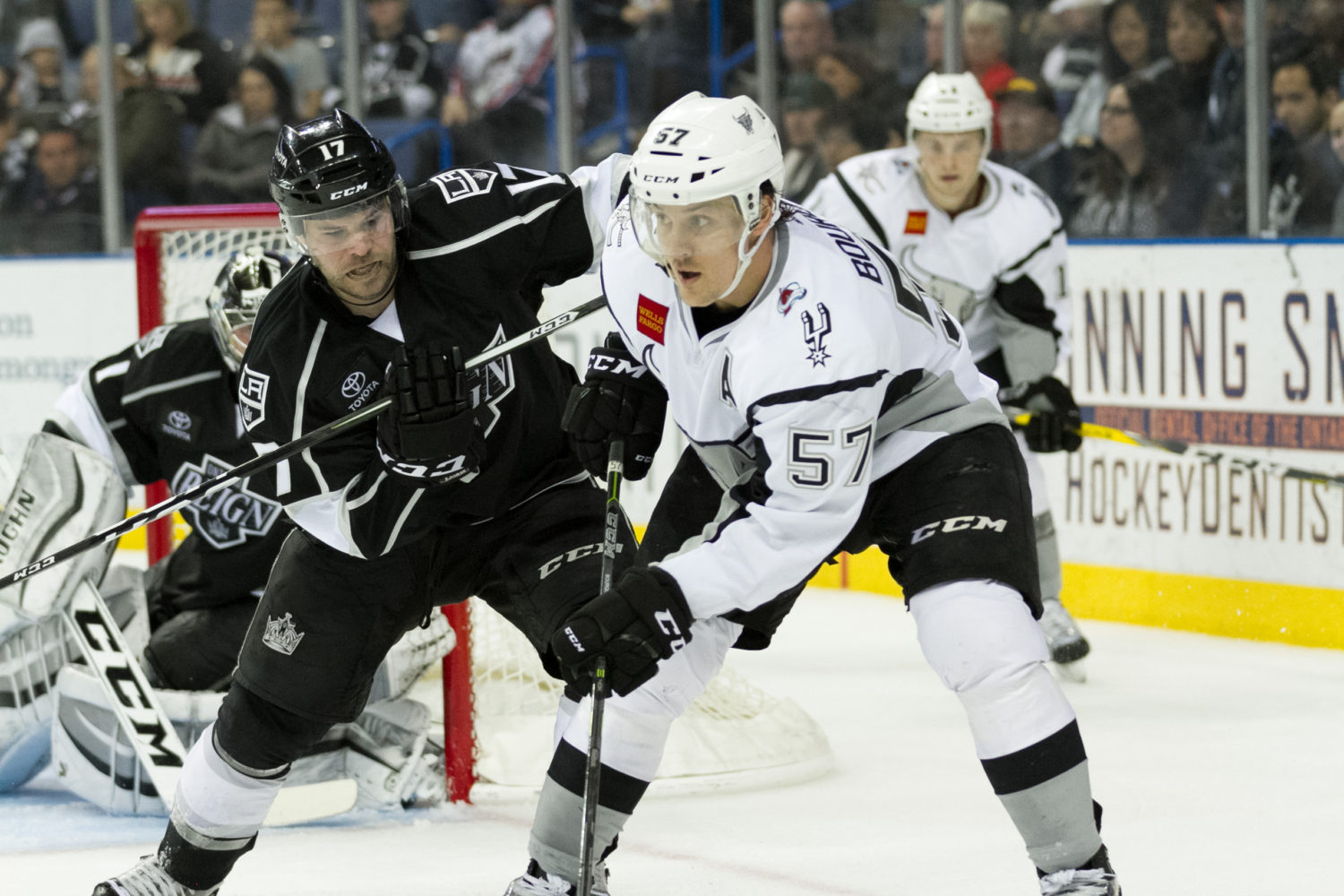 Lineups and injuries
The Reign were without defenseman Kurtis MacDermid, who missed just his second game of the season. Stothers admitted that MacDermid was banged up in Friday's win and will be out for "probably a couple of weeks." … Justin Auger missed his third straight game with an upper-body injury.
This and that off-ice
Following the win, the Reign hosted a skate with their fans on the Citizens Business Bank Arena ice. On the scoreboard, the Rangers-Kings game played where Jonny Brodzinski was making his NHL debut.
Inside CBBA, Reign are skating with fans after their win and Brodzinski's debut is playing on the Jumbotron pic.twitter.com/Gjn6RLH0ga

— Lindsay Czarnecki (@ReignInsider) March 26, 2017
Next up
Ontario will have Sunday off and the rest of the week will serve as practice time before they head to Bakersfield for the first game of a back-to-back against the Condors on Friday at 7 p.m. PT.